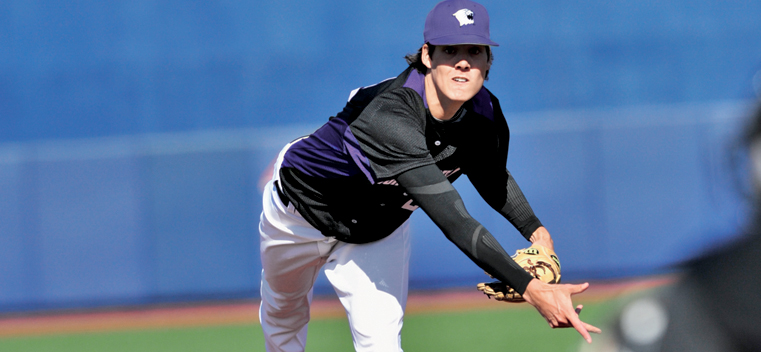 Photo by Stephen J. Carrera
Pitching Against Adversity
Story Tools
Share this story
Tell us what you think. E-mail comments or questions to the editors at letters@northwestern.edu.
Ever wonder about those strange designations we use throughout Northwestern to identify alumni of the various schools of the University? See the complete list.
Find Us on Social Media
After two medical setbacks, hurler Luke Farrell is healthy on the hill.
Luke Farrell was born in the midst of his father's eight-season Major League Baseball career and has been around baseball all his life. So when his dad, John, was named manager of the Boston Red Sox last October, the experience was "pretty normal."
Although Farrell grew up in Cleveland, his dad was Boston's pitching coach from 2007 to 2010. Luke was with the team when Boston won the 2007 World Series. "I missed a lot of school, but that's OK," the 6-foot-6 pitcher said with a laugh.
The next time Farrell had to miss school, it was a much more dire situation. The summer prior to his freshman year at Northwestern, Farrell discovered a tumor in his neck, near the carotid artery at the base of his skull. He underwent two risky surgeries (the tumor was benign) and missed the first quarter but returned in time for baseball season.
"Pitching was like the light at the end of the tunnel," he said. "Going through that fall, I kept my mind set on getting to Northwestern, getting to class and eventually on the field."
After a difficult freshman year on and off the field, Farrell showed his potential as a sophomore, when he led the team's starters with a 3.33 ERA and finished with a 6-3 record.
But before his junior year, the tumor returned. Farrell needed to have the same surgery, but this time the procedure was followed by six weeks of radiation treatments. Farrell missed a second academic quarter but again returned in time for baseball season. He struggled as a starter early in the season, but after he was moved to the bullpen, Farrell finished with a 2.18 ERA over his final 14 appearances. The communication studies major also made a comeback in the classroom, earning his second consecutive Academic All–Big Ten honor.
As a senior, he is finally at full strength. With a clean bill of health and his dad in a dream job, "things are good for us," Farrell said. "We are really blessed right now."