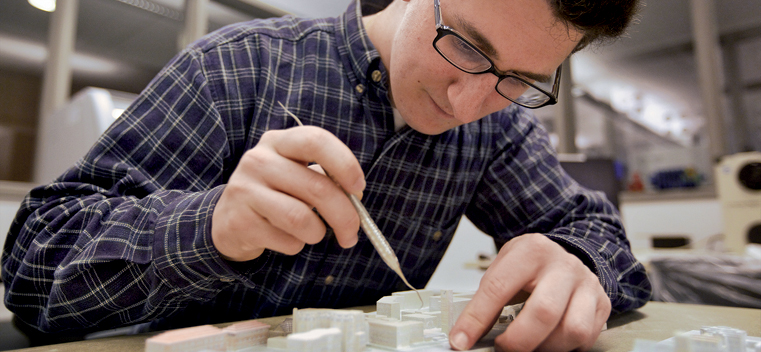 Ben Rothman uses small brushes and dentistry tools to clean out the crevices in his model of Northwestern. Photo by Sally Ryan.
Mini Northwestern
Story Tools
Share this story
Tell us what you think. E-mail comments or questions to the editors at letters@northwestern.edu.
Ever wonder about those strange designations we use throughout Northwestern to identify alumni of the various schools of the University? See the complete list.
Find Us on Social Media
Junior creates detailed 3-D model of the Evanston campus.
By the end of fall quarter his freshman year, Ben Rothman was "wasting" about 20 hours a week playing video games. That's when he decided to do something more productive.
Using the video game Minecraft, a game where players create 3-D navigable models of buildings and landscapes, Rothman decided to make his dorm, Slivka Residence Hall.
Using a satellite image of campus, Microsoft Bing's Bird's Eye View, his own memory and pictures, Rothman created incredibly detailed models of not only Slivka but also Kemper Hall and Ayers Residential College of Commerce and Industry.
When he posted a YouTube video of his north campus creation on the Slivka Residential College Facebook group page, Ben Slivka (McC82) — a University trustee and the dorm's namesake — took notice and forwarded the video to Julio Ottino, dean of the McCormick School of Engineering and Applied Science. Ottino, who is excited about the possibilities of 3-D printing and smart manufacturing, saw potential in Rothman's project and asked him to create a 3-D printed model of the entire Evanston campus.
During spring quarter last year, Rothman, a junior computer science and applied mathematics major from Wilmette, Ill., and fellow engineering student Alex Chandel printed the model using McCormick's 3D Systems Z450 in the Rapid Prototyping Lab. Rothman and Chandel printed the campus model in 44 pieces. They finished the display in mid-summer, and Rothman estimates that the entire project took six months and 600 hours of work.
Rothman explained that the printer has a color ink cartridge and a glue cartridge. "Instead of laying down ink on paper, it's laying down white powder and adds successive layers of glue and ink. You have to remove the excess powder carefully because it's very weak and not very colorful, and then you have to pour a super glue–type material over it little by little to set it and bring out the color," Rothman says.
Some of Rothman's favorite parts of the 5-foot-wide model — now on display in the Technological Institute lobby — are what he calls "Easter eggs," including the small solar car coming out of the Ford Motor Company Engineering Design Center and boarded-up windows on a condemned fraternity building. He is now working on a model of Ryan Field.