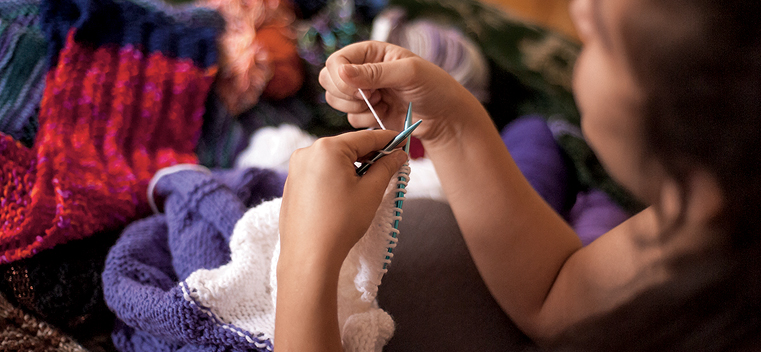 Danielle Kerani makes and sells handmade knit products. Photo by Rafi Letzter (J15).
Knit Your Worries Away
Story Tools
Share this story
Tell us what you think. E-mail comments or questions to the editors at letters@northwestern.edu.
Ever wonder about those strange designations we use throughout Northwestern to identify alumni of the various schools of the University? See the complete list.
Find Us on Social Media
Junior's knit products company promotes mental health awareness.
When Danielle Kerani received a ball of yarn and needles one Christmas, the then–12-year-old had no idea that knitting would become her passion. Now a junior journalism major from New York City, Kerani is in her second year as the founder of AK Kerani, a company that produces fashionable handmade knit products, such as scarves and caps, while also promoting mental health awareness.
At Northwestern, Kerani, who struggled with anxiety earlier in her life, realized knitting was a way for her to relieve stress. "When I have a bad day I just want to come home and knit," she said. "The organic production is very therapeutic."
Kerani's life is interwoven with her business. Her late uncle, Atindra Kumar, who suffered from paranoid schizophrenia, was the inspiration for the company's name and mission. She uses AK Kerani's web presence to increase awareness about anxiety and depression and promote knitting as a positive outlet.
Kerani leads AK Kerani's seven team members, who are spread across the country. She is hoping to showcase the team's work at local Evanston boutiques. AK Kerani was featured in last year's Northwestern's Unity Fashion Show and at the Evanston Art Center's Winter Expo.