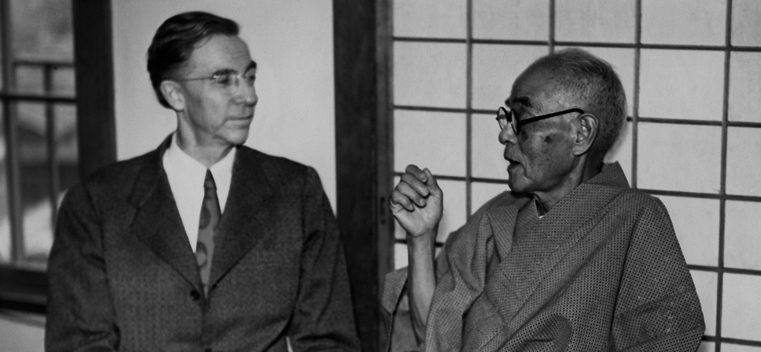 Kenneth Colegrove with a professor in Japan in 1946. Courtesy of University Archives.
Collections: Our Man in Tokyo
Story Tools
Share this story
Joseph Mathewson, an assistant professor of journalism at Northwestern, contributed this article. He wrote The Supreme Court and the Press (Northwestern University Press, 2011).
Tell us what you think. E-mail comments or questions to the editors at letters@northwestern.edu.
Ever wonder about those strange designations we use throughout Northwestern to identify alumni of the various schools of the University? See the complete list.
Find Us on Social Media
Professor Kenneth Colegrove helped draft a new ­constitution for Japan.
Long before most Americans knew much about Japan, the late Kenneth Colegrove did. A political science professor at Northwestern, Colegrove wrote in the late 1920s and 1930s about the Japanese emperor, elections, labor organizations, militarism, geopolitics, political customs and law. During World War II Colegrove became a consultant to the U.S. Office of Strategic Services, an intelligence agency, and after the war he was called to Tokyo to advise Gen. Douglas MacArthur on the drafting of a new constitution for Japan.
Colegrove, who joined the Northwestern faculty in 1919, chaired the political science department from 1940 to 1948 and retired from Northwestern in 1952.
After Colegrove's death in January 1975, his widow, Gladys Marie Chadsey St. John, donated to Northwestern University Library his vast trove of professional and personal papers, even his income tax returns, all meticulously listed in chronological order, with his prodigious correspondence alphabetized. This extraordinary gift, totaling 84 boxes, is housed at University Archives. It includes documents and correspondence regarding his challenging Tokyo assignment and numerous photographs of him on the job in Japan.
The boxes also contain documents and letters about another historic aspect of Colegrove's life, which unfolded while he was in Japan. He had initiated an imaginative federal lawsuit alleging that Illinois' disparate congressional districts were unconstitutional: the largest, in Cook County, had more than 900,000 voters, while a downstate district had only 140,000. In June 1946 the Supreme Court ruled that districting was "not justiciable" by the federal courts. But a few years later the U.S. Supreme Court looked back at Colegrove v. Green and reinterpreted it to admit such lawsuits. That historic ruling was Baker v. Carr (1962). Subsequently the Supreme Court held that congressional and legislative districts in each state must be equal in population. That's still the rule today. Unfortunately, Colegrove, who had started the ball rolling, got no credit.