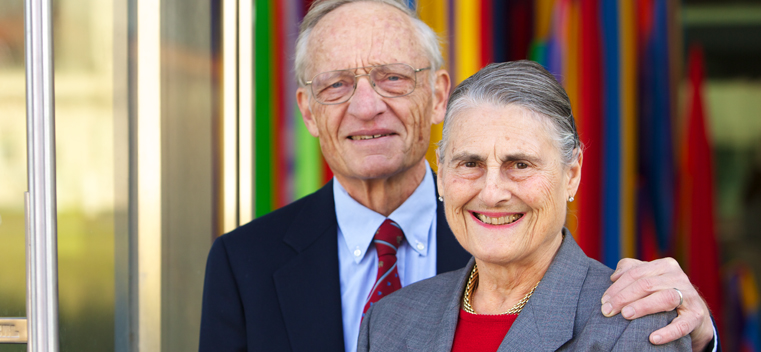 Jack and Mary Ann Frable. Photo by Casey Templeton.
Good Medicine
Story Tools
Share this story
If you are interested in learning more about how to include Northwestern University in your estate plans or about ways to make a gift and receive income in return, please contact the Office of Gift Planning at 800-826-6709.
Tell us what you think. E-mail comments or questions to the editors at letters@northwestern.edu.
Ever wonder about those strange designations we use throughout Northwestern to identify alumni of the various schools of the University? See the complete list.
Find Us on Social Media
Frable gift funds merit-based scholarships for some of Feinberg's top medical students.
Jack and Mary Ann Frable's impact on the Feinberg School of Medicine started with a famous first. And now they're giving medical students an opportunity to make their mark in medicine through a scholarship fund for students who might not otherwise attend Northwestern.
Decades before they decided to leave a lasting legacy at Feinberg, Jack Frable (FSM59, GFSM60, 64) and Mary Ann Smith Frable (FSM59, GFSM64) had already staked a notable place in the school's history. The two met during their first year of medical school in 1955 and married a year later. By the time Commencement rolled around in 1959, they had a special guest in tow — their daughter Deborrah, who, the Frables were told, was the first child of two Northwestern University Medical School students. A Chicago Tribune photographer was there to capture the moment, snapping a shot of Deborrah perched on her father's shoulders. 
The milestone was notable at the time, in part because Mary Ann was one of only nine women in their medical school class of 135 students. And that's not to mention the rigors of their program, which made having a family a Herculean task — days consumed by laboratory work, lectures and the labor-intensive duties of raising a young child.
"The timing was probably not great," Jack says. "It was difficult, but we managed it."
"We were really too busy to be doing anything else but study," Mary Ann recalls. She says that clinical training was the highlight of medical school. "We had patients with very unusual ailments, and they really seemed to enjoy the students. The students had a very enriched clinical experience — more than at any place I've ever seen."
The Frables put their Northwestern training to good use, settling in Richmond, Va., and joining the faculty at the Medical College of Virginia (now part of Virginia Commonwealth University) in 1966. Mary Ann made her mark as a tenured professor of otolaryngology (head and neck surgery), becoming just the second woman ever named to the Triological Society, her field's most prestigious society.
Jack, who first developed a passion for pathology as an undergraduate student, went on to become renowned in his field. He ran Virginia Commonwealth's cytology (the study of cells) service and served as director of surgical pathology and cytopathology from 1978 to 1999. Along the way he served as founding editor of the journal Cancer Cytopathology and won a bevy of honors, including the Papanicolaou Award — the lifetime achievement award from the American Society of Cytopathology.
Both of their daughters are now board-certified physicians in internal medicine; their second daughter, Geraldine Frable Menard (FSM97, GFSM00), followed in her parents' Northwestern footsteps.
The Frables' legacy at Feinberg does not end there. In 1997 they established an endowment to create the Frable Medical Students Scholars Program, which provides merit-based scholarships to help the school attract the most talented medical students. They have named the fund the beneficiary of several of their IRA accounts, ensuring that generations of Feinberg students will benefit from their generosity. In addition, they have established two charitable remainder trusts, each of which provides them with income during their lifetimes. The remainder interest in these trusts will be used to augment the Medical Students Scholars Program.
"The Frables' incredible generosity allowed me to attend my top choice medical school, a gift I will forever be grateful for," says Frable Scholar Matthew Stratton. "But equally important, the Frables' commitment to Feinberg has taught me the importance of fostering and investing in the next generation of medical students. They have inspired me to do the same after I graduate."
The scholarship has supported five Feinberg students so far, including two currently in the program. The Frables say they have enjoyed the chance to follow the careers of their scholarship recipients. "They email us from time to time," Jack says. "One of our current students recently completed a summer program in global health in Senegal."
Avid art enthusiasts, the Frables are also devoted supporters of the Virginia Museum of Fine Arts. Jack, a painter who has achieved signature artist status from the Virginia Watercolor Society, is a founding member of Uptown Gallery, an art co-op in Richmond. One of his paintings hangs in Feinberg's administrative offices.
"I think it's a natural interest for him," Mary Ann says. "Pathology depends so much on color, form and relationships — just like art."