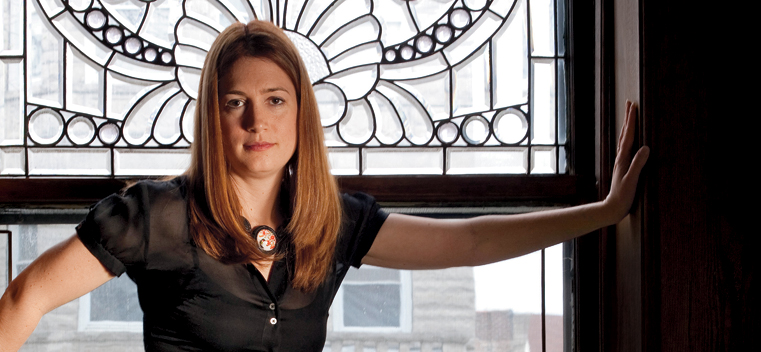 Photo by Anne Ryan/Corbis
Gillian Flynn: Gone Girl
Story Tools
Share this story
Tell us what you think. E-mail comments or questions to the editors at letters@northwestern.edu.
Ever wonder about those strange designations we use throughout Northwestern to identify alumni of the various schools of the University? See the complete list.
Find Us on Social Media
Gillian Flynn (GJ97) had an incredible 2012. Her third novel, Gone Girl, a psychological thriller about a missing woman and a shattered marriage, sold more than 2 million copies in print and digital formats and spent eight weeks at No. 1 on the New York Times best-seller list. Flynn struck a deal to write the screenplay, with Reese Witherspoon as a producer and possible star. "Writing the screenplay was tricky because it is a very cerebral book, very inside people's heads, and I had to try to get those thoughts on screen," says Flynn, who lives in Chicago with her attorney husband and toddler son. Flynn turned to fiction writing after realizing during grad school at Northwestern that she wasn't cut out to be a crime reporter. She says her journalism training has served her well, helping her develop a knack for good dialogue. It also instilled the discipline of writing. "As a journalist, you still have to write even when you are exhausted and bored because you still have to turn something in by the end of the day," Flynn said. "That still saves me sometimes as a fiction writer." She has plans for three new works, a young-adult novel and two novels for adults.