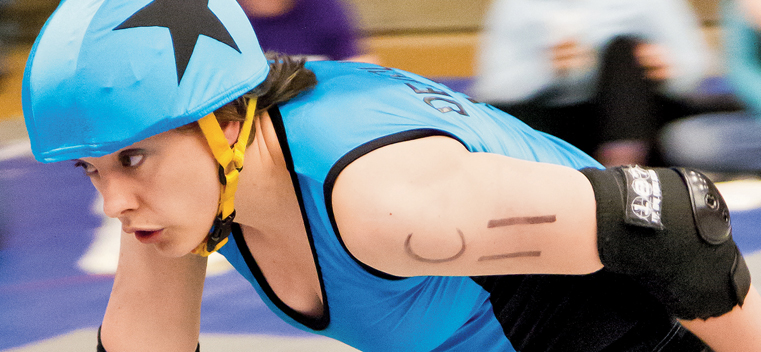 Elaine Helm: On Deadline
Story Tools
Share this story
Tell us what you think. E-mail comments or questions to the editors at letters@northwestern.edu.
Ever wonder about those strange designations we use throughout Northwestern to identify alumni of the various schools of the University? See the complete list.
Find Us on Social Media
In her five years as a newspaper reporter and editor and two years as an account executive at a public relations firm, Elaine Helm (J05) has thrived under deadline pressure. So when she was tasked with thinking of a number for her roller derby alter ego, there was one natural choice: 11th hour. Helm skates under the pseudonym "Deadline" in the Jet City Roller Girls league in Everett, Wash., outside of Seattle. A member of the Hula Honeys, she was the 2012 league MVP. Helm has been working in extremely demanding environments since her days at the Daily Northwestern, and during her time on the club rugby team at Northwestern, she found that the sport's physical nature served as a stress reliever. When she settled in the Seattle area, Helm switched to roller derby. And she hasn't looked back. "To be able to hit somebody and then go have a beer together afterward and laugh about it, I haven't found anything quite like it," Helm says.