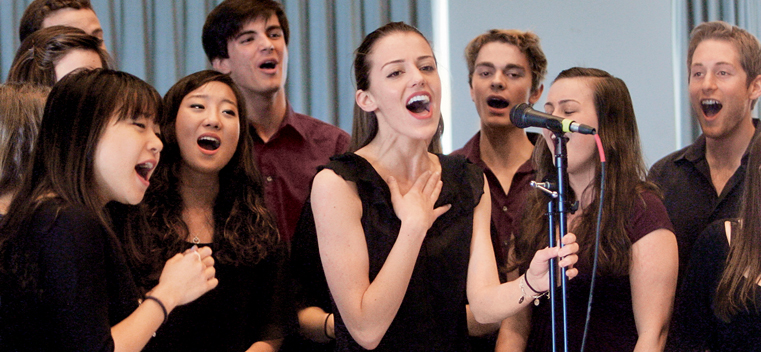 KC Schlossberg (C12) of the student a cappella group Purple Haze performs during the 2012 A Day with Northwestern at the Norris University Center. Photo by Jerry Lai (WCAS04).
A Day Like No Other
Story Tools
Share this story
The 2013 A Day with Northwestern will be held April 20 at Norris University Center.
Tell us what you think. E-mail comments or questions to the editors at letters@northwestern.edu.
Ever wonder about those strange designations we use throughout Northwestern to identify alumni of the various schools of the University? See the complete list.
Find Us on Social Media
After 43 years, A Day with Northwestern still serves potent intellectual brew.
A Day with Northwestern in Evanston has been a part of Robert Cox's life for almost three decades. He has gone from being a serial attendee to a devoted volunteer who now chairs the annual alumni event's volunteer planning board. Given that level of dedication, one might be surprised to learn that his very first experience with the event involved a brief but intense moment of panic.
"I remember walking in for the first time, and they handed me a blue book," Cox (WCAS75) recalls, with a laugh. "My stomach juFind st tied up in knots."
Fortunately, no pop quiz was forthcoming. The blue book was for note-taking purposes only. Cox says he fought the initial urge to flee and attended three lectures and a lunchtime keynote speech. He's been hooked ever since.
"I enjoyed the program a lot," he says, "so much that I convinced my wife, who is not a Northwestern alum, to attend, and she loved it as well. I think the attraction for us has been the chance to go back to school again and fire up our brains. You get exposed to a lot of things you wouldn't otherwise be exposed to, and you gain a more solid perspective on issues you're interested in."
A Day with Northwestern is back for its 44th year on April 20 at Norris University Center. The daylong event features 14 presentations on a diverse range of topics by faculty, staff and alumni experts.
It's a familiar formula that has endured since the inaugural event in 1970. The first Alumni-Faculty Seminar, as it was then known, coincided with a reunion for the class of 1920 and took on the ambitious task of bringing alumni who came of age during World War I up to speed with a changing campus roiled by Vietnam War–era unrest. Promotional material reflected the generational gap, promising to cater to "the alumnus who is frankly baffled by today's students" by offering "a real taste of the intellectual brew that is stimulating the campus." Among the topics providing froth for the brew that day were "Science in the '70s: Benign or Malignant?" and "Sensitivity Training: Fad, Salvation or Plot?"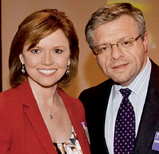 Certainly much has changed on campus in the 43 years since, but the popularity of A Day with Northwestern has not faded. It remains one of the Northwestern Alumni Association's longest-running events and consistently largest draws — so large, Cox notes, that it is now starting to outgrow the space in Norris. Last year, 520 alumni and friends packed a day headlined by NBC News Capitol Hill correspondent Kelly O'Donnell (SESP87) and National Organization for Women president Terry O'Neill (WCAS74).
"It's almost like your own private salon in a way," says Karla Stone (WCAS68), who has attended the event regularly for the past decade. "It's very thought provoking, but it can also be entertaining. It enhances your appreciation for the education you received when you were a student, and it resonates with your life experience."
Keynote speakers for the 2013 program are political strategist Patricia Solis-Doyle (SCS90) — the former campaign manager for Hillary Clinton — and Chicago Tribune jazz critic Howard Reich (BSM77) (see "No Escape from the Past," winter 2006). Keeping to a recent tradition of adding student musical performers to the program, Reich's presentation, "Let Freedom Swing: The Sound of Jazz," will feature a Northwestern student jazz quintet.
"It's fascinating, particularly for someone of my age, to see these student performers and learn about their backgrounds," Stone says. "I think it's very affirming to see these young people blossoming into something special."
In the day's other sessions, Northwestern faculty will discuss topics ranging from astrophysics to Super Bowl advertising. All are first-time presenters with one notable exception: Brian Wesbury (KSM89). For a 13th consecutive year the chief economist with First Trust Advisors will discuss the state of the economy and its impact on personal investing.
One thing that won't be back: any cause for panic. Cox notes that blue books are no longer handed out at the door.