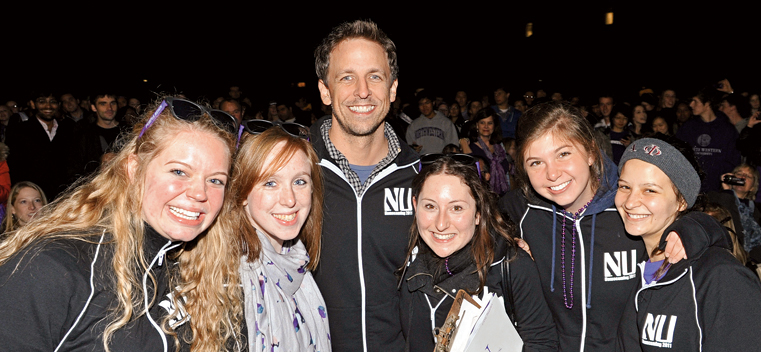 Seth Meyers with members of the Homecoming executive board, from left, Emily Lane, Havah Smith, Elisse Kavensky, Leah Hammerman and Anna Radoff. Photos by Stephen Anzaldi (GC10) and Frank Monkiewicz.
Weekend Update: Live from Evanston
Story Tools
Share this story
Alumni returned in droves to celebrate a Reunion "Weekend Update" with Saturday Night Live's Seth Meyers and the Wildcats' matchup with Penn State.
Saturday Night Live star Seth Meyers (C96) was just one of the record 6,000 alumni and friends who flocked to Evanston for Homecoming and Reunion Weekend 2011 in October — though few created more of a stir. To the delight of his classmates and Northwestern's student body, Meyers served as the grand marshal of the Homecoming parade and even made an appearance at the class of 1996 reunion party at Evanston's Bar Louie.
The festivities began with 1,140 alumni attending Friday night's welcome reception on Deering Meadow, which preceded the Homecoming parade. Prior to the nationally televised Homecoming football game, 1,344 alumni and friends gathered for the reunion tailgate while Wildcats from all over the world tuned in to a live tailgate webcast hosted by award-winning USA Today sports columnist Christine Brennan (J80, GJ81). Another 1,600 revelers gathered in Ryan Field's reunion section to cheer on the Wildcats, who lost to Penn State 34-24.
Northwestern's 10 reunion classes combined to give more than $39 million to the University, with the class of 1961 celebrating its entry into the Half Century Club by contributing $21 million.
The classes of 1962, 1967, 1972, 1977, 1982, 1987, 1992, 1997, 2002 and 2007 will celebrate Reunion 2012 Oct. 26–28.