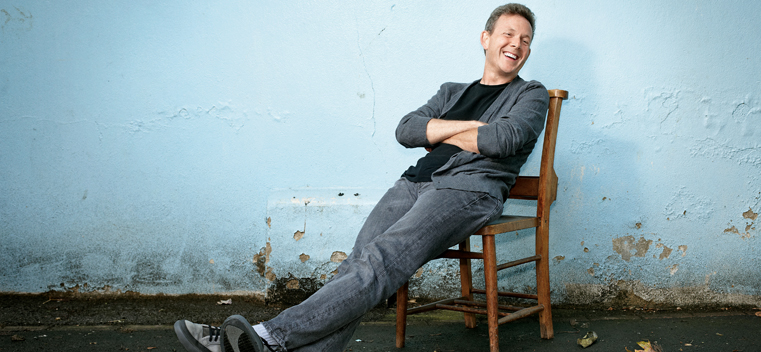 Photo by Jay Brooks
Full of Drama
Story Tools
Share this story
Related Articles
Elizabeth Canning Blackwell (C90) is a freelance writer in Skokie, Ill.
Tell us what you think. E-mail comments or questions to the editors at letters@northwestern.edu.
Find Us on Social Media
From Broadway to Hollywood, prolific playwright and blockbuster screenwriter John Logan has mastered the art of storytelling for the stage and screen.
As a Northwestern theater major, John Logan (C83) used to sneak into Annie May Swift Hall with his friends at night — not to goof off or stir up trouble but to practice Shakespeare. This past fall Logan was back in that same building, meeting with students as part of the Hope Abelson Artist-in-Residence Program and sharing what he's learned as an award-winning playwright and in-demand Hollywood screenwriter. That career, he says, is a direct result of two defining influences: his family's love of literature and the training he received at Northwestern. 
"I arrived on campus at 18, not knowing what theater was," he says, "and I was inspired and excited by what I found here. I met people who became my colleagues for life."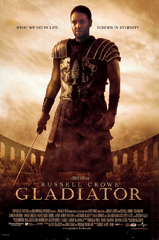 Animated and quick to smile, Logan, 50, exudes a boyish enthusiasm when he discusses projects that excite him; it's easy to see why major filmmakers from Martin Scorsese to Tim Burton want to work with him. Logan's interests are wide ranging — from opera to football to history to Star Trek — and when he latches onto a subject that intrigues him, he's willing to put in years of work to get a story right. 
Logan has received three best screenplay nominations from the Academy of Motion Picture Arts and Sciences, for Gladiator (2000; co-writing credit with David Franzoni and William Nicholson), The Aviator (2004) and Hugo (2011, in the best adapted screenplay category. Alexander Payne, Nat Faxon and Jim Rash won the Oscar for The Descendants.)
Theater director Dennis Zacek (GC65, 70), who has known Logan for decades, says, "In my opinion, it's only a matter of time before he wins an Oscar."
Smitten by Shakespeare
The son of Northern Irish immigrants to the United States, Logan was raised in a family that valued the great works of Anglo-Irish literature. He clearly remembers the defining moment that oriented him toward a life in theater. When Logan was 8 or 9 years old, his father encouraged him to come watch a movie on TV. "He said, 'It's got ghosts and a sword fight,' " Logan remembers. "It was Laurence Olivier's Hamlet. I watched it on this tiny little black-and-white TV, and that was the event that changed my life. There was a great sword fight, these mysterious, scary ghosts, and yet it had this other element of poetry and imagination. That was it. I was hooked on Shakespeare."
During high school in Millburn, N.J., Logan went into New York City to see Broadway shows and was convinced he wanted to work in theater. He applied to Northwestern, sight unseen, based on what he'd heard from acquaintances who went there. "At that time there were only a few schools that had a rock-solid reputation for both academics and artistry," he says. "NU was at the top of my list."
At Northwestern Logan read everything from classical Greek drama to Chekhov and Shaw, learning the foundations of the art form. "I spent three years studying with acting teacher David Downs, and he gave me the bedrock of everything I do today as a dramatist," says Logan. Another key influence was the Interpretation of Shakespeare class taught by performance studies professor Paul Edwards (C72, GC73). "It was a full-year class where we read every play," says Logan. "To have a professor with his brilliance and insight was profoundly important."
The Play's the Thing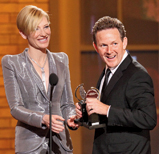 It's one thing to say you want a life in the theater but another to find out how your own talents and abilities fit into that world. Logan had enrolled in the acting program, but he never felt compelled to be onstage. "Acting is about emotional honesty, and I had no interest in that," he says with a laugh. Although he had never written anything other than the occasional research paper, he decided on a whim to sign up for a playwriting class taught by Linda Walsh Jenkins.
It was a decision that changed his life. One of his first ideas was to write a play based on the Leopold and Loeb case, a notorious Chicago murder trial from the 1920s. When Logan learned that Northwestern University Archives had a trove of original documents related to the case, it seemed like a sign that he was meant to tackle the subject (see "Crime of the Century").
For months Logan churned through boxes of documents. "Every step of my research was done on the Evanston campus," he says. His playwriting teacher and fellow students waited nervously as month after month passed with no pages from Logan. Finally, in a frantic flurry of writing, he produced Never the Sinner, a play that merged newspaper accounts, trial transcripts, psychological evaluations and fictional dialogue into a dramatic exploration of an ultimately inexplicable crime. "From the moment I sat down to write that play, I have never wanted to do anything else but write," says Logan.
By dramatizing the emotional bonds between Nathan Leopold and Richard Loeb, Logan brought his own spin to an often-told story. "I'm drawn to subjects that have an essential mystery that resonates," he says. "Research for me isn't about unlocking a hidden part of the past, it's about unlocking a part of myself. For Never the Sinner, it was the love story between Leopold and Loeb."
"When John found something that was a doorway to knowledge, nothing stopped him from going for it," remembers Downs. "It was so clear when John started writing that he had found the thing that engaged his whole self. He combined wonderful artistic instincts with a determination to master the craft of playwriting."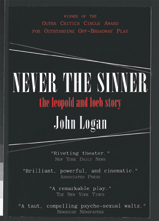 Never the Sinner won Logan Northwestern's Agnes Nixon Playwriting Award in 1983, and it was staged during the Agnes Nixon Festival at the Theatre and Interpretation Center. Friend and fellow theater major Denis O'Hare (C84) played Leopold; actress Laura Linney (C86) was a reporter. "That was a key event, because I got to see my first play come to life," says Logan. "I was set on the rest of my life."
After graduation Logan moved to Chicago and followed a path worn by many theater majors before him, working a day job to pay the rent and scribbling away at night to fulfill his artistic dreams. For 10 years he worked as a library clerk, shelving books at Northwestern's law library in Chicago. During that same decade he wrote 14 plays; although he had some theatrical successes, they were never enough to support a full-time living. "Those 10 years were about learning to do my job," he says. "I never had any money, barely enough to pay the rent the whole time. I lived on tuna fish."
Lightning Strikes
Eventually the years of struggle paid off. A play he had written came to the attention of an executive at HBO, Brian Siberell, who talked to Logan about producing it for TV. But before that could happen, Siberell was hired by Creative Artists Agency. "He called me and said, 'Would you like to be my first client?' If so, I had to go to Los Angeles and bring 10 movie ideas." Logan borrowed money for the flight to California and pitched his ideas, one of which was "King Lear in the NFL." Logan took a year off from playwriting to craft the screenplay, which was then snatched up by director Oliver Stone. Logan's first attempt at screenwriting resulted in a major motion picture, Any Given Sunday (1999).
Logan jokes that his story is "singularly uninstructive to people who want to be screenplay writers, because it really was like lightning out of the blue." Although luck certainly played a part in Logan's Hollywood trajectory, he never would have sold that first screenplay if he had not perfected his craft through a solid decade of hard, underpaid work. His was hardly an overnight success.
Logan's screenwriting career has been guided by his determination to work with directors he admires. "What excites me most about cinema is the interaction of creating a shared vision," he says. "The idea of sitting across from Ridley Scott and talking about what a gladiator battle looks like in a modern movie. Or sitting down with Martin Scorsese and saying, 'How do we show Howard Hughes flying a plane that suggests the exaltation of his spirit?'"
"John once said to me that he can admire small, independent films that examine the workings of the human heart, but that's not what he does," says Downs. "He loves big, epic movies. He loves research. He has a love for the big human life stories."
Collaboration with Creatives IS Key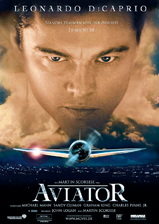 While bitter screenwriters can be found throughout Hollywood, lamenting the dumbing down of their artistic vision, Logan says he has never been disappointed by how his work has been translated on screen. "I am always amazed by what a filmmaker or an actor can bring to the page," he says. "I remember working on The Aviator, which was a five-year process. Leonardo DiCaprio was able to look at a scene I'd written and say, 'John, I don't know that we need all this dialogue. We might be able to communicate this with a look.' That engagement helps you do your job better. A filmmaker can talk through certain shots, and that unlocks a creativity in me. The sparking back and forth with different artists is what makes being a dramatist really exciting."
While a novelist mostly works in isolation from the world and other artists, Logan says what he loves best about his job is the mix of introspection and collaboration. "On the one hand, the work can be very solitary, grueling work," he says. "But the other part requires engagement with other artists. I write lines for actors to speak or scenes that will inspire designers or makeup artists. I've always loved that."
Most casual moviegoers, says Logan, don't know how much work goes on behind the scenes of the supposedly glamorous movie business. Despite his success, Logan still keeps a grueling schedule, waking up at 5 a.m., and he has found that the best actors are similarly dedicated. "Here's the great myth about movie stars," he says. "People think their life is about getting on a yacht and going to Tahiti and walking on the beach. For a career to last, it's all about hard work and real discipline. Johnny Depp gets up early, just like I do, to work. Leonardo DiCaprio stays up late, just like I do, to work. The stars I know who are successful have earned it."
And Logan has earned his success as well, by staying true to his artistic instincts and refusing to dwell on projects that never panned out. "John has a terrific ability to put his tender artist's heart aside when he's collaborating," says Downs. "He can be bruised and hurt, but he doesn't let resentments get in his way. He gets right back up and gets on with it."
Seeing Red — Onstage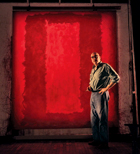 Although writing for the screen has been the focus of Logan's career for the past decade, a visit to the Tate Modern museum in London brought him back to his first love, the theater. Deeply affected by the Seagram murals painted by Mark Rothko, Logan investigated the story behind the paintings and soon realized he had the inspiration for a two-person play. The result, Red, won the Tony Award for best play of 2010.
"Red deals with the nature of creation and the process of presenting art," says Zacek. "There's a great scene where Rothko and his assistant are working on a painting, and it's completely nonverbal. It's intense, kinetic, full of sweat and energy. John gives us that glimpse behind the scenes, to see that the creation of art is often a rough-and-tumble process."
"Winning the Tony felt like a validation of my entire life," says Logan. "I fell into screenwriting, and I've loved every second of it, but my first calling has always been the stage. It was an amazing night, to be able to get up and hold the Tony. The most important thing for me is not that I have a Tony on my shelf. It's that Tennessee Williams had a Tony, and Eugene O'Neill had a Tony. In my own small way, I'm part of a continuum that is very important to me."   
Inspired and motivated by the success of Red, Logan has written another play, which will premiere in London later this year, although he's secretive on the details. Similarly hush-hush is the screenplay he's written for the next James Bond movie, Skyfall, due out in November. "I grew up with those movies, so it's been a complete pleasure to work on and thrillingly exciting," he says. He is also collaborating with singer and poet Patti Smith on a screenplay based on her successful memoir, Just Kids.
Juggling so many high-profile projects can be a challenge, but Logan seems invigorated by working in different genres. "I get singular satisfaction in continuing to explore my art form," says Logan. "It's the art form of Shakespeare, of Ibsen and Tony Kushner (H98), and it is as complete and full a life as I could imagine."