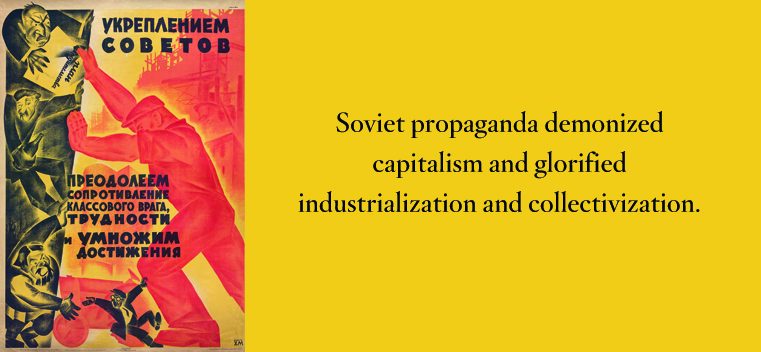 This poster from an unknown artist was published in Moscow in 1930. The text translates as "By Making Strong Soviets You Resist Class Enemies and Multiply Our Success." Special Collections has 239 Soviet-era propaganda posters from two anonymous donors. Courtesy of the Charles Deering McCormick Library of Special Collections.
Collections: Powerful Posters
Story Tools
Share this story
Special Collections exhibit highlights propaganda from the USSR.
Soviet Union propaganda posters from the 1930s demonized capitalism and attempted to inspire, placate, inform and frighten Soviet citizens during an era of social engineering.
The posters glorified industrialization and collectivization, equating those goals with the ideals of modernization, health, happiness, equality and cleanliness. The posters were published and distributed throughout the Soviet Union.
The posters, from the Charles Deering McCormick Library of Special Collections, are featured in Papering Over Tough Times: Soviet Propaganda Posters of the 1930s. The exhibit of 17 posters, which is on display in Deering Library through June 15, is part of the Soviet Arts Experience, a 16-month collaboration among 26 Chicago-area arts institutions to showcase art, dance, music and theater from the Soviet Union.
The collaboration included two other displays at University Library, including one that recalled the campus visit of famed Russian composer Dmitri Shostakovich (H73) in 1973, and two exhibits at the Block Museum of Art.