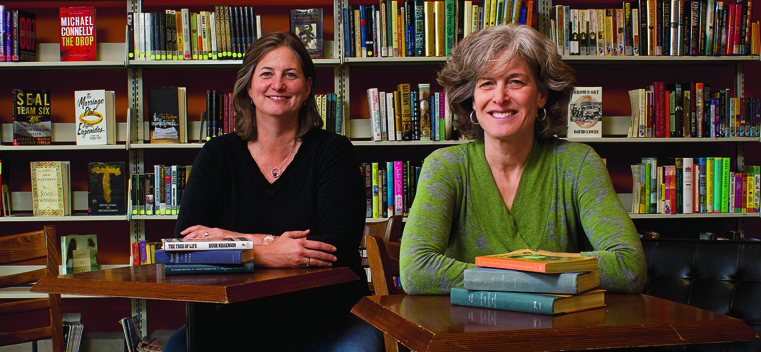 Marcia Andersen Mahoney, left, and Jill Schacter helped launch the Mighty Twig, a library outpost in south Evanston.
Marcia Andersen Mahoney and Jill Schacter: The Mighty Twig
Story Tools
Share this story
Two alumnae launched a library outpost to provide book-lending services, reading rooms and more in Evanston neighborhoods.
When funding cuts forced the closure of Evanston Public Library's south branch last February, Marcia Andersen Mahoney (WCAS81, GC02) and Jill Schacter (J84) rallied to provide an alternative. Less than a month later, the Mighty Twig (not quite a full-grown "branch") opened. Operating on an honor system without cards or fines, volunteers lent out more than 6,000 donated books in the Twig's first six months. The site attracts visitors of every age, with younger patrons toddling in the play area while older community members come to use the computers and Wi-Fi. Though the library "outpost" has proved popular, it's not intended as a permanent replacement for the south branch. "The Mighty Twig is an experiment," says Schacter. Having met a $25,000 funding goal to stay open into 2012, she and Mahoney have some time to keep tinkering. In addition to story times and book clubs, Twig volunteers have redistributed thousands of books across Evanston and established reading rooms in shelters and schools. "We're hoping that what we've done here can be used as a model," says Schacter. The Mighty Twig and its backers, the Evanston Public Library Friends, also helped expand a community library at Family Focus on Evanston's west side.