---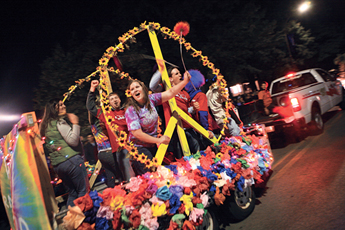 The Northwestern football team gave the students and returning alumni plenty to cheer about on Homecoming Day last October. The Wildcats thrilled the 2007 reunion-goers, seated with their classmates at Ryan Field, with a double-overtime win over the University of Minnesota.
The reunion classes earned their own applause when the co-chairs presented a check representing the combined reunion class gift to President Henry Bienen between the first and second quarters. The reunion class gift totaled $9,054,800.
Nearly 3,700 alumni and guests from the classes of 1962, 1967, 1972, 1977, 1982, 1987, 1992, 1997 and 2002 returned to campus Oct. 12–14 for the Northwestern Alumni Association's Reunion Celebration 2007.
After a series of career and educational events on Friday, alumni gathered at the All-Class Reunion Tent Party on Deering Meadow — and at the James Hotel in downtown Chicago — to catch up with college friends. Homecoming grand marshal Clinton Kelly (GJ93), host of The Learning Channel's What Not to Wear (see "Clothes Force," fall 2006), helped kick off the festivities at the parade along Sheridan Road on Friday night. Alumni also enjoyed a fireworks display over Lake Michigan.
After Saturday's game, record numbers of alumni celebrated their memories at class reunion parties on campus and throughout Evanston and Chicago. Sunday's festivities included an architectural tour along the Chicago River and a gospel brunch at the House of Blues.