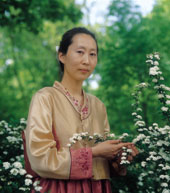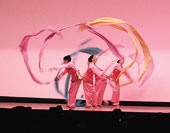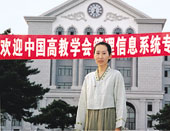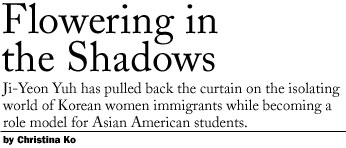 It was a Friday afternoon in May 1990. Ji-Yeon Yuh, then a journalist at Newsday's Queens bureau in New York City, came home to discover more than a dozen messages waiting on her answering machine. She soon learned why.

Pulitzer Prize–winning columnist Jimmy Breslin had called her a "yellow cur" and "slant-eyed" during an angry outburst in Newsday's Manhattan office after he read Yuh's e-mail message in response to one of his columns, which she had criticized as being sexist.

"I was stunned," says Yuh, now an assistant professor of history and Asian American studies at Northwestern. "Breslin is a respected journalist who wrote about civil rights. He was perceived as being a liberal. … This interchange crystallized concepts about racism that had been percolating in my mind for some time."

Soon afterward Yuh left Newsday to study in the University of Pennsylvania's graduate history program. "Before, I hadn't faced Asian American issues head-on simply because I was getting on with life," she explains. "Back then, I would have questioned whether they were the first priority for me, but this event made it possible to put it all in the front of my mind."


---

During her studies at Penn and in South Korea and since coming to Northwestern, Yuh has explored and taught about the Asian American experience, becoming in particular a leading proponent for Asian American feminism.

Following three years of research in Korea and on the United States' East Coast, Yuh published a book, Beyond the Shadow of Camptown: Korean Military Brides in America (NYU Press, 2002), which grew out of her dissertation. Employing oral histories, she examines the stories of some of the 100,000 Korean women who married U.S. soldiers stationed in Korea and moved to this country, linking this phenomenon with the militarily and politically "unequal" relationship between Korea and the United States.

Gathering information for the book wasn't easy, partly because these women are ostracized a great deal by other Koreans. "Although being a Korean woman myself was an asset," says Yuh, "it was also a liability because they thought I would exploit them in some way. It took a long, long time to gain their trust."

With Yuh's persistent attendance in places like a Korean church in New York that primarily attracts military brides, barriers were broken. One woman even asked Yuh to be her daughter's mentor. Eventually, many agreed to interviews, revealing much about lives known to few.

Many of their stories were harrowing. One woman was tricked and sold to a brothel serving U.S. soldiers in Korea. She ended up marrying one of them in the mid-1960s and divorced him soon after arriving in the United States when she could no longer bear his beatings. Alone in a foreign country, she struggled through by working in factories. Not one Korean helped her out.

"Every woman touched me deeply," says Yuh. "Their life stories are incredibly poignant. They suffered and overcame a lot. What touched me most was their resilience — their ability to overcome and their stubborn insistence on optimism."

Often removed from the Korean community and unable to fit into mainstream society, many military brides form small clubs to socialize. For some women, says Yuh, these events are their only chance to speak Korean, eat Korean food and be with other Korean women. They also exchange information about jobs and take newer military brides under their wing.

"Korean immigration, if you trace back, is anchored by women who married U.S. soldiers, became U.S. citizens and sponsored other immigrants," says Elaine Kim, professor of comparative ethnic and Asian American studies and associate dean of the graduate division at the University of California, Berkeley. "But after these people get here, they like to forget about the women to whom they owe their new lives. Ji-Yeon places these women in a much larger context."

In her book Yuh describes exactly that scenario: numerous cases where these women were used by their relatives in Korea, who cut off all contact once they were safely in the United States and had gotten what they wanted. "They feel a mix of bitterness and resignation," explains Yuh. "I wouldn't call it a grudge, it's more like a sadness."


---

With her black hair, elegantly streaked with a few lines of gray, neatly pulled back into a low bun and her serene but thoughtful expression, Yuh appears anything but fierce. Yet looks are deceiving.

"Ji-Yeon provides a wonderful role model as a woman of color and a professor in a discipline [history] traditionally full of 'old white men,'" says Priya Srinivasan, a doctoral candidate in performance studies and a former teaching assistant for Yuh's Asian American women's history course. "She's an example of what a smart, strong Asian American professional woman might become if she puts her mind to it."

Yuh was hired by Northwestern in 1999 as one of the two core faculty members of the Asian American studies program, which launched when the AAS minor originated in fall 2000.

"We were especially impressed that Ji-Yeon uses archival work in Korea, which contributes to Asian American studies and Asian studies," says Eric Sundquist, former dean of the Weinberg College of Arts and Sciences. "She's worked incredibly well with individuals on research and dissertations, as well as with the Chicago area's Asian American leaders. She's helped establish strong foundations for the program in a short time."

Yuh's courses are tough; many students have reconsidered taking her classes after inspecting the jam-packed syllabi. Puneet Singh (WCAS02) labored over many challenges that Yuh, who was her senior thesis adviser, brought upon her. "When I thought I fulfilled the requirements, she would ask me to stretch myself a little further to improve on this bit of analysis or to add a bit more literature," says Singh, who wrote on the South Asian domestic violence movement.

Besides wanting her students to develop comprehensive understandings of Asian America and racial issues, Yuh emphasizes the distinction between information and knowledge. "People are becoming obsessed with receiving the information and just spitting it back out," she says. "You have to be able to look at information out in the world and create knowledge for yourself."

To instill this philosophy in her students, Yuh tries to leave as much room as possible for independence and creativity. So she allows students to pursue anything — photography, Web sites, community work, documentaries — for their final projects, as long as they demonstrate critical analysis.


---

A Seoul native, Yuh immigrated to Chicago as a 5-year-old in 1970, leaving Korea on a rainy summer day with her mother and younger brother. Her father, a minister, was already in Chicago as a graduate student.

"Landing in America, I remember people's hair color and facial structures were funny — they just didn't look right," says Yuh. "It was all so strange then."

Yuh spent 13 years in Chicago before heading off to Stanford University, where she received a bachelor's degree in cognitive science in 1987. In college she worked for the Stanford Daily for three years, serving as everything from opinions editor to features editor to managing editor. Yuh continued with journalism afterward, working at the Omaha World Herald, Newsday and part time with the Philadelphia Inquirer.

After she enrolled in Penn's graduate school, many of her nights involved haksup sessions (small seminars) with the generation of Korean Americans, like herself, who were born and in many cases raised in Korea but who later immigrated to the United States. In those sessions they discussed topics such as immigration and history. Eventually Yuh decided to concentrate on Asian immigration.

"The paradigms being discussed for European immigration were insufficient for the Asian model," says Yuh. "People would ask, 'What's different about their experience?' But it was my gut feeling that Asian immigration is distinctly different."

Race is key, she notes. For example, the exclusion acts and limitations on naturalization that the United States imposed on Asians in the 19th and early 20th centuries were never considered for Europeans during that time.

After a year at Penn, Yuh spent two years at Seoul's Yonsei University, one of the top private institutions in Korea. There, it was an anthropology professor who first suggested exploring Korean military brides and their immigration.

"Korean war brides are marginal in both Korean and Korean American society," says Gary Okihiro, who served on Yuh's dissertation committee and is now director of Columbia University's Center for the Study of Ethnicity and Race and an international and public affairs professor. "Her rescue of them — recording and representing their histories — is important because it simultaneously intervenes in several master narratives of Asian America and helps create a sense of dignity and community among these disparate women and their families."


---

Yuh has expanded her current research to include comparative studies of ethnic Koreans in China, Japan and America. She is curious about how issues of nationalism, race and ethnicity unfold in three quite different contexts.

"The interviewees often thank me for taking an interest to preserve Korean collective history," says Yuh. "They find it remarkable that a scholar would find ordinary lives to be historical material, especially in Japan and America. In China they are pleasantly surprised that a scholar from capitalist South Korea and America would take this approach to history."

So far Yuh has discovered that Korean Americans and Korean Japanese share many similarities — initial confusion, discrimination and the emergence of movements to reclaim Korean identity. However, in China, partly because of an official policy that gives Koreans autonomy and supports Korean culture, there is little friction between identities.

"This difference is palpable," says Yuh. "In China, being Korean and expressing it in everyday life — food, language, family relations — is taken for granted. But in Japan and America, the pressure is to be just Japanese or American. The irony and tragedy is that in Japan this means erasing and hiding one's Korean identity, while in America becoming 'white on the inside' doesn't protect one from racial discrimination."


---

Today, Yuh can often be seen on South Campus in a traditional Korean dress, called a hanbok, which she started wearing in 1997, the year she got married. She had traveled to Korea and while strolling down Seoul's busy streets, found herself constantly running into stores selling everyday-wear modern hanboks.

"They were just so comfortable — plus, no need for maternity clothes with hanboks," says Yuh, who has a 5-year-old son and 2-year-old daughter. "There's a problem with the idea that the East is a stagnant culture where the thing to do is preserve it in museums. Eastern culture is changing, and its components — such as this type of clothing — should be able to evolve and adapt without simply adopting Western things."

Although now in academia, Yuh still writes for both U.S. and Korean newspapers. In 1998 she wrote a regular column in English and Korean for Korea's Yosong Shinmun (Women's News). A column written for Newsday in February called President Bush's policy toward North Korea ineffective and was reprinted by several dailies, including the Washington Post, Baltimore Sun and the Daily Yomiuri, a major newspaper in Japan.

When she's not busy with research, campus life and spending time with her family, Yuh stays involved with Chicago's Asian American community as a public speaker and consultant to various groups. Tuyet Le (WCAS93), executive director of the Asian American Institute Chicago, has been invited several times to be a guest speaker in Yuh's classes to discuss Chicago's Asian American community, its political development and pan-Asian issues.

"As an alumna before the existence of the [AAS] program, I feel it's important to have people like Ji-Yeon, who are dedicated to pass on our history," says Le. "And her connection to the Chicago community is important because it lets students experience some things that can't be readily experienced at the University."

The sentiment on campus is the same. Singh sums it all up in three words: "Professor Yuh rocks."

Christina Ko, a senior in the Medill School of Journalism, was born in Seattle and has lived in Seoul, South Korea, for 10 years. She is currently an editorial intern for Northwestern magazine and in summer 2001 was an intern in the Pacific Stars and Stripes' Seoul bureau.

RETURN TO TOP