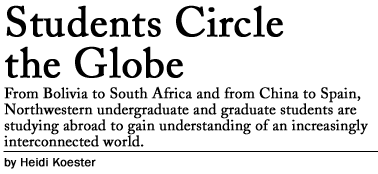 At 13,000 feet above sea level on Bolivia's desolate Altiplano, Robin Kazmier took the first steps of a 96-mile religious pilgrimage from La Paz to Copacabana, a small town on Lake Titicaca's southeastern shore. Kazmier, then a Weinberg College of Arts and Sciences junior, hiked 70 miles in 28 hours.
Weinberg senior Sarah Bush studied modern history and politics at St. Anne's College at the University of Oxford in England and founded a chapter of an international student organization when she returned to the United States — after hitchhiking 1,600 miles to Morocco for spring break.
School of Communication senior Zach Benjamin's intensive Chinese language classes in Beijing empowered him to venture into unknown lingual territory and return to Northwestern to minor in Chinese language and cultural studies.
Kazmier (WCAS04), Bush and Benjamin are just three of the thousands of Northwestern students who have taken life-changing journeys through the University's international study opportunities. Northwestern offers a variety of international experiences, immersing students in the global community on the local level for just one week or even an entire year.
Today students can study all over the world, including Africa, Asia, Europe, the Middle East, Oceania and North, Central and South America, in just about any educational field in several Northwestern-run programs and more than 100 affiliated programs. In the 2004 fall quarter alone, about 400 Northwestern undergraduates studied in 45 countries. And the percentage of graduating seniors who have studied abroad reached a new record in 2005 — 21 percent.
While students go overseas for a variety of reasons — to learn a foreign language, develop a global perspective, perform advanced research — international study has had special significance for the Class of 2005 because these seniors are the first to complete four years of college in the wake of Sept. 11, 2001. —
"I think that for a lot of us Sept. 11 was the shaping experience of our college years," says Bush. "We learned how important the rest of the world is to our education. It showed us that there are things to learn in other countries and from other countries. Our community isn't just Chicago or the United States… it's the world."
. . .
For many years Northwestern students who wanted to study overseas joined one of the handful of Northwestern-approved, often Europe-focused programs run by other universities. It wasn't until 1997 that Northwestern ramped up its promotion of international study and launched the Study Abroad Office, under the direction of Bill Anthony, to assist students in finding affiliated programs that matched their interests.
Since then several thousand Northwestern students have embarked on an academic adventure, while getting a global perspective on their studies through some of the hundreds of international study opportunities available at the University.
Several Northwestern schools have created their own international study options. Weinberg implemented the global health studies minor in 2004 and specified that all global health students must have a public health experience abroad through a Northwestern-approved program prior to graduation.
Students can also participate in five Northwestern exchange programs, some of which require advanced foreign language abilities so students can take classes in the host nation's native language.
The Medill School of Journalism added a language requirement for its majors this year. "It is almost irresponsible for someone in my position not to be encouraging a more global education," says Medill dean Loren Ghiglione. "You want education, if it can be, to be a transforming experience."
He cites Medill's Teaching Media internship programs in South Africa and India as transforming experiences for Medill students. Participants have gone on to win a Fulbright grant in Zambia and to study public health, while others have been offered jobs overseas. "Whatever you want to do, international experiences change your view," Ghiglione says.
The communication studies department of the School of Communication offers the International Media Seminar, a six-day spring break trip to Paris for graduate and undergraduate students interested in global media issues. This year marked the seminar's 10th anniversary, and the 50 trip participants met with some two dozen speakers, including Constance Morella, U.S. ambassador to the Organization for Economic Cooperation and Development, who hosted the opening reception at her residence; French government officials and academic figures; and journalists from major U.S., French and African media, including CNN, Liberation, Time Magazine, the Washington Post and the International Herald Tribune.
Lee Huebner (WCAS62), professor of communication studies and journalism, organized and co-founded the seminar and believes the program introduces students to new perspectives. "It is a way for students to stretch their horizons and see the importance of being part of an international community — to think and act globally," he says.
Both the Kellogg School of Management and the Northwestern School of Law now offer short-term international programs during the academic year (see "Grad Students Go Global, Too"), and the Feinberg School of Medicine offers six-week summer electives in China, Mexico and South Africa. And many undergraduates have done academic projects overseas on the University's Undergraduate Research Grants, a program strongly supported by President Henry S. Bienen.
The Office of International Program Development opened in 1998 to offer specialized initiatives for Northwestern students, including programs in international public health, emerging global structures, and science and engineering. Dévora Grynspan (WCAS76, G83), office founder and director, designed most of these programs and forged alliances with universities in China, Mexico, France, South Africa and Switzerland. And best of all, engineering, science and even premed students can take overseas classes in their major for credit on the IPD Northwestern programs.
Grynspan's programs target students who may not have the opportunity to go abroad because of limited language ability, lack of professionally relevant opportunities or scheduling concerns. Students in most programs take courses in English but also study the local language in a separate course.
For students with limited academic flexibility, Grynspan developed summer programs in countries like China and Mexico. Grynspan also incorporates extra cultural exposure. "Students go on excursions and experience the countries without the burden of having to be fluent," Grynspan says. "Language is not our focus, but now you can learn the language within your field in a professional manner."
(The Office of International Program Development also runs exchange programs, which require advanced language skills with courses taught in the native language, at the École Polytechnique in Paris and the Swiss Federal Institute of Technology in Zurich. The Study Abroad Office administers three exchange programs — at the Indian Institute of Technology in Bombay, the Institut d'Études Politique de Paris, or Sciences Po, and Indiana University's Bologna Consortial Studies Program, held at Italy's University of Bologna.)
But Grynspan doesn't just send students around the globe. She often visits them abroad to evaluate and supervise the program and make needed changes in the curriculum or program. Her enthusiastic curriculum development stems from a commitment to global learning.
"To understand the world, you need international perspective," she says. "It is our obligation to offer an international curriculum to students in all disciplines."
The Chinese language scholar Zach Benjamin, a communication studies major from Chicago, began his quest for international understanding during summer 2002 in Beijing through the Office of International Program Development's Emerging Legal and Economic Structures program. Though he had limited Chinese language experience, Benjamin left Beijing with a new academic focus and the drive to continue studying Chinese.
"Before the trip, Chinese wasn't something that connected to my future or an academic program," he says. After spending the summer amidst ancient relics contrasted with neon city lights, Benjamin's interest in China changed. He returned to Northwestern and minored in Chinese language and cultural studies, writing his senior thesis on Chinese youth ideology.
While abroad Benjamin took three classes in economics and history, plus a three-hour Chinese course each morning. He learned plenty of lessons outside of the classroom, too.
"I once decided to venture out for dinner without anyone who spoke fluent or even conversational Chinese," Benjamin admits. Trying to order pork in a restaurant, he drew a large pig's head on a scrap of paper. "When the dish came, it actually had ears and a snout," he says. "They'd brought me a pig's head!" Benjamin doesn't remember how the delicacy tasted, but he hasn't forgotten the lesson in linguistic shortcomings.
He returned to China in summer 2004 to teach English and consult for Tian Shuo Education Exchanges Service Co. After his study and work experiences abroad, Benjamin has decided to pursue a graduate degree in East Asian regional studies at Columbia University and hopes to enter a doctoral program specializing in Asia.
. . .
Northwestern's Study Abroad Office boasts a variety of international opportunities. The staff evaluates programs offered by peer institutions and approves them for Northwestern student participation.
When the Study Abroad Office began in 1997 the Weinberg dean's office held only a few file drawers with pamphlets about a handful of programs. Now director Bill Anthony and associate director Jennifer Hirsch (WCAS90) and staff prepare for international study through predeparture workshops, research courses and readjustment strategies pertaining to the more than 100 approved programs.
The office puts a premium on less-traveled destinations. "If students study in a nontraditional location and develop a cultural understanding of that society," Hirsch says, "the experience provides personal benefits and career expertise."
Still, the vast majority of students (about 71 percent in the 2003 academic year) have chosen to study in Europe. England, France, Italy and Spain are Northwestern's most popular study abroad locations.
Robin Kazmier took Hirsch's advice to heart and chose to study in Bolivia with the Vermont-based School for International Training's Culture and Development program during winter and spring quarters in 2003.
As a 6-foot-tall American woman, Kazmier stood out during weeklong excursions throughout the country to cities such as Tiahuanaco, Potosí and Santa Cruz. She visited agriculture cooperatives, women's weaving groups and environmental conservation organizations. She also heard a lecture from Evo Morales, a controversial leader of coca growers unions and an activist for the indigenous Quechua people.
The School for International Training sends students abroad for field-based experiential learning. Kazmier attended intensive language training and small group seminars about culture, development and research methods in Cochabamba. Though she lived with a host family in Cochabamba for most of the program, she spent one week with another family in the rural village of Mizque.
Kazmier's interest in making the religious pilgrimage to the Virgin of Copacabana, a 400-year-old wood carving of Bolivia's patron saint, led to her final research project and grew into a senior thesis. She came back to campus with more than bruised, bloodied feet.
Kazmier says she brought the experience of her Bolivian home-stay back to the United States. "My host family wouldn't let me leave the house without them," she jokes, remembering the closeness of her host parents, Felix and Carmen, and their three children. Kazmier became a sister to the youngsters.
"It started to sink in when I got back to the United States," she says of the Bolivian concept of family. "I realized that the number one value at Northwestern was usually personal ambition, but in Bolivia people built their lives around their families."
After graduation she accepted a position as a program assistant in Northwestern's Study Abroad Office and then asked her mother to move in with her. "I'm so disgusted with my old mentality. I had given my family my time only after I'd finished everything else that I needed to do. Now I wanted to take this time to really get to know my relatives," she says, referring to extended family in the Chicagoland area.
Kazmier and Benjamin knew they wanted an international experience before coming to Northwestern, but for others the choice is more complicated. "Some students have trouble finding a program that fits their needs or schedule," Hirsch says. She explains that national trends hold true at Northwestern — science and engineering majors and men aren't studying abroad as often as their female and humanities-based peers. Other universally underrepresented demographic groups include low-income students and first-generation college students.
"I've never seen an analysis about the number of men studying abroad," Hirsch says. "Nobody knows why only roughly one-third of study abroad students are men. My theory is that when study abroad first started, it was more humanities based and not as relevant to subjects that men were studying at the time."
Anthony has his own theory. "I think women are just more adventurous," he says.
The gender discrepancy aside, Hirsch says students face many invented barriers. "Many don't see study abroad as a possibility because of curriculum requirements. A biology major doesn't think of it, or a professor may not encourage it." In some instances families aren't eager to send their children away from campus.
"There is a perception that it isn't affordable, or parents might have the attitude that study abroad is an extracurricular activity or a vacation," Hirsch adds. Some parents worry about the safety and political stability of study abroad countries, preferring to keep their children stateside.
The Study Abroad Office staff tries to break down those misconceptions. "Families are paying way too much tuition for a study abroad program to be just a travel experience for their son or daughter," she says. "We require students to know something about the places before they go. We believe that if you have a foundation to work from, you'll learn a lot more." To take advantage of the office's solid predeparture preparation, students attend workshops and present miniresearch proposals with their program applications.
Students who put in the extra preparation before studying abroad often incorporate international experiences into their academic lives when they return to campus. Darrah Doyle, a Weinberg senior from Sudbury, Mass., combined her art history major and premed studies through the IPD's Health Policy in France and the European Union program in Paris during the 2003 fall quarter. IPD organized dormitory-style student lodging and trips to the World Health Organization and National School of Public Health, while students took public health courses in English at the Institut d' Études Politique de Paris, the premier public affairs school on the European continent.
"My experiences in Paris made me look at the U.S. health care system more critically and wonder, is health care a basic right or not?" she says.
Ultimately, it was the question of HIV/AIDS that piqued Doyle's curiosity. Her final group project produced a 120-page report on HIV/AIDS efficacy research.
When she returned to Northwestern, Doyle learned about "HIV/AIDS Is Our Concern," a large, 117-panel quilt in University Library's Melville J. Herskovits Library of African Studies. Doyle then applied for and received a Northwestern Undergraduate Research Grant to study the textile that was stitched together by the Chivirika Group, a women's collective in the Limpopo Province of South Africa. (The quilt is currently stored and folded in protective paper, but Doyle and David Easterbrook, the George and Mary LeCron Foster Curator of the Herskovits Library, hope to exhibit the piece.)
Doyle continued to explore the textile's history as she traveled through South Africa on the grant and learned about community health systems and the HIV/AIDS quilt project.
"None of this would have happened if I hadn't gone to Paris on the IPD's international public health program and met Dévora," Doyle explains. She says Grynspan helped her identify a project and organize the logistics of her research grant. Doyle lived in the mountainous wine country near Cape Town and drove a rental car to a nearby community center and clinic in search of people to interview about AIDS. "Because of the link with sex, it was hard to get right to the issue," she says. "But I'd ask about what people were doing in their lives to try to stop the rapid spread of the epidemic." One mother shared that she put condoms under her sons' pillows every night. "She couldn't talk about the problem directly, but that was her way of trying to make her children safe," Doyle explains.
Doyle volunteered at the Brown's Farm health clinic in Guguletu and saw the limits of African health care up close. Her experiences in Paris and Africa came together in her senior thesis about the quilt project.
Senior Sarah Bush, of St. Louis, also spent time in Europe and Africa. She spent a year studying at the University of Oxford and, while there, hitchhiked to Morocco. Having realized her childhood dream of living in England, Bush says her time at Oxford changed the rest of her life at Northwestern. "I found that there is actually a very real academic connection to be made between childhood fancy and career goals and aspirations," she says.
After seeing how other countries viewed the United States while she was at Oxford and during her travels to North Africa, Bush decided to found a chapter of Americans for Informed Democracy at Northwestern. The group began in England, created by U.S. students at Oxford who were concerned about foreign perceptions of America.
"The founding students wanted a moderate American voice to be heard abroad, unfiltered. And when they returned to the United States, they wanted to bring an internationalist multilateral perspective back," Bush explains. "I thought that was so important when I came home and that it would be a good way to make my community more aware of issues that I became passionate about while I was abroad."
Bush serves as the coordinator of the Northwestern chapter of Americans for Informed Democracy, which includes nearly 100 members. The group facilitates town hall forums, international videoconferences and other moderated panels designed to raise awareness about global issues. Last January AID hosted a videoconference discussing tsunami relief efforts with students at 12 locations in Sri Lanka, the United Kingdom and the United States. Bush will serve as AID's national executive director after graduation and plans to pursue a doctorate in political science.
Bush has seen that study abroad returnees share a special bond with other international students on campus. "I've met some international students who've gotten involved with our [AID] events," she says. "Meeting British students reminds me of being there and keeps my experience alive. We can share the experience of living in a different country… how exciting and scary it is to do so."
As Bush and her Northwestern classmates approach graduation, global education has become almost an assumed part of the university experience. "We expect an international component to our future," she says. "I'm committed to pursing international understanding, and studying abroad really reinforced that."
Heidi Koester (J05) recently researched the Chilean free press in Santiago. The trip was sponsored by Medill's Eric Lund (J49) Global Reporting and Research Grant. Koester spent her junior year studying in Santiago with Cooperative Programs in the Americas, a program affiliated with Northwestern's Study Abroad Office.
Did you enjoy this story? If you have any questions or comments, please e-mail the editors at letters@northwestern.edu.
---