FEATURES:

Helping Lost Boys Find Their Way
Elizabeth Prevost,
a graduate student in history, has gained much from her work with African refugees.
---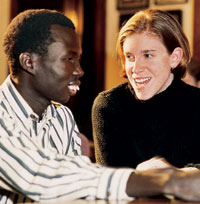 Photo by Mary Hanlon
Elizabeth Prevost, a fifth-year graduate student in history writing her dissertation on 19th-century British women missionaries in Africa, has always had a strong faith in God.

Then, over the last year, 20 of the thousands of refugees now known as the Lost Boys of Sudan entered her life and showed Prevost how truly powerful a strong faith can be. "You wouldn't believe what they've been through," she says of the young men, southern Sudanese Christians between the ages of 18 and 26 who relate harrowing stories of surviving the religious violence that has plagued their nation and separated them from any surviving family members.

"They've taught me so much about what it means to be a person of faith," says Prevost, the daughter of an Episcopalian clergyman. "They've put their complete trust in God."

Prevost's knowledge of Africa before she became involved with the Lost Boys was limited to the documents she'd combed through for her dissertation. But that academic knowledge has been enhanced by her volunteer work with the Sudanese, who themselves are products of missionary educations. "It's made me aware of things I only knew about on a theoretical level," says Prevost, who is from Winnetka, Ill. "I'm grateful that I've been kind of forced out of the Ivory Tower. It's given me an idea of what missionary work might be like.

It was in September, around the time that the young men started moving into Chicago's Rogers Park neighborhood, that Prevost, through her church, began helping the Lost Boys. About 3,000 of the refugees have settled in U.S. cities.

The young men were displaced from their homes and families when civil war broke out in Sudan in the 1980s between the northern Islamic regime and southern separatists. After their villages were invaded by northern troops, hundreds of thousands of boys — some no older than 4 — fled their villages and walked thousands of miles to refugee camps, first into Ethiopia and then Kenya. Several told Prevost about fording huge rivers without knowing how to swim. Many of their friends and relatives were lost to drowning and crocodiles in the process.

Although Prevost helps out the group of 20 Lost Boys any way she can, her main goal is to find them jobs. She organized a résumé-writing workshop, gave a tour of the city and even offered guidance on winter-weather wear.

"They've been able to adapt quickly to everyday conditions that we take for granted but are completely unfamiliar to them, such as public transportation and subzero weather," Prevost says. "That shows how resilient they are."

After earning an undergraduate degree from Trinity College in Hartford, Prevost — who worked for a year as the education director at an Episcopal church in Highland Park, Ill. — acknowledges that job searching for the Lost Boys can be frustrating in a culture that makes U.S. work experience such a priority. None of the young men had ever worked with computers, although at this point they are rapidly learning such skills as sending e-mail messages and word processing.

So far three of the Lost Boys have found employment with dining services on Northwestern's campus.

In February Prevost brought six Lost Boys to the University's Multicultural Center to speak to students about their experiences. Wanting the Sudanese to meet more young people, she also has accompanied them on regular outings to on-campus church services. "I'm trying to bring them into the Northwestern community as much as possible," she says.

Personally, working with the Lost Boys has helped Prevost put her priorities in their proper place, and professionally, she is rethinking what type of educational institution she would like to teach at after graduate school. "The day-to-day things that I stress about are almost luxuries compared to what these guys face," she says.

"The experience has been so rewarding for me on a personal level, as a Christian."



— Katherine Leal Unmuth (J03)


Anyone wishing to help the Lost Boys in Chicago may do so by contacting Prevost at e-prevost@northwestern.edu. For more information on the Lost Boys, log on to www.sudanlostboys.com.