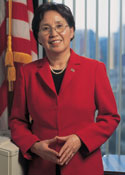 Shinae Chun
Photo by John Dean

"I call my message the 'four P's': Be positive, proactive, prepared and persevering. When opportunity comes, we have to take advantage of it," says Shinae Chun (GSESP71). "If you still don't get the opportunity, be patient, continue to work at it and someday it will come true. It always comes true. That's the story of my life."

The low-key but determined Chun, director of the Women's Bureau of the U.S. Department of Labor since May 2001, is the highest-ranking Korean American in the U.S. government. She came to Washington, D.C., after many active years in education, Illinois state government and Republican politics.

"When I came to this country, I had an option, a choice to look at myself negatively — different language, cultural differences to overcome, new rules and systems to learn — and I could have been easily discouraged," she says. "But I looked at my life and said, 'Hey, I speak two languages, one more than a lot of people. I look at everything in a very international perspective, and I just have more to offer, different experiences and diversity.' That can be a plus — and it has been."

And she's found the right place for her talents. The bureau, founded in the pivotal year of 1920, when women were first given the ballot, is the only federal agency with a congressional mandate to devote itself exclusively to helping working women. In the 1920s it began investigating labor conditions for African American women. In the 1950s it reported on older women in the workplace, and in the 1980s it began advocating for part-time workers. Under U.S. labor department secretary Elaine Chao's leadership, the Women's Bureau is focusing its efforts on such initiatives as worker shortages, financial security and workplace flexibility. And throughout its history, the bureau has championed fair wages and reasonable work hours.

Chun emphasizes the importance of reducing the skills gap and preparing women for high-technology occupations. Underscoring her commitment to training and displaying her natural penchant for activism, she launched her first demonstration project in this area less than five weeks after starting on the job.

"The focus of this three-year demonstration project is on single mothers and providing the opportunity to train online at home rather than in a traditional classroom setting," she explains. Chun also made sure that the program had job mentoring and job placement components.

Another major goal for her is encouraging girls to pursue education in science, engineering and other areas of technology. Working closely with Chao, Chun established GEM-SET (Girls' E-Mentoring in Science, Engineering and Technology), which uses the Internet to match up professional women with girls ages 13 to 18 who may wish to pursue careers in engineering and the hard sciences. "The goal is to prepare young women for the best jobs in the 21st century," Chun says.

She is equally concerned about helping women achieve financial security. Chun is an enthusiastic supporter of the administration-backed change to the tax code that allows returning workers over 50 an opportunity to contribute extra dollars to their Individual Retirement Accounts. "This 'catch-up' provision is especially beneficial to working women," says Chun, adding that the measure carries personal resonance for her because in recent years she schooled herself on finance, started actively stock trading and put her own financial house in order.

"It was a powerful feeling, to learn to trade and realize I can do this as well as men can," she says. Chun urges women to take even as little as 30 minutes a week to examine their finances, start a portfolio as soon as possible and manage it wisely, well in advance of retirement.





Self-taught money manager, advocate for Asian Americans and U.S. workers, wife, mother and, of course, high-level federal official. All are milestones on a path that took Chun a long way from her hometown of Masan, South Korea.

Her determination may be hereditary. "Mother always said her girls would get a college education but no dowry," she says, chuckling.

"My mother's generation went through the Korean War and a lot of hardships," Chun adds. "For her to save enough money for her girls to go to college was a major accomplishment. I'm very thankful."

She also notes with a wry smile that it was "taken for granted" that her three brothers would enroll in college.

In the 1960s Chun earned an undergraduate degree in English literature at Ewha Woman's University, which Mary Scranton, an American missionary, started in Seoul in 1886. Chun then followed her husband, Kyong Chul Chun (GMcC73), to Northwestern, where he had a fellowship to study in the McCormick School of Engineering and Applied Science.

Initially she resisted his prodding to get a master's degree but was persuaded to enter the School of Education and Social Policy even though she was five months pregnant. "I was so sleepy, so sleepy," she remembers.

Yet her memories of the experience are quite positive. "People were very understanding and accommodating about a pregnant woman wanting to get an education," she remembers. "Professors let me either take exams a little early or do take-home assignments." After her baby, Toby, was born, she was allowed to bring him to class. Today Toby is a lawyer, and her other child, Greg, is earning his doctorate in computer science.

About 25 classmates threw her a baby shower. She included the event in From the Mountains of Masan to the Land of Lincoln, a memoir published in South Korea six years ago.





To no one's surprise, Chun's career rise after Northwestern was swift. After thoroughly familiarizing herself with the U.S. educational system from 1976 to 1980, she worked at a bilingual education center in Arlington Heights, Ill.

From 1980 to 1983 Chun served as project director for a teacher in-service training program designed to heighten public school teachers' sensitivity to cultural diversity in the classroom. Her program was successful in easing cross-cultural conflict and assimilating Asian immigrant and refugee students into mainstream society.

"The importance I place on training comes from this experience of working with teachers, many of whom were women," Chun notes. "The training they received empowered them with the tools they needed to create opportunities for themselves and those they reached with their work."

Proud of her ethnic and cultural heritage, she also soon became an activist for Chicago-area Asian Americans, a population that Chun feels came late to the political arena.

"She was the first person to pull together the very different segments among the Asian American community, back in the early 1980s when Asian Americans were not very visible," says Paula Wolff, who worked closely with Chun when Wolff was policy director for former Illinois Gov. James Thompson (L59, H79).

In 1982 Chun was one of the founding members of Thompson's Asian American Advisory Council. Two years later she was appointed special assistant to the governor on Asian American affairs, the first such position in the country. A liaison between state government and Asian American communities across the Prairie State, she primarily brought the concerns and issues of Asian Americans to Thompson's attention and ensured that state policy and programs reflected their needs.

"She's a dynamo and has never stopped," says Thompson. "She did a bang-up job with the Asian American community. I don't think we ever had a liaison who was as energetic about being sure that all voices within a community were heard, understood and relayed directly to me."

In 1989 Chun made Illinois history when Thompson appointed her to be the director of the Department of Financial Institutions, making her Illinois' first-ever Asian American cabinet member. She investigated, licensed and regulated more than 2,500 financial institutions.

In Chun's work with Asian Americans — and in her current position — she makes it clear that she did not and does not focus on discrimination. "I think that's a mistake a lot of minorities make, dwelling too much on that," Chun says. "It's not that I don't think discrimination is an important issue, but I look for opportunities to make a contribution on all the issues."

When Jim Edgar became governor in 1991, he tapped Chun to be director of the Illinois Department of Labor.

Alice Phillips, her longtime friend who is now a political consultant and lobbyist, relates that when Edgar appointed her director, some union leaders were very upset, in fact, livid. "They said she had no background in labor and that she's a woman — OK, they didn't say woman — but we know that's what they meant," Phillips says. "I said, 'Give her a chance. You'll be pleasantly surprised.'

"A year later, some of them came up to me and said, 'You were right. She is so good.'"

By this time Chun had become an expert in navigating the legislative byways of Springfield, Illinois' capital. And one way to policy makers' minds and hearts is through their stomachs, Phillips sagely observes.

Chun once brought sushi to one of Phillips' dinner parties. "This was, well, raw fish," Phillips says, laughing. "But it was just inhaled by everyone; the Illinois Senate president, Pate Philip, couldn't get enough of it. He asked Shinae what her name means, and she told him, 'True Love.' So this great big burly guy, whom I call 'the coach of the good ol' boys,' calls her 'True Love' each time he sees her."





Chun retired from the public sector after eight years and moved on to other opportunities. Yet she missed government service, missed the action and missed making contributions.

Her commitment to return to public life came during Independence Day, ironically in the former Soviet Union while she was on an International Republican Institute training program aimed at teaching Georgian and Azerbaijani political leaders how to build democracies.

"As an immigrant, as an outsider coming from Korea, such a very authoritarian government system, I appreciate democracy in America," she explains. "And I felt this so strongly on that July Fourth holiday that I felt guilty about retiring. It was time to serve the country again."

When she returned to the United States, an invitation from the Illinois Republican Party to attend the 2000 nominating convention in Philadelphia was waiting for her. "I couldn't have planned it this well," she says. From Philadelphia, her new post in Washington was but a few short steps away.

Chun's office has stacks and stacks of official papers alongside piles of newspapers. The phone rings and arriving e-mails ping long after business hours. Her job is a pressure cooker, but she thrives on it — and doesn't forget how her career started.

"I am where I am today because of my education," she reflects. "First, because of one American missionary, Mary Scranton, who had a vision and belief that Korean women should be equally educated, and, second, because of Northwestern, which nurtured me as I began my life in America and prepared me for my work experiences.

"As a result of the principles and values they instilled, I believe I can help other working women and make a difference in their lives and those of their families."

Marsha Dubrow is a freelance writer based in Washington, D.C.