Bosnian Writer Masters English as "Genius"
With an immigrant's perspective on landscape and language, Chicago newcomer Aleksandar Hemon (G96) finds literary riches in his new hometown.
---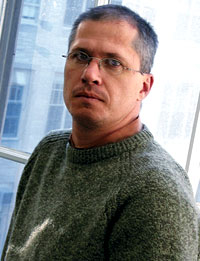 Photo by Franklin Habit
When Aleksandar Hemon (G96), then a journalist at Dani magazine in Sarajevo, came to visit a friend in Chicago in 1992, he hadn't planned on staying. And when the Bosnian war erupted at home, leaving him stranded in the States to work in a kitchen, as a bike messenger and at unofficial, less-than-minimum wage jobs, he certainly hadn't planned to study English, write two highly acclaimed books in his second language and win a MacArthur Foundation "genius" grant. But he did.
"He's quite remarkable," says Daniel Socolow, director of the fellows program at the Chicago-based John D. and Catherine T. MacArthur Foundation. Hemon unquestioningly qualifies as one of the "decidedly bold and risk-taking people who are changing our landscape and advancing our possibilities."
As one of this year's 23 winners, Hemon will receive a $500,000 stipend over the next five years. "Genius," of course, is only a journalistic moniker, not used by the MacArthur Foundation. "I'm not a genius, really. I'm just a guy," says Hemon, a School of Continuing Studies graduate who teaches creative writing part time at Northwestern. "A genius can see into other worlds; I just see this one — sometimes pretty sharply."
From a Sarajevo setting to a view of Chicago through the fresh eyes of an immigrant in The Question of Bruno (Nan A. Talese, 2000), Hemon's sharp focus on his world is startling, and his new take on the English language gives rise to many poignant and precise observations about his past and present environments.
"There is something about the immigrant-built Chicago that Hemon understands, that he is attuned to," says Northwestern professor of English Reginald Gibbons, who published Hemon's first two stories written in English while editor of TriQuarterly, Northwestern's literary magazine. "Whatever this part of Chicago is, it may be harder for the city native to recognize it than for the writer with a perspective formed elsewhere."
In Nowhere Man (Nan A. Talese, 2002), Bosnian Jozef Pronek takes readers through a fractured story in which the Windy City backdrop almost becomes a character itself — a particular corner in Edgewater, an el ride through Uptown (where, coincidentally, Hemon resides with his wife). Chicago's crevices truly do come to life in Hemon's tales.
"Nelson Algren said that 'loving Chicago is like loving a woman with a broken nose.' It's not exactly pretty; there is no inherent glamour. But there is no other like it," says Hemon. "I like thinking about this city and writing about it, and for one reason or another there aren't many people who do that. But to me, it's perfectly natural."
Nevertheless, thinking of himself as a Chicagoan has not led Hemon to forget his own history.
The author returns to Sarajevo frequently and writes a regular column lobbying for a more democratic Bosnia and Herzegovina for the twice-monthly magazine where he worked before coming to the United States.
With the MacArthur grant, Hemon no longer has to live month-to-month off book advances. For the next five years the writer can forgo any worries about earning a living and instead concentrate on doing what he loves — melding his understanding of Bosnia 's war-torn past with his sharp regard for the broken-nosed city.
— Kate Johnson (J05)
Excerpts from Aleksandar Hemon's books
"They went to Montrose Harbor and watched the waves slamming into the embankment. She liked to take photos of the back of his neck, Pronek facing the lake, the cresting waves and a few displaced clouds lingering over the thin horizon, moving toward the skyscrapers, Rachel's camera clicking behind him, like a hiccupping clock. At dusk, they gazed at the downtown skyline twinkling in the moist mist and were hypnotized by the dotted-light snake slithering up Lake Shore Drive, cars on their way home."
— Nowhere Man (2002)
"Pronek would ride the El back to his (well, Andrea's) place, standing, with the pain in his legs as solid as steel rods, the car full of exhausted people, exuding sweaty fragrances, bunched together, like asparagus in the supermarket."
— The Question of Bruno (2000)
---