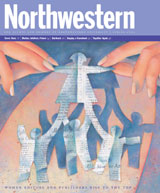 We'd Like to Hear from You
Northwestern welcomes letters from readers. We reserve the right to edit all letters.


Submit a letter online:
Click here to submit your letter over the Web!

Mail correspondence to
Editor
Northwestern magazine
1800 Sheridan Road
Evanston, Ill.
60208-1800
Fax: 847-491-3040





Teaching the Holocaust Strikes a Chord
I thoroughly enjoyed Robert Freed's engaging and well-written piece, "Teaching the Holocaust" [winter 2002]. As a participant in the program, which was sponsored by the Holocaust Educational Foundation, I appreciated the time Freed took to learn about the program and to listen to the stories and experiences of all those involved.

Rev. Kevin P. Spicer
Assistant professor of history
Stonehill College
Easton, Mass.


Asian American Studies in Flower at Northwestern
Thank you for spotlighting the inspirational career of assistant professor Ji-Yeon Yuh ["Flowering in the Shadows," winter 2002], as well as providing an update on the burgeoning Asian American studies program at Northwestern.

As a veteran film programmer and Chicago's delegate by default to the national Asian American film community, I was recently invited to teach a course in cinema at Northwestern. The level of interest and caliber of student at the University truly make this an exciting place for Asian Americanists to be.

Ben Kim
Lecturer
Northwestern University
Evanston


More on School Name Changes
I did not attend the McCormick School of Engineering or the Feinberg School of Medicine. I fully understand the need for large endowments but feel it cheapens the whole process to put the names out to the highest bidder and lessens the memories of the Murphys, Thornes and others like them. What happens if someone gives $10 more than the present benefactors? Another name change? You'd better get a programmable electric sign.

Richard M. Kuharich (McC59, FSM69)
Pensacola, Fla.


I am horrified to read another letter to the editor complaining about school name changes that are associated with donor gifts [Mailbox, fall 2002, and Mailbox, winter 2002]. We should be sending daily thank-you letters to the people who made these gifts to our University, not fretting about how the practice of using the new name for pre-name change alumni destroys our "sense of connectedness."

Are you really connected to the names "College of Arts and Sciences," "Technological Institute" and "University Medical School"? Or are you connected to the education, the people and the campus?

I am incredibly grateful to the Weinberg family, the McCormick family and the Feinberg family for helping to make the degree that I proudly display on my office wall even more valuable than it was when I graduated in 1984. And I am terribly embarrassed to be associated with the alumni who are selfish enough to complain when the new name is used in connection with alumni who graduated before the name change.

Northwestern still has several unnamed schools. Why don't you alumni who feel so disconnected and alienated by the current trend get together and give $100 million of your own to the School of Communication or the School of Law? I'm sure that Northwestern would be happy to keep the names of those schools unchanged in your honor.

Lynne Davidson Jarrell (WCAS84)
Associate provost
University of Rochester
Rochester, N.Y.


Fans Far and Near
It is evident that Northwestern is a high-quality publication. However, its value not only comes from a pleasing appearance and its high-grade paper but also from the number of good articles in each issue.

In the fall 2002 issue, two articles, "On the Front Line" and "The Soaring Soprano" — the first of which included a feature story on former ambassador Wendy Chamberlin (SESP70), with the latter focusing on Vienna-based opera star Nancy Gustafson (GMu80) — filled me with admiration for the accomplishments of such women in the Western world. They have the opportunity to be successful in their professions, while such opportunity is somewhat limited in our society.

Weerawat Klud-Um (G78)
Bangkok, Thailand


Whenever I, a junior in the Medill School of Journalism, return home to Denver, I love reading the copy of Northwestern sent to my parents. It's more interesting than the student publications because I feel that I get a real sense of the personalities of my peers and of Northwestern's alumni. There are so many interesting things I don't know about my school because my time and access are so limited.

Northwestern's articles promote the ideals that I want to keep as a journalist when I go out into the "real world." The pieces are true human-interest stories that find the goodness in everyday people and activities instead of just finding fault or "the news."

By the way, reading "In a Juggler Vein," Student Life, fall 2002, inspired me to want to learn how to juggle.

Joshua Cole (J04)
Evanston


Alumnus Fondly Recalls His Northwestern Years
I trust that you will not edit this letter drastically because I am now an octogenarian who has decided not to buy green bananas and tends to run on sometimes.

I feel that Northwestern is largely responsible for the direction of my life and should share some of the blame. We met during the summer of 1939 when I attended what was then known as the National Institute for High School Students, now the National High School Institute.

They called us cherubs. Cherubs we were not, but we were intensively educated on how to be future members of the Fourth Estate. I sometimes wonder if the institute was a sly way to attract future college material.

After attending the institute, I matriculated to Northwestern and studied until the war came along. After the war I returned to the campus, wrote a column (Remarks from the Gallery) for the Daily Northwestern and was a desk editor of the Purple Parrot, which few seem to remember.

When all of that was over, I went down to Chicago to the School of Law. Later I practiced law in Illinois, Nebraska and Iowa.

Indeed, I am certain that my good life can be blamed on Northwestern.

Many thanks.

Harry H. Foulks (WCAS47, L49)
Meadow Vista, Calif.


Correction
The obituary on professor emeritus Harold M. Visotsky [News on Campus, winter 2002] failed to mention that he was the Owen L. Coon Professor of Psychiatry at the Feinberg School of Medicine from 1974 until his retirement in 1999.