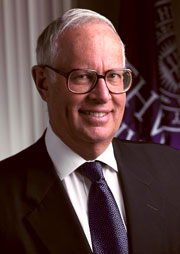 President Henry S. Bienen
Photo by Andrew Campbell
Looking Back — and Forward
---
Dear Northwestern Alumni,
This month, the 150th entering class of undergraduate students will begin its Northwestern University education. Much about the University has changed since 10 students enrolled in the fall of 1855, when Northwestern had only two faculty members and one building, later known as "Old College." Yet many of the values that characterized the fledgling institution — eagerness for learning, determination to succeed and openness to new ideas — remain important ideals at Northwestern today. Attracted by these ideals, our entering classes this fall — undergraduate, graduate and professional — include some of the best students from the United States as well as from around the world.
Students and their families clearly value a Northwestern degree. The University's reputation as one of the best academic institutions in the country stems to a great extent from our truly distinguished faculty and outstanding current students, but it also is the result of the continuing work of our alumni, who are leaders in so many fields.
We continue to seek to enroll at all levels a diverse group of students, ethnically, geographically and economically. For the first time this year, we began offering a limited amount of need-based financial aid to international students, resulting in an increasingly diverse group of undergraduates from around the world. In addition, we continue to meet the full demonstrated financial need of U.S. undergraduate students in order to enable students from all economic backgrounds to attend Northwestern. This is an increasingly expensive task for the University, as federal and state grants and loans for higher education have not kept pace with the cost of higher education, but we remain committed to our policy of providing the necessary financial support at the undergraduate level for those students who need it.
Northwestern began 150 years ago with one all-purpose building, but this fall marks the beginning for three more specialized, but also important buildings for the University. On the Chicago campus the Robert H. Lurie Medical Research Center will provide faculty researchers with state-of-the-art facilities to transfer pioneering medical research from the laboratory to use for patients. Providing laboratory space for some of our most distinguished researchers, the center will be a cornerstone for our Chicago campus for years to come.
On the Evanston campus, the Ford Motor Company Engineering Design Center, adjacent to the Technological Institute, is a facility where engineering students will experience a "culture of design." The building includes classrooms, workshops, design studios, meeting areas and workrooms designed for team learning, collaborative projects and computer-assisted learning. Also recently opened is Anderson Hall, which includes the Ron Burton Academic Advising Center, offices for the Athletic Department and facilities for the wrestling program.
I used to think that at some point we would be finished with major construction on campus. I now realize, however, that construction on a university campus is a never-ending project, mainly because the needs of a dynamic institution such as Northwestern are always changing. These buildings, and other major projects that we hope to begin in the near future — including a new life sciences building, a new music building and an expansion of the student center — are visible symbols of the University's important dual missions of teaching and research. Northwestern is somewhat unusual in that it does both of these things extraordinarily well, and in order to continue to do that, we need to provide the appropriate facilities and support.
The results of that support are apparent in the remarkable achievements of our students and faculty in the past academic year. We once again had a student or recent graduate receive one of only 40 Marshall Scholarships nationally when Ankur Bahl (J03, GJ04) was awarded one. In addition, our debate team captured the National Debate Tournament championship, the 13th by our debaters and the seventh in the last 12 years.
Chad A. Mirkin, George B. Rathmann Professor of Chemistry and director of the Institute for Nanotechnology, received the NIH Director's Pioneer Award from the National Institutes of Health. The award recognizes exceptional researchers who have highly innovative ideas in biomedical research. Professor Mirkin was one of only nine awardees from the approximately 1,000 nominations NIH received from around the country and the only awardee from the Midwest. In addition, Jan D. Achenbach, Walter P. Murphy Professor of Civil and Environmental Engineering, McCormick School Professor, and professor of engineering sciences and applied mathematics and of mechanical engineering, was awarded the National Medal of Technology, the nation's highest honor for technological innovation. He was honored for seminal contributions to engineering research and education and for pioneering ultrasonic methods for the detection of cracks and corrosion in aircraft, leading to improved safety for aircraft structures.
I also must note the truly exciting success of the women's lacrosse team, which last spring captured the NCAA championship, the first Northwestern athletic team to do so since men's fencing in 1941. The national championship in lacrosse capped a year that saw the Wildcats also win an individual NCAA championship, two Big Ten titles, place 10 teams in NCAA championship tournaments and earn 13 first-team All-America honors and three Academic All-America awards.
I hope you will join me in supporting our athletic teams and attend one of these athletic events or one of the many alumni events that feature talks by some of our top faculty members. I very much enjoy the opportunity to meet and chat with Northwestern alumni around the country. I also hope that you will continue to support Northwestern financially and through your volunteer work on behalf of the University. The consistent support of our alumni is critical to our ability to provide financial assistance to needy students, attract outstanding faculty and offer educational opportunities beyond the classroom. Assisted by your support, we will continue our efforts to make this great university even better.
Best wishes,
Henry S. Bienen
President
---