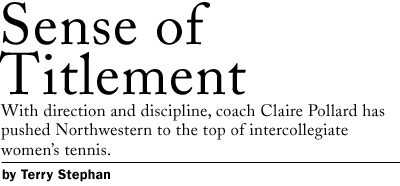 Watching Claire Pollard coach during a tennis match is a little like going through one of those Where's Waldo? books. You're never quite sure where she's going to turn up. One minute she's on the court during a break, offering instruction to one of her players. Look again, and she's sitting in the stands, getting an angle on a different match. Then she's crouched on a cooler on the grass, drinking a soft drink and shouting encouragement. Later, she sits cross-legged at the baseline on an empty adjacent court, peering through the netting on the chain-link fence, getting a new perspective.
During competitions, Pollard and assistant coach Leigh Weinraub (C00) divide their attention between the three doubles matches that take place simultaneously and the six singles matches that follow. "I need to know how all of them are playing at a given moment so that I have a pulse and a feel for what they need and what they need to work on," Pollard says. "Early in my career I think I learned that the hard way. So now I don't take anything for granted."
That approach paid off during the 2004–05 season, one of the most successful in the history of Northwestern women's tennis. The team won its seventh straight Big Ten Conference title, was ranked in the top five nationally for much of the season and made it to the NCAA Championships' round of 16 teams. (Northwestern ranked fifth in the final postseason rankings.) The doubles pair of senior Cristelle Grier and then-freshman Audra Cohen advanced to the tournament final four, and Cohen, the Intercollegiate Tennis Association Rookie of the Year, came within two points of winning the singles title. (Cohen of Plantation, Fla., transferred to the University of Miami after the season.)
In her seven years as Northwestern coach, Pollard has taken the program to the upper echelon of women's tennis. "We were ranked higher nationally [this season] than we have ever been ranked in the past," says Director of Athletics and Recreation Mark Murphy, "and the respect for the program reached new heights. It's really remarkable the high level of success that Claire has been able to sustain."
Pollard grew up in the small town of Morden in Surrey, England, outside of London. Her parents were social tennis players and introduced her and her older sister to the game. They used to play on the back courts at the All England Lawn Tennis Club in the neighboring town of Wimbledon.
A gifted athlete, Pollard was one of the first girls in England to play soccer and cricket on a boy's middle school team. "It really wasn't an issue," she says with a shrug. "The guys just cared if you were any good or not."
When the time came for the year off that British students have between high school and college, Pollard followed the lead of a friend and enrolled at Mississippi State University to play tennis. Having never visited the United States and knowing nothing about Mississippi, Pollard entered the university in Starkville in 1985 for what she planned as a one-year stay.
"I never saw myself staying at the beginning," she says, "but each semester would pass, and I'd still be there." Four years later she had a degree in fitness management, magna cum laude, and an NCAA doubles championship. The university's web site calls the title Mississippi State's "greatest individual accomplishment in women's tennis."
Pollard stayed on to earn a master's degree in sports administration. After serving as head coach of the team in 1990–91, she went back to England to work with a junior tennis program and rethink whether she wanted to make a career in the United States.
"I had a great time then [in England], but deep down I really missed college tennis and everything it had done for me," she says.
In 1993 she took over as the head coach of both the women's and men's tennis teams at Lamar University, a small Division I school in Beaumont, Texas.
As in Starkville, the small-town atmosphere appealed to her. "One thing I've learned about myself is that I can be happy anywhere," Pollard says. "The community really got behind the program, and matches were a real community affair. It became the ultimate team effort."
In 1998 Lisa Fortman, then the coach at Northwestern, told Pollard that she was leaving and encouraged her to apply for the job. At the NCAA Women's Tennis Championships that year Pollard met with some Northwestern staff and was invited to campus for an interview. "I didn't think the interviews went particularly well," she recalls. "But they offered me the job, so it must have gone better than I expected!"
With a mixture of luck and skill Pollard began to turn the program around. On her first day on the job she found a letter on her desk from a high school senior from Milwaukee, Lia Jackson (WCAS03), who said she was adamant that she was going to graduate early and come to Northwestern to play tennis, both of which she did. "She was one of the most competitive players I have ever coached," says Pollard, "and she really helped change the culture of the team."
A Big Ten title followed. "That really got the ball rolling," says Pollard. "And once you win one, you get a taste for it."
That success has helped Northwestern compete for, and bring in, some of the most talented players in the country, many attracted by the University's academics and the systems and style Pollard has brought to the program.
"Nothing happens by chance in our program," Pollard says. "Nothing happens very spontaneously. I think that young people need direction. They need structure and purpose and discipline, and if you give it to them, they'll go along with you. If you find that sort of benevolent dictatorship, the kids will follow."
Jamie Peisel has bought in. "Claire always says, 'Trust me, guys, I know what I'm doing here,' whenever we question why we're doing something a certain way," says Peisel, a Weinberg College of Arts and Sciences senior from Wilmette, Ill. "If you believe in the system, which I do, it makes life a lot easier for the student-athlete. Claire is a good leader, and I trust her with taking issues into her own hands. She always finds a way to meet the individual's needs even though we're a team."
"Discipline is one of her main focus points, but that's because it has to be. Tennis requires a lot of discipline," says Grier, a Weinberg senior from London. "But the atmosphere created on a daily basis was, and is, invigorating. Her commitment inspires respect and trust — two of the most important things that can possibly exist between a coach and a player."
Though Pollard has won numerous awards, including three Big Ten Coach of the Year honors, you'd never know it from the small office she shares with Weinraub in the Ivan Combe Tennis Center. There's not a plaque in sight, and Pollard isn't even sure where they are. "Being brought up in the U.K., we're taught to be modest," she says, "so I would rather put out the players' trophies and put mine away. After all, the players win championships."
If the past season was any indication, she's going to need more room.
Terry Stephan (GJ78) is a freelance writer based in Chicago.
Did you enjoy this story? If you have any questions or comments, please e-mail the editors at letters@northwestern.edu.
---