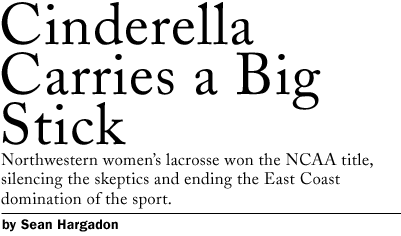 In one unbeaten season, Northwestern knocked the women's lacrosse world off its axis.
The Wildcats won the 2005 NCAA Championship — Northwestern's second team NCAA title ever, the first since men's fencing in 1941 — and in the process did something even more remarkable. This team, unfazed by history or any other opponent, ended the East Coast dominance of the sport, claiming the first NCAA lacrosse championship ever — in either gender or any division — for a school outside the Eastern time zone.
And they did it in convincing fashion, beating three of the sport's storied programs — Princeton University in the quarterfinal round, Dartmouth College in the semifinal round and defending national champion University of Virginia in the final — three teams that own a combined 53 NCAA Tournament wins and six national championships since the NCAA crowned its first titlist in 1982.
Led by five goals from Honda Award–winner Kristen Kjellman, a junior from Westwood, Mass., Northwestern capped a 21-0 season by beating Virginia 13-10 in front of 4,634 fans, including a large purple-clad contingent, at the Navy-Marine Corps Memorial Stadium in Annapolis, Md., May 22. The Wildcats avenged a 2004 season-ending NCAA Tournament quarterfinal loss to the Cavaliers and snapped a 14-year string in which one of three teams — the University of Maryland, Princeton or Virginia — won the national championship.
"I have no words for this team. They are such an amazing group of women, and for me it is so special to be a part of this team," said Northwestern head coach Kelly Amonte Hiller after the championship game. "The reason why we're here today is because these women are such good people and they are so coachable and they work so hard."
Despite Northwestern's No. 1 ranking through much of the season, lacrosse experts expected the Wildcats to stumble in this Cinderella season. "There were a lot of doubters," said Inside Lacrosse magazine second-team All-American Ashley Koester (McC05), "but to be honest with you, we didn't listen to it. We all believed we would be here and that we would win a national championship."
Many pundits claimed that Northwestern surged through a relatively weak regular season schedule, priming the Wildcats for a fall.
"When they beat Virginia, they had beaten all comers," Wilfred "Buddy" Shearer, father of Northwestern assistant coach Danielle Shearer, said at Northwestern's championship tailgate. "There's not going to be any more discussion. It wasn't a fluke game against Duke [Northwestern won 16-11]. It wasn't a fluke game against Princeton [Northwestern won 8-6]."
This tough, athletic and talented team adopted the never-say-die attitude of their coach, who in her first head coaching opportunity has rebuilt a program from club status in 2001 to NCAA champion in 2005.
"It was quite a scene," Amonte Hiller said of the club days. "It was exciting. … You had a chance to really build something brand new. … Once we started the program that was it. I put my head in. I knew we were going to be successful. I think that mentality has really helped these girls get this far this quickly."
In the early days the coach struggled to fill the field for scrimmages, often picking up a stick to run plays with the team. She resorted to recruiting in unlikely ways. She spotted Ashley and her twin sister, Courtney Koester (McC05), once while the two were out for a run and again when they were playing intramural flag football on Floyd Long Field on the north end of campus. She was so impressed with their athletic ability that she asked them to join the squad. They had never seen the game, never picked up a stick, but Amonte Hiller transformed the twins into All-Americans. (Courtney was also later named ESPN The Magazine's At-Large Academic All-American of the Year.)
"Northwestern is such a special place for me and for my family," Ashley said after the title game. "I'm so glad I can do this for Northwestern. I'm so glad we can bring this trophy home to the University."
A four-time All-American and two-time National Player of the Year at the University of Maryland, Amonte Hiller was already a legend in lacrosse circles. And now the lore grows.
When the team gathered in the stadium parking lot for the parent-sponsored postgame tailgate with several hundred family members, friends and other fans, Amonte Hiller, standing on the hood of an SUV, uncorked a toast. "Alright," she said. "This has been a long haul but an incredible journey. Thank all of you for being a part of it. … This group of girls is so special. They are incredible athletes.
"They're going to conquer the world."
Some might say they already have.
"They will be remembered as the team that changed things," said Michael Chlopak, father of defender Shelby Chlopak (WCAS05). "They brought lacrosse to the Midwest."
Sean Hargadon is senior editor of Northwestern magazine.
---