In University Hall's Room 121, 14 Northwestern students engage in a project to give Daniel Burnham's 1909 Plan of Chicago a 21st-century facelift.
A digital picture of Burnham, sporting a thick handlebar mustache, looms on the screen behind then-junior Sarah Ansari as she gives her team's weekly update on their web creation - a page about major influences on the legendary architect's plan, which integrated Chicago's downtown, lakefront, transit systems and parks. Ansari, of Granger, Ind., finishes her presentation and waits for feedback.
"There is interconnection between people," English, history and American studies professor Carl Smith says of the Commercial Club members who underwrote the visionary plan that attempted to transform Chicago from a congested and unsightly city to a model of beauty, health, efficiency and order."What are the significant commercial and personal, public and private links?"
"They all lived on the same street and played in the same golf club," answers then-sophomore Andrew Proksel, of Omaha, who also worked on the project.
"Your narrative suggests several natural breaking points," observes assistant professor of computer science and journalism Brian Dennis, motioning toward the screen."If you could get them in sooner, rather than later, that would be wonderful."
The students relish getting feedback and helpful advice from both a history professor and a journalism professor in the Using Technology, Making History seminar. Drawing on hundreds of digital primary source materials culled by Smith from the Chicago Historical Society and the Art Institute of Chicago, the four student groups are constructing a prototype web site about the 1909 plan that will eventually become an entry in the electronic version of the Newberry Library and Chicago Historical Society's Encyclopedia of Chicago, which will be available online in spring 2005. (The print version will be released this fall.)
After class, Smith, the Franklyn Bliss Snyder Professor of English and American Studies, explains that teaching the class has contributed to his own knowledge of the Internet and what's feasible to create on web pages."I've learned much more about what computers can do," says Smith, who adds that the University's Academic Technologies department has been vital to the Burnham project.
And conversely, Dennis, the computer scientist, notes,"I've learned tons more about Chicago and how it came to be."
It's a Web World
Welcome to the amazing world of web-based teaching and learning at Northwestern. Increasingly, professors from all disciplines throughout the University are using the web to create digital projects that are timely, comprehensive, highly visual and educational. And students seem to thrive with web-based teaching. In fact, students are so digitally savvy that they expect most classes to have a heavy web component even for routine assignments and online class discussions."I didn't put my required readings up electronically," says one Medill School of Journalism professor."The students never let me forget it."
In the early days of the Internet, most faculty and students used the web mainly for research. Today, however, in addition to managing their classes online (see "A Clean Slate: Chalk One Up for Blackboard"), Northwestern professors are creating fascinating in-depth web sites - often in collaboration with other institutions - that have opened up a world of knowledge to both students and web learners around the globe.
Students intrigued by the recent Mars Exploration Rover Mission can view images of Martian lava flows taken during the Viking I Mission more than a quarter-century ago on geology research associate professor Mark Robinson's home page. The Viking pictures show the planet's charcoal gray and reddish brown impact craters filled with circular indentations, remnants of its volcanic history.
Those with an interest in Chicago's violent past can check out Homicide in Chicago, 1870-1930, School of Law senior lecturer Leigh Buchanan Bienen's recently activated site, which has an electronic database of the more than 11,000 homicides committed in the city during those 60 years. There is also a Crimes of the Century section, which includes the notorious Leopold and Loeb killing of 1924, in which two wealthy young men cold-bloodedly murdered 14-year-old Bobby Franks in an attempt to commit a perfect crime.
And students interested in the historical period that preceded Burnham's plan can look at The Great Chicago Fire and The Web of Memory site and The Dramas of Haymarket site, two of Smith's previous projects created in collaboration with the Chicago Historical Society and Northwestern's Academic Technologies department.
The Great Chicago Fire site offers lithograph images and eyewitness accounts of the tragic 1871 blaze that razed much of the city's North Side.
The Haymarket site presents the story of the 1886 workers' protest at which a bomb exploded, killing seven Chicago police officers. Designed on the model of a five-act play with a prologue and epilogue, the Haymarket site sets the scene leading up to the riot by detailing the widening class divisions in U.S. society and the radicalization of many American workers.
Access to staggering amounts of enticingly presented information is only one of the ways in which the Internet has profoundly changed education at the University, albeit in uneven and hard to quantify ways. Close collaboration with Northwestern's Academic Technologies department and University Library's Digital Media Services office has helped professors keep up with their students, many of whom have far greater technological knowledge than their instructors. In addition, professors from different schools and departments within the University are now able to provide students with more interdisciplinary learning experiences, a teaching approach that constitutes a central plank of the University's mission. And some professors have abandoned the traditional lecture method of teaching to form more conversational dialogues with their students online.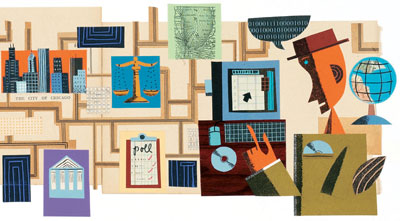 A Virtual Trip to Germany
Franziska Lys (G88) is one of those professors.
Spurred by images of students trudging into language labs to reluctantly don headsets and listen to tapes of native speakers, the associate professor and director of undergraduate studies in the Department of German has worked since the early 1990s to reduce drill time and increase her students' engagement with German language and culture.
In 1991 Lys traveled to the former East Germany with her colleague, lecturer William Anthony, director of Northwestern's Study Abroad Office, to interview about 20 residents of Neubrandenburg about their sense of the past and hopes for the future. The video Drehort: Neubrandenburg resulted.
During the past decade Lys has developed the project into a CD-ROM and has recently put the entire curriculum online. Repetitive tasks (like listening to tapes in a language lab) have been virtually eliminated. Instead, Lys conducts culturally based activities such as having students compare the Trabant, a car from the former East Germany, with their dream car by using the vocabulary they have learned in the original video.
In 2002 Lys and Anthony returned to Neubrandenburg to videotape the original residents discussing their current situations. With the help of Mark Schaefer, interactive developer in the Multimedia Learning Center, Lys is editing this film, which will be part of the web site for students in Intermediate German this fall.
Student Jamie Ferrel appreciates the online language and culture program.
"It's a lot more helpful because we can do it at home," says Ferrel, now a sophomore, who is from Bloomfield Hills, Mich."In high school, we used a textbook rather than something that was more interactive.. It definitely has made me more interested in the culture, and to hear German people speak has helped me learn more quickly."
Lys' relationship with her students has changed from being a dispenser of knowledge to an architect who designs learning experiences and gives students suggestions for improvement."It's more of a coaching role, helping them develop as human beings," Lys says.
Dual Identities, Critical Reading
Students in Kellogg School of Management professor Timothy Feddersen's Seminar on Online Democracy this spring developed so much that they had to manage two different identities: their own and an anonymous one they maintained during a quarter-long campaign simulation inspired by Howard Dean's presidential run.
A game theorist, Feddersen says the project was intended to replicate some of the problems real campaigns face. At the beginning of the quarter, students received pseudonyms and were assigned to one of five states, each of which elected a governor. Class members communicated through Northwestern's AyeWare software, a program that supports group collaboration and decision-making.
At the end of the class, the states elected a president through an electoral college - a mechanism that forced the students to negotiate with each other."The idea is to find out about the problem of handling diversity, to give students practical experience in [sending] messages, to learn how they should communicate with people online to be effective in putting together coalitions," Feddersen says. After the election, students revealed their identities to their classmates.
"On the last day it turned out that one of the most outspoken, most scheming of all characters in the online negotiations was the quietest person in class," says the election's winner Adam Riff, then a Weinberg College of Arts and Sciences junior."Everyone was really surprised. He was the leading candidate, right until the end. All of a sudden during the last week of class he posted something to the message board that unnecessarily and gratuitously put down one of the other members of the class.
It totally caused him to self-destruct. Because of the affiliations that I had, I was able to seize on that opportunity."
Feddersen, H. Wendell Hobbs Professor of Managerial Economics and Decision Sciences, began the project in 1999. He wondered how the trend to move election and political decision-making online would affect political institutions. Although interested in the election results, Feddersen also wanted to study the impact of the communication networks that developed throughout the quarter.
Jillana Enteen, visiting assistant professor of English and comparative literary studies, plans to use the AyeWare software for a different purpose. A critical literary theorist, Enteen uses the Internet for discussions and to investigate how existing forces in society, such as race and class, are expressed in online forums.
"I have my students do a critical textual reading of a form they encounter every day," Enteen says, referring to students' viewing of web sites."The students don't look at a web page that is telling a story in the same way that they look at a film or a novel."
Enteen requires her students to participate in online chats. She has also begun to make students produce web sites as a way to practice the critical thinking skills she wants them to develop. She notes the example of a site about a civil rights leader that uses a personal indiscretion as a vehicle to express anti-miscegenation views. Although there may be nothing on the site that marks it as being created by white supremacists, Enteen says she wants her students to become critical readers of online material.
At the same time, Enteen says she often learns from her students, many of whom have technical expertise she does not possess."They're confident pushing the boundaries because they're comfortable with the medium," she says.
Training, Collaboration and Acquisitions
Fortunately, professors are getting more adept at creating web sites and interactive projects. Feddersen and Enteen both appreciate the support they receive from the University's Academic Technologies department on their digital projects.
Housed in University Library, the department's 35 full-time and 50 student staff members work with faculty in many ways, including designing software systems such as AyeWare. But Academic Technologies staff also help professors hold videoconferences, set up"smart classrooms" and consult on research projects."The best efforts come from close collaboration and shared hard work with faculty," says Bob Taylor, the department's director.
Taylor notes that the library's digital holdings give substance to the partnership between professors and his department, saying the software programs would be"novelty pieces if acquisitions services did not have voluminous materials to work with in terms of primary source materials."
The collections have expanded mightily during the past five years, due to purchases made by the Collection Management Office at the University Library.
Since 2003 the library has signed new contracts for electronic journal subscriptions totaling $1.6 million - the most significant jump ever. Digital resources now make up about 25 percent of the library's annual acquisitions budget, compared with less than 10 percent five years ago, according to Jeffrey Garrett, assistant university librarian for collection management.
Thanks to Collection Management students interested in any of the 125,000 questions posed by the Gallup Poll since 1935 can find them on Gallup Brain, which became accessible to the Northwestern community in April. A database that catalogs the answers to surveys gathered from interviews with more than 3.5 million people, Gallup Brain's contents cover everything from polls about a third term for President Roosevelt to this November's presidential election.
The thick clouds of smoke and fire that billowed from the World Trade Center towers before they collapsed remain one of the most chilling images of the Sept. 11, 2001, terrorist attacks. The University's charter subscription, beginning last April, to the Television News Archive at Vanderbilt University now allows students to view these and other historic moments. The world's most complete collection of television news, the archive is now available to undergraduates who previously would have had to submit a fee-based videotape loan request and then wait for the tapes to be shipped.
April also saw the library sign an agreement to use EndNote, a bibliographic software package."This software will allow the Northwestern community to get maximum use out of the many new electronic resources we have been acquiring," says Garrett, who adds that the University's electronic collection is comparable to those at peer institutions.
Since its establishment in 2001, the library's Digital Media Services has worked in tandem with Collection Management and Academic Technologies to support professors. In the past three years, an increasing number of faculty have called on the office to add digital resources to their courses. Located near Academic Technologies in the main library, the center provides training and support for faculty and graduate students on a drop-in basis as well as during weeklong summer Teaching, Learning and Technology courses for faculty, according to Digital Media Services head Claire Stewart.
Supreme Access to the High Court
Political science professor Jerry Goldman has been a longtime technology user and was among the first professors to work closely with Academic Technologies. One steamy afternoon in August 1989, while sitting in the bleachers at Wrigley Field, he had a vision."It came to me that I could take the institution I study and love, the Supreme Court of the United States, and make it accessible through the metaphor of baseball," he says.
From his initial concept of creating baseball-like HyperCards of the justices, Goldman, in collaboration with designers from Academic Technologies, began in 1994 to construct OYEZ, a multimedia relational database that now holds thousands of digital audio recordings of historic U.S. Supreme Court oral arguments and decisions.
Not only can OYEZ visitors read about current and pending cases before the Supreme Court, they can also play OYEZ Baseball (created by Goldman and his former student Paul Manna [WCAS92]). The game is set in a virtual ballpark, complete with home plate, a green scoreboard and outfield seating. After viewing an image and reading the biography of a Supreme Court justice, players have three chances to choose the baseball player he most resembles. Chief Justice John Marshall and Babe Ruth are linked for their towering impacts on their fields, while Boston Red Sox pitcher Pedro Martinez's fiery fastballs and Associate Justice Antonin Scalia's blistering opinions forge their connection.
In April alone OYEZ had more than 270,000 visits and nearly 2.2 million page views - a far wider audience than Goldman initially imagined."No academic book gets as much use as this little web site," says Goldman, who is principal investigator for a $2.8 million grant from two divisions of the National Science Foundation (the Computer and Information Science and Engineering division and the Social, Behavioral and Economic Science division) to record and share every word spoken in the Supreme Court during the past 50 years. (The five-year project is a collaboration among technology experts and social and computer scientists at Northwestern, Carnegie Mellon University, the University of Pennsylvania and the University of Minnesota.)"Do I know that the 15 most important political scientists are listening? Hell, no. I only know that a hell of a lot of people are listening."
And a lot of people are also reading about current cases thanks to the Medill web site On the Docket, which tracks all cases currently before the Supreme Court.
"It's the only publication (web site or otherwise) that reports journalistically on all cases heard by the U.S. Supreme Court each term," says Jack Doppelt, the Medill professor who created the site in 1998 and serves as its editor and publisher. Doppelt and graduate students in his Legal Affairs seminar write and edit all the stories on the site, about 100 stories each court term.
Providing background analysis and summaries of all cases pending and decided by the court each term, On the Docket offers extensive information on current controversies, including a special series on the Supreme Court cases involving detainees at Guantánamo Bay, while giving students a chance to hone their legal reporting skills.
Like other sites created by professors and students, On the Docket has attracted a global audience and public acclaim.
And, most important, On the Docket has"become an acknowledged player in the dissemination of news on the U.S. Supreme Court," Doppelt says.
From Hometown Homer to New Asteroid Research
Just as legal eagles keep up with OYEZ and On the Docket, classics lovers around the world go to Chicago Homer to learn about Achilles' anger and other epics.
Martin Mueller, professor of English and classics, created the multilingual database that makes accessible the distinctive features of early Greek epics. Chief among these is the writers' use of phrasal repetition.
By using Chicago Homer's search tools, visitors can discover the frequency, context and gender of the speaker of any word Homer wrote. Site users who read about Achilles' ire in the first line of the Iliad can go to a link and discover all the Greek words for anger. From there, they can understand that the word for Achilles' rage,"menin," is used for gods or near gods. This usage contrasts with"cholos," which appears 68 times in the Iliad, and thus is a more generic term. Seeing these phrasal repetitions as links on the screen allows Homer visitors to simulate the experience of ancient listeners.
Mastering Chicago Homer's search tools requires substantial effort."I'm much more interested in repeat customers than one-night stands," says Mueller, who previously created a similar database of Shakespeare's work called The Nameless Shakespeare."Anything worth learning takes time.. If you're not willing to put in the hours, you're not for me."
Scholars who are willing to put in the necessary time on Chicago Homer may find new research possibilities, Mueller asserts. His work just received a big boost - a grant from the Andrew W. Mellon Foundation. Software developers from Academic Technologies are working with Mueller to develop more comprehensive tools for scholarly analysis of texts. These new tools will be field-tested by Weinberg undergraduates in 2005 in a new junior research seminar, The Art of Reading Slowly: Commentary, Text, Interpretation.
Many faculty members, such as Mark Robinson, research associate professor of geology, are using the web as a research tool both for themselves and for their students. Among other projects, students working with Robinson on the Near Earth Asteroid Rendezvous Mission that orbited the asteroid Eros from February 2000 to February 2001 helped Robinson make mosaics of the images by stitching together the much smaller pictures taken during the mission's orbit. Posted daily on the Internet, the mosaics allowed scientists around the world to follow the mission's progress.
By participating in such high-level projects Robinson's students and other undergraduates can conduct research that previously was extremely difficult, if not impossible, to execute."Prior to web-released data it was time consuming and technically challenging to get data and apply proper calibrations," Robinson says."Thus the NASA effort to rapidly release calibrated science data on the web makes it feasible for undergraduates with limited experience and time to actually complete research tasks."
In addition to assisting professorial research, Ji-Yeon Yuh, assistant professor of history, says the Internet allows students to find useful information about places they could not visit during the quarter. She cites student projects on the Korean diaspora that compiled information about Koreans in the former Soviet Union, Europe and South America."They used the web to excellent advantage," Yuh says.
The Downsides
But not all web usage is similarly productive, or even ethical, note several professors.
Yuh explains that students in her Asian American history class who were assigned to write an annotated bibliography for a research paper cut and pasted information from Amazon.com. When confronted with their actions, she said, the students feigned innocence, apologized and cited their busy schedules.
"I told them it was plagiarism," says Yuh, who made the students redo the assignment.
In response to growing concerns about plagiarism (by means of the web or not), the provost's office is funding a fall addition to the Blackboard course management system called Safe Assignment. The service allows faculty members to easily check students' assignments for indications of plagiarism using web resources.
School of Education and Social Policy professor Dan Lewis is categorical in his assessment of the web's impact on learning at Northwestern."It's all negative," Lewis says."Lots of kids sleepwalk through Northwestern. The web keeps them asleep by using simulation over real experience and e-mail over actual interaction. They are already separated from the world by class and race. Technology adds another level."
For her part, Yuh says the very interactivity, cited by many as leading to higher levels of student involvement, can actually detract from the quality of a presentation."If a lecture is going to make sense, there is a need for a coherent presentation. The interactive component of multimedia makes it less coherent."
Scott Lipscomb, associate professor in the School of Music, disagrees, saying he uses digital audiovisual materials to solidify musical concepts in his teaching. In the past students in his popular History of Rock class would read about the Beach Boys in a book. They now listen to and watch the fabled California band on streaming video.
Lipscomb explains that when students see a visual representation of a piece of music they better understand the piece's individual parts and their place in the entire composition."Instead of just having a musical sound. I can give an interactive guided tour. I can stroll around within a piece of music, so that students can hear what is similar and different."
Lipscomb says he has seen a marked improvement in the quality of work his students produced as a result of their online research."The amount of information they provided about the artists, the way in which they discussed the sound, including analysis of the song, has moved my expectation for the final project into a new realm."
Does the Web Make a Difference?
Even passionate advocates concede that reports of the Internet's benefits are anecdotal, not empirical.
Morteza Rahimi, vice president for information technology and chief technology officer at Northwestern, says part of the difficulty in establishing hard data about the web's impact comes from the absence of specific objectives in University endeavors."For academic support activities without precise goals, we don't have a nice neat measure of effectiveness. Our attempt is to, within our means, do the best we possibly can."
Despite these difficulties, Goldman and a British-American team of colleagues and agencies will attempt to test systematically the impact of digitized audio materials on undergraduate students during the next four years. A $1.5 million grant from the NSF will fund the project.
After organizing collections of digital audio materials for faculty members, the team must design tools allowing scholars to use the collections in their classes. The researchers will then study if students listen to the collections, and what, if any, effect the materials have on students' thinking and intellectual development.
For his part, Lipscomb sees web technology leading to greater global communication."That opens a whole new world of possibilities for academic, performance and pedagogical education," he says. At the same time, Lipscomb says predicting the future is impossible and can divert attention from a professor's primary objective: helping students learn."Technologies will continue to develop, but the question ultimately falls back on an old question: How can they facilitate learning?"
Jeff Kelly Lowenstein (GJ03) is a freelance writer in Evanston.
---