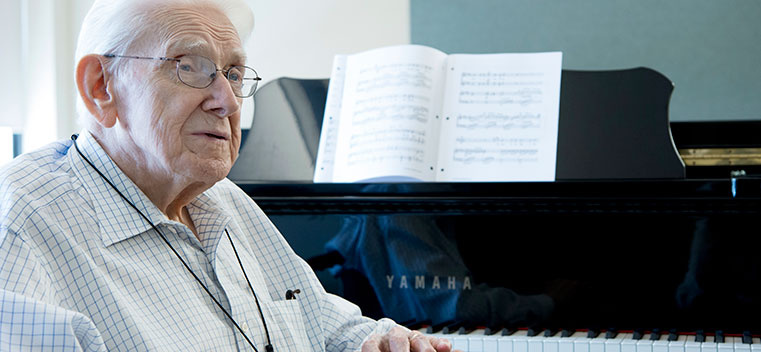 Paul Bouman at Grace Lutheran Church in River Forest, Ill. Photo by Alex Garcia '89.
A Partnership of Note
Story Tools
Share this story
Barbara Brotman is a former columnist at the Chicago Tribune and a singer with the Oak Park Concert Chorale, which regularly performs works by both Bouman and Wolniakowski.
Tell us what you think. E-mail comments or questions to the editors at letters@northwestern.edu.
Find Us on Social Media
Musician Paul Bouman's compositions have found a new audience thanks to his friendship with composer, independent publisher and fellow alumnus Michael Wolniakowski.
Paul Bouman is an elder statesman of Lutheran music.
Music director at Grace Lutheran Church in River Forest, Ill., for 30 years before he retired, the 99-year-old Bouman '51 MMus has been composing for more than 50 years. His work has been performed by choirs and in churches around the country.
But a partnership with a composer more than five decades his junior has brought new attention to Bouman's work.
Michael Wolniakowski '02 MMus, a composer, vocal coach, organist, pianist and veteran choir director, has long been among Bouman's admirers. But lately he has become more: protégé, publisher and friend.
Their connection began with a dream — Wolniakowski's.
Wolniakowski, 42, is a highly regarded musician in the close-knit community of singers, organists and composers who have come out of Concordia University Chicago, the Lutheran college in River Forest, Ill., where Wolniakowski earned his undergraduate degree. A number of those Concordia musicians, like Wolniakowski and Bouman, got their graduate degrees at Northwestern.
Wolniakowski spent 13 years as a teacher and choir director at west suburban Lyons Township High School, until the dream arose in the form of a life-changing question: Should he quit to become a composer full time?
He loved composing, which speaks to both his creative impulses and his community-building nature. "Bringing people together and having your music be the thread that runs through everyone — that's something special," he says.
His works had already been well received. "He is a very, very gifted composer," says Northwestern professor emeritus Robert A. Harris, with whom Wolniakowski studied composition and conducting. "He has a good understanding of how to set words to music. … I've used his pieces on several occasions and found them to be very meaningful." Harris is music director and choirmaster at Winnetka Congregational Church.
Wolniakowski had been thrilled to spend a year composing at the Royal College of Music in London, where he completed a postgraduate degree on sabbatical from Lyons Township.
The experience made him want to devote more time to composing.
"I really wanted to be writing full time," he says. "When you're a teacher, you don't have time. You can't write great music in 30 minutes at a time. You need time to ferment, to explore."
He knew that trying to make a life as a composer and music publisher would be a risky challenge. But he felt himself at a crossroads. If he was ever going to pursue his dream, he had to jump into the unknown.
He jumped. In 2009 he left Lyons Township and set about turning his dream into reality.
And for guidance, he had an idea where to turn.
He had gotten to know Bouman at St. Luke Ministries, a Chicago church where Wolniakowski worked as assistant to the late composer and organist Paul Manz '52 MMus and where Bouman sometimes played organ.
As Wolniakowski embarked on his new life, which included founding a music publishing company that he called Tempo 1° Press, he took to asking Bouman's advice. The two became friends.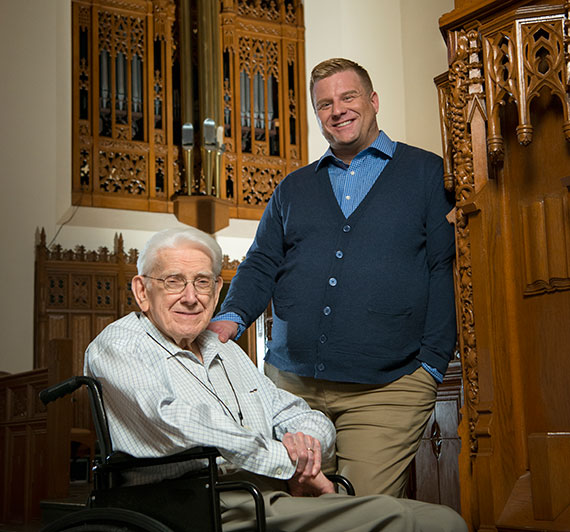 Paul Bouman, left, and Michael Wolniakowski at Grace Lutheran Church in River Forest, Ill. Photo by Alex Garcia '89.
For the last five years Wolniakowski has gone to Bouman's apartment in Oak Park, Ill., every two to three weeks for lunch and music conversation. "We sit side by side at the piano; we laugh; he corrects my grammar," Wolniakowski says. "It's been so much fun."
During their visits Wolniakowski learned much about how Bouman worked and the attention he paid to detail. He also learned that Bouman had a lot of works that had never been published.
"They were just lying in a box in his closet. I thought, 'Why the heck are these not in print?' "
Wolniakowski resolved to put them in print himself. His publishing company's first project was a 64-page book of Bouman's church anthems, published in 2014. It included never-published older works and new ones.
The book was a capstone to Bouman's life's work — a career that can be traced back to rural Hamburg, Minn.
Bouman grew up the youngest of 10 children. His father was a Lutheran pastor, and both his parents sang at home — very well. "My father liked to sing German lieder, folk songs. My mother sang while she cooked," Bouman says.
Bouman sang at home and in church. He learned to play the organ by watching the church's organist. He immersed himself in music by going to Concordia, then became a music director and teacher at a Lutheran school in Milwaukee; at St. Paul Lutheran Church's school in Melrose Park, Ill.; and finally at Grace Lutheran.
It was while working on a master's degree in music at Northwestern that Bouman got his first taste of having his work performed. A piece that he wrote for an assignment — to write an aria in the style of Handel — ended up being recorded by the renowned American Boychoir.
"I couldn't get over it," Bouman says. "I didn't think I could write for those big shots."
He could and did. The American Boychoir also recorded his "I Lift Up My Eyes to the Hills" and performed it on tour and at a UNICEF memorial service for Audrey Hepburn.
Having deepened his appreciation of J.S. Bach's sacred cantatas at Northwestern, Bouman co-founded the Bach Cantata Vespers (with Carl Schalk, also a noted choral director and composer) at Grace Lutheran Church. The group presents monthly performances in a worship setting, as Bach intended. The Bach Cantata Vespers just finished its 46th season, the longest such series in the Midwest.
Bouman also created a children's choir at Grace Lutheran that regularly won state competitions. The choir's sound was so lovely that musicians from Northwestern would go to Grace Lutheran to listen and ask how Bouman got them to produce it (one answer: He taught them to pronounce vowels with the kind of coloration used by the famed Choir of King's College, Cambridge).
"He's very widely respected," says Martin Marty, a prominent Lutheran religious scholar who met Bouman more than 60 years ago when he was an assistant pastor at Grace Lutheran. The two have remained friends ever since. "He's the kind of person who could well have ended up at any university music school, but he felt a calling to this and liked performing in a congregation."
For Wolniakowski, the visits with Bouman are a precious opportunity to learn from a music master. But Bouman says that he, too, has been learning — about the English style of composing choral music that Wolniakowski studied at the Royal College of Music in London, and modern techniques like clashing sounds and nontraditional time signatures.
It's never too late, says the near-centenarian: "I tell myself, 'Grow!' "
And he has, says Wolniakowski. "As soon as I started publishing his stuff, his writing went in another direction — things that were more harmonically challenging," Wolniakowski says. "I said, 'Paul, this is so cool that in your 90s you are still working on your craft.' "
Karen Brunssen, co-chair of music performance at Northwestern and a friend of both men, is delighted at their musical partnership.
"Michael really has been a gift to Paul as far as encouraging him to write," she says. "And because he has his own publishing company now, he has been a godsend for Paul. He has published [Paul's] new music. Paul is already very published, but somebody who will take an interest in you at that age … is a pretty special person — as Mike is."
Wolniakowski is busily pursuing his dream. He is composer-in-residence at the Oak Park Concert Chorale and at a Lutheran school in Kansas City, Mo.
Wolniakowski's choral works have been performed by Chicago Choral Artists, Acappellago, the Heritage Chorale and Northwestern choral groups. One of his pieces was performed this year at the London Festival of Contemporary Church Music — one of only 30 pieces played out of 130 submissions from around the world.
Bouman, who retired from Grace Lutheran in 1983, continued to write prolifically until very recently. Now arthritis makes it difficult for him to play piano, where he works out compositions. His wife of 70 years, Victoria, died five years ago, but his five children and music friends are frequent visitors.
Wolniakowski is one of them. The reality of a friendship with a musician nearing 100 means that sometimes they talk about music for a specific, inevitable event.
 "Every few months he calls me and says, 'I want to work on my funeral,'" Wolniakowski says. "I used to think it was strange, but now I think it's wonderful."
Bouman is cheerful company, and, with his flowing white hair, cuts a dapper figure at the concerts he still frequents, using a wheelchair in deference to a knee injury.
And when asked, he gladly reflects on his life's work.
"Composing music is a lot like painting," he says. "A painter wants to produce something beautiful to the eye. As a composer, you want to do something beautiful to the ear — and to share that with others."