Then: The Tender Land Returns
Story Tools
Share this story
Stage production brings back memories of Aaron Copland's 1958 visit to campus.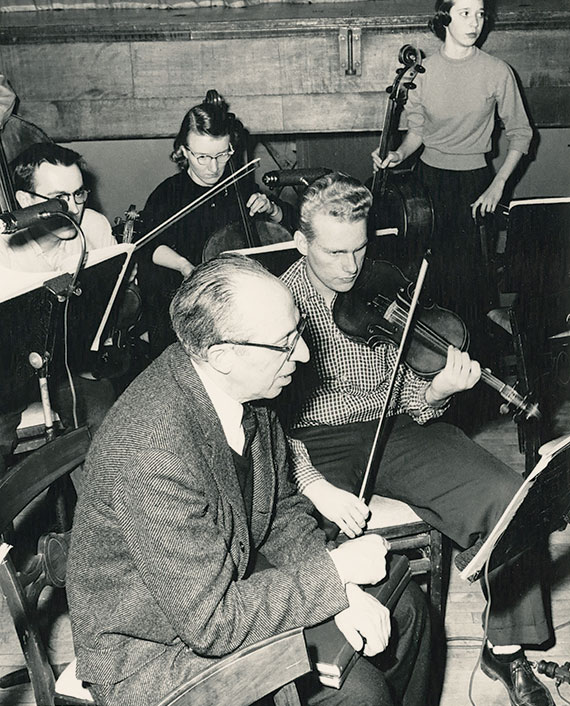 Aaron Copland rehearses with students for the Northwestern University Opera Workshop performance of The Tender Land in February 1958. Copland, one of America's foremost composers, conducted the performance in Cahn Auditorium. Courtesy of University Archives.

When Jolene Abboud Hocott '58 walked into Cahn Auditorium for the Northwestern University Opera Theater production of Aaron Copland's The Tender Land in May, she could remember exactly where her parents sat on the night she performed in the same opera, in the same theater, almost 60 years earlier.
"The stage set was almost exactly the same," recalls Hocott. "It was quite a moving experience."
Hocott worked with Copland, often referred to as the dean of American composers, when he visited Northwestern in winter 1958. By the early 1950s, he was already well known as a skilled composer of dramatic music for stage and screen.
Over the course of his visit, music school ensembles performed his chamber music, band, brass, piano and choral compositions, and Copland gave lectures on music and composing.
A highlight of his visit was the Northwestern University Opera Workshop performance of The Tender Land, conducted by Copland and staged in Cahn Auditorium on Feb. 28, 1958. At that time, -Copland's first and only full-length opera was just four years past its premiere.
Copland, who nurtured a lifelong passion for teaching, wrote The Tender Land with young singers in mind, with "material that would be natural for them to sing and perform." The opera tells the story of Laurie Moss, a Midwestern farm girl on the eve of her high school graduation, desperate to go out and explore the world. Her mother is sympathetic but has never experienced much beyond the family farm due to her own well-meaning but overly protective father. Into their world come two itinerant workers. Laurie falls in love with one of them despite her grandfather's misgivings about trusting strangers. The opera explores themes of xenophobia in close-knit communities and what it means to come of age.
"It was an experience of a lifetime to actually sing with [Copland] and experience his musicality," says Hocott, who played Laurie's mother in the '58 production. "And I think the opera's themes apply today. It's still a little heart-tugging when you have to grow up and leave home."