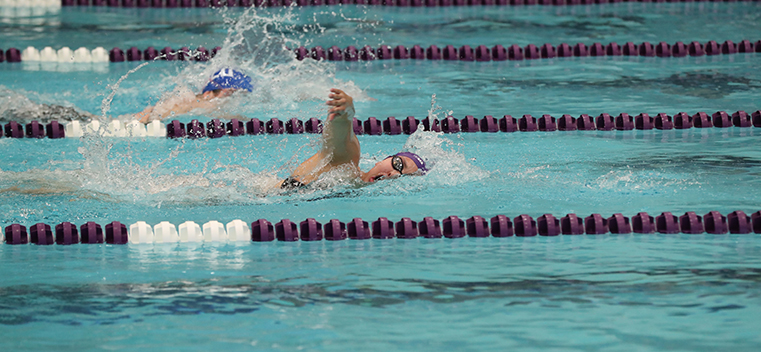 Not Slowing Down
Story Tools
Share this story
Sophomore freestyle distance swimmer has her sights set on Tokyo.
Swimmer Valerie Gruest Slowing's journey to freshman year at Northwestern took a detour when she represented her native Guatemala at the Summer Olympics. The rising sophomore, who raced in the 400- and 800-meter freestyle in Rio, already holds multiple Guatemalan national records.
Despite her high-flying summer, Slowing came to Northwestern admittedly nervous for her freshman year on the swim team. She had spent her whole life training and swimming by herself, competing as an individual at a handful of high-stakes meets.
"I wasn't used to it," she says. "But having that goal of being better as a team actually driving me every day, I found that a very enriching experience for me as an athlete. During practice, you race each other and push each other to limits that you wouldn't by yourself."
Slowing, whose mother and aunt also represented Guatemala at past Olympics, had one of the most successful debuts in Northwestern swimming history. Though she didn't turn 18 until the tail end of her freshman season, Slowing has already claimed school records in the 500-, 1,000- and 1,650-meter free, as well as the 800-meter free relay. She also earned a top-10 finish in the 1,650-meter free at the NCAA National Championships.
This summer Slowing dominated the competition at the Central American and Caribbean Swimming Championships, taking home seven gold medals while setting five Central American and Caribbean Amateur Swimming Confederation records. And the 2020 Olympics in Tokyo remains in the back of her mind. "I'll keep training hard," she says. "I'll mature and get to know myself better as a swimmer. We'll see what happens."