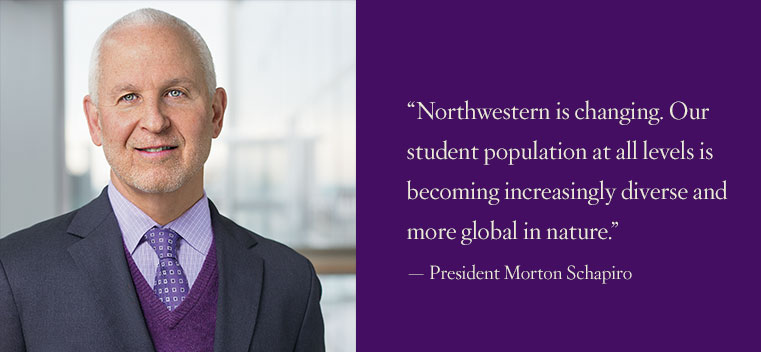 Photo by Matthew Gilson.
Celebrating Extraordinary Success
Story Tools
Share this story
Dear alumni, parents and friends:
The new academic year is underway, with first-year students and new graduate and professional school students arriving on our Evanston campus soon, and classes already are in session on our campuses in Chicago and Doha. This promises to be an exciting and interesting new year, as we build on our success of the past year, which included both a Nobel Prize for one of our faculty members and the first-ever appearance by the men's basketball team in the NCAA Tournament. While those accomplishments are not related, they speak to the unusual position that Northwestern occupies in higher education, with a commitment to excellence and outstanding achievements at the highest level in both academics and athletics. There are very, very few institutions that compete in both fields — and even fewer that succeed as Northwestern does. I'm proud of our alumni, students, faculty and staff, who enable the University to have such extraordinary success.
I'm pleased to report that we continue to be very successful in attracting some of the best students in the world, while at the same time enrolling an increasingly diverse group. This fall's first-year class of approximately 1,925 students was selected from more than 37,000 applicants — a record number of applications — and includes students from 47 states and 41 countries. Six percent of the class will be Chicago Public School graduates, a new record, while African American students, Latino/a students and international students each will make up more than 10 percent of first year students. Nineteen percent of the students, also a record number for the University, are eligible for federal Pell Grants, which provide funds for students from low-income families.
As these figures demonstrate, Northwestern is changing. Our student population at all levels is becoming increasingly diverse and more global in nature. That can bring challenges — as I've noted before, colleges and universities are the only places where we bring in people from significantly different backgrounds with a wide range of beliefs and require them not just to learn and work together but also to live together. Therefore, we do occasionally grapple with how best to recognize the differing values and ideals that our students bring and provide the appropriate support for them, while at the same time fulfilling our traditional educational roles of discovering and disseminating knowledge. While I realize all of our students might not agree with me, I believe we meet this challenge successfully at Northwestern, thanks in large part to the dedicated work of our faculty and staff and the support of our alumni.
We also are extending Northwestern's presence globally. Earlier this year we dedicated the striking new building that is the home of Northwestern University in Qatar at the campus in Doha. The NU-Q programs in journalism and communication continue to grow, and our NU-Q alumni are becoming increasingly influential in those fields throughout the Middle East and beyond. In addition, we are expanding opportunities for Northwestern students to engage in study abroad and for international students to experience a Northwestern education both on the Evanston campus and in other locations. We want to emulate at the University level the success that the Kellogg School of Management has had for decades in taking an international approach to education.
Symbolizing Kellogg's international approach is the Kellogg Global Hub, the truly beautiful new building located on the Evanston campus lakefront. With stunning views in all directions, the Kellogg Global Hub provides a multitude of collaborative spaces, two atriums, flexible classrooms, faculty offices and conference space, all of which will enhance Kellogg's already strong academic and professional programs.
Two other important buildings will open this fall in Evanston: the new 560 Lincoln residence hall and the completely renovated and expanded Mudd Building. The new residence hall, the first that Northwestern has built in more than 15 years, will accommodate more than 400 students in suite-style living arrangements with ample study, meeting, social and common lounge space to help build a sense of community. This is the first new building in our continuing efforts to improve residential life for our undergraduate students — something that those of you who began your Northwestern experience in Bobb-McCulloch or Sargent will undoubtedly agree is a good idea. The expansion of the Mudd Building, formerly Mudd Library, will create a hybrid laboratory-library resource that will provide significantly increased scientific research space, while maintaining a study and library research space on north campus. Additionally, it will enable the University to advance its research mission by including space for sensitive instrumentation, a computational laboratory and other laboratories.
On the Chicago campus, we are making excellent progress on the Simpson Querrey Biomedical Research Center. The first phase of this building, scheduled to be completed in early 2019, will provide nearly 600,000 square feet of research and support space, providing room for investigators and biomedical scientists working on cancer, heart disease, genetics and other areas.
As I've said before, what's important at Northwestern is not so much the buildings themselves but what goes on inside our buildings — teaching, lifesaving research, collaborative learning, discovery and the dissemination of knowledge. Still, those things cannot occur without the necessary infrastructure to support them. No university president wants to be known as the one whose legacy is putting better HVAC systems into campus buildings, but there's also no question that to achieve what we want to in our teaching and research missions, we must continue to maintain and improve our facilities.
To a great extent, these investments in our students, faculty, programs and facilities have been made possible by the generous support of our alumni and other friends of the University. We Will. The Campaign for Northwestern has been extraordinarily successful, with more than $3.4 billion raised to date. The Campaign has enabled Northwestern to create 60 new endowed professorships and 303 new endowed scholarships and fellowships and significantly increase financial assistance for students at all levels. More than 134,000 alumni, parents and friends have made at least one gift during the Campaign. I am deeply grateful for the remarkable generosity shown by so many of you, and I hope that you will continue to support the University as we set our sights even higher in all our fields of study. As I stated at the beginning of this report, Northwestern occupies an unusually strong position in American higher education, and your gifts are critical to maintaining that excellence.
I'll be traveling this coming year to a number of alumni events throughout the country. I hope to see you at one of those, at Homecoming or the Alumni Awards dinner or at one of the many events on our campuses. I can't promise another Nobel Prize, and if we make the NCAA men's basketball tournament, it won't be for the first time ever, but I'm confident it will be another exciting, productive and important year for Northwestern.
Best wishes,
Morton Schapiro
President and Professor