Update: The Campaign for Northwestern
Story Tools
Share this story
'We Will' Campaign provides support for scholarships and computer science.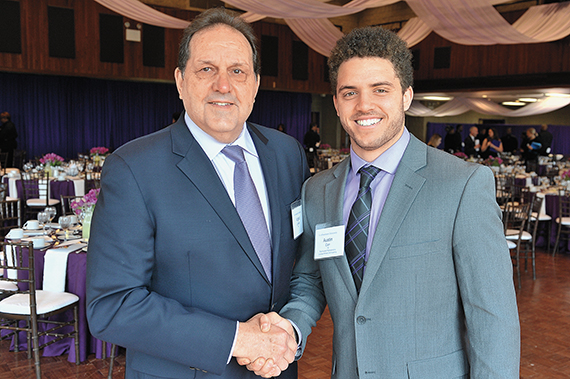 Scholarship donor Angelo Loukas '69, left, and scholarship recipient Austin Carr '16. Photo by Bruce Powell.
CELEBRATING SCHOLARSHIPS, DONORS, RECIPIENTS
Angelo Loukas '69, a former Northwestern football captain and scholarship recipient, knows the value of hard work: His parents saved for seven years to move with him and his three siblings from Greece to Chicago in 1953.
Austin Carr '16 also knows what it means to work hard: He earned a spot on Northwestern's football team as a walk-on and has since become one of the team's most reliable wide receivers and an Academic All-Big Ten honoree.
So it's no surprise that Loukas sees Carr as a fitting recipient of the Sophia and Konstandino Loukas Athletic Scholarship, named in honor of his parents.
"The thing I like most is that Austin was a walk-on," says Loukas, who also supports two other scholarships for student-athletes. "That kind of work ethic is something my parents would have been really proud of."
Loukas and Carr had the chance to chat May 15 at Northwestern's annual Scholarship Luncheon, where donors and student recipients share a meal and conversation.
Carr, who spoke at the event, thanked Loukas and his wife, Ursula, as well as the nearly 90 other scholarship donors who attended the event.
"I have personally benefited from the generosity of people like you," said Carr, who grew up in Benicia, Calif. "You want to make it possible for students like me, who come from a financially unstable background, to attend a place like Northwestern, and I'm so thankful."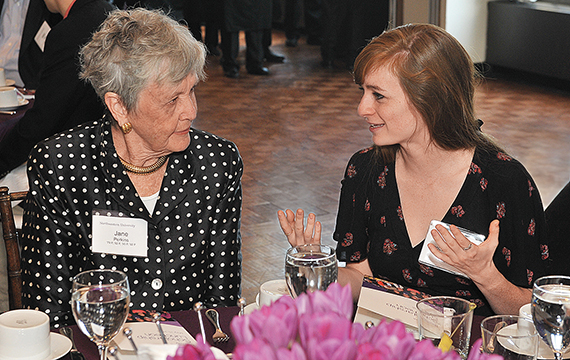 Jane Phillips Perkins, left, and rising junior Andrea Canizares-Fernandez chat at Northwestern's Scholarship Luncheon. Canizares-Fernandez, a theater major, received the Jane B. and Donald S. Perkins Scholarship, which was established by Perkins and her late husband, former Northwestern Trustee Donald S. Perkins. Photo by Bruce Powell.
Increasing financial aid is a priority of We Will. The Campaign for Northwestern. In March Northwestern announced it has eliminated loans for incoming undergraduate students, increased financial assistance for graduate students and limited the amount of loans current undergraduates may have upon graduation, among other initiatives.
In the past five years, Northwestern has boosted financial aid for undergraduate students by 55 percent, to approximately $160 million in 2016–17.  A record 17 percent of this year's freshman class received Pell grants, a federal grant for low-income students.
Carr, who begins his final season with the Wildcats this September, has accomplished much with scholarship support. In June he earned a bachelor's degree in philosophy while minoring in business institutions. In 2014 he was chosen as one of five winners of the Irving Kabiller Memorial Award for Excellence in Character, Commitment and Community. Over the summer he began taking classes through the Kellogg School of Management's Master of Science in Management Studies program.  
Loukas says he supports students such as Carr out of gratitude for the assistance he received as a student.
"The ability to go to Northwestern gave me such great advantages," says Loukas, who played professional football before becoming an entrepreneur in dining, entertainment and real estate in the Chicago area. "I benefited greatly,
and I wanted to share some of those benefits that we received in this country."
Help support scholarships at Northwestern by making your gift today at wewill.northwestern.edu. All gifts, of any size, count toward the "We Will" Campaign.
DONOR SUPPORT FUELS COMPUTER SCIENCE EXPANSION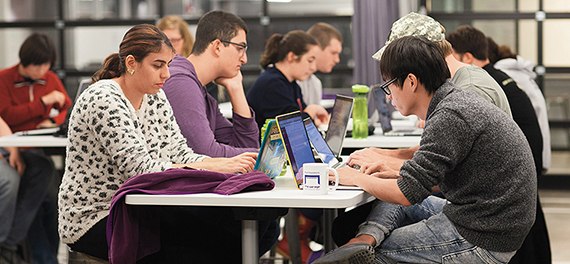 Students work in The Garage on the Evanston campus. Photo by Sally Ryan.
Computer science is booming at Northwestern.
In the past five years the number of students majoring in computer science has more than tripled, and overall course enrollments have more than doubled.
Given the demand for computer science skills among both students and employers and donors' commitment to supporting Northwestern's expertise in the field, the University recently announced it will hire an additional 20 faculty members and substantially expand its commitment to computer science in the years ahead.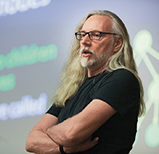 Half of the new faculty appointments will be in core computer science areas and half will be structured as collaborative "CS+X" appointments with other disciplines. The University is making initial investments in advance of additional fundraising to support the overall effort, which is expected to exceed $150 million.
"This is an investment in the future of the University," President Morton Schapiro says. "Computer science has become a foundational discipline for many of our students, and faculty across the University are increasingly using computational thinking. It is important for Northwestern to continue to enable new paths for exploration. The time is right to make this commitment."
Computer science and computational thinking have the potential to touch nearly every field at the University. Several Northwestern computer science professors have joint appointments in areas such as music, journalism and education — and many of the new faculty positions will be at new intersections of disciplines.
Computer science has been bolstered recently by several gifts to We Will. The Campaign for Northwestern. Life Trustee Dennis Chookaszian '65 and his wife, Karen, established the Chookaszian Family Program in Computer Science. Trustee Peter Barris '73 and his wife, Adrienne, endowed a new professorship in the Department of Electrical Engineering and Computer Science. Additionally, the McCormick School of Engineering's Advisory Council supported a visiting professorship through a group gift last year.  
Northwestern is uniquely positioned to provide students with the computer science training they need to succeed in today's job market, says Tania Neild, who earned a doctorate in computer engineering from Northwestern in 1999 and is founder and CEO of InfoGrate, an information technology consulting company. She and her husband, Carter, made a gift last year that created a computer science fellowship for graduate students.
"Northwestern has struck a phenomenal balance between teaching computer science and conducting outstanding research and development in computers," says Neild, who serves on the McCormick Advisory Council. "That's where Northwestern stands out."
Help support Northwestern's computer science expansion by making your gift today at wewill.northwestern.edu. All gifts, of any size, count toward the "We Will" Campaign.