No More Lovable Losers
Story Tools
Share this story
Baseball scholar and Northwestern professor Bill Savage weighs in on the Chicago Cubs' historic World Series run.
Bill Savage '88 MA, '92 PhD
is an associate professor and adviser for the Weinberg College of Arts and Sciences. He is also a scholar of literary and popular culture, as well as a widely published writer. But perhaps most important, Savage is a lifelong Chicago Cubs fan and baseball historian.
A member of the Society for American Baseball Research, Savage wrote a number of columns for ESPN.com this summer about the experience of watching the team from a fan's perspective. You can find many of his columns here.
A season ticket-holder at Wrigley Field since 1992, Savage sat down with Northwestern's Josh Rosenblat for a discussion about the Chicago Cubs' first trip to the World Series since 1945, where the team is facing the Cleveland Indians.
The questions and answers have been edited for clarity.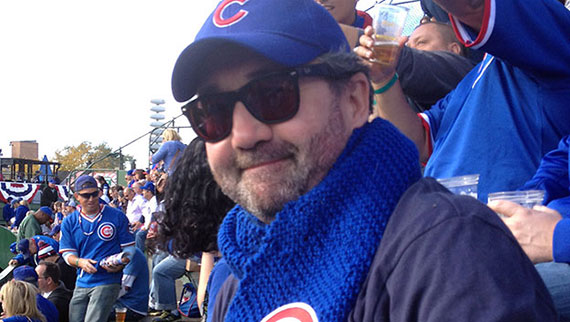 Weinberg's Bill Savage is a baseball historian and lifelong Cubs fan.
With Cleveland and Chicago, you have two teams that have failed to win a World Series for a combined 174 years. What is the historical significance of this World Series?
I don't know that baseball is one of those things where you can say, 'What is the historical significance of this?' For the individual teams and the fans, it's got significance. But, baseball is not a moral enterprise. It's like nature. It's amoral. It happens. … While histories of the game will record that after this World Series one of these two long droughts is over, it's not a moral enterprise. It's a business. It's a game.
Would you say this is the best Cubs team of your lifetime?
Absolutely. With the depth of the pitching and the hitting and the bench and the innovative managing that [Joe] Maddon brings to the table, this is by far the best team.
I know I said I wouldn't talk about it, but not talking about it is talking about it: The stupid curse narratives are nonsense. The reason the Cubs haven't won the World Series since 1908 and haven't been to one since 1945 isn't supernatural. It's just that bad owners, bad general managers, bad managers and bad players equal losing. Now the Cubs have owners who seem to know what they're doing, a general manager who knows what he's doing, a field manager who knows what he's doing and a whole lot of good players. So, they're not winning because of some magic. They're winning because they're good.
Was there ever a point when you're watching, having gone through the playoff losses before, and you say, 'Here we go again?' Or, have you conditioned yourself not to fall into that trap?
I don't know that it's a trap because that's just baseball as a reality. The difference between this team and the teams you've mentioned is their resilience, their come-from-behind ability. In most of the bad years with the Cubs, if you were behind after the seventh inning, you knew you were going to lose. Now, you don't feel that way anymore. And that's not because of some magic transformation but because of the game where they clinched against the Giants. [The Cubs scored four runs in the top of the ninth inning to clinch the National League Division Series on Oct. 11.] There have been many, many, many walk-off wins [this season.] … It's a different feeling. But that feeling isn't based on the supernatural. It's based on evidence of performance.
So they've shaken the "Lovable Losers" narrative?
In terms of the dominant narrative of "lovable losers," the Cubs were in 10 of the first 40 World Series. Along with the Giants and the Pirates, they dominated the first decades of the 20th century. But they ran into teams that were better than they were in the World Series, repeatedly.
Then, the dry years from 1945 to 1984, there was bad ownership. But that bad ownership saved Wrigley Field. If the Wrigleys wanted to make a lot of money and put a winning team on the field, they would have asked for a new stadium by an interstate on-ramp with a bunch of parking lots. Instead, they sold people on the experience of Wrigley Field: baseball in the sunshine, come have a picnic, you'll have a good time at the Friendly Confines. Yeah, the team will be terrible, but you're not just here for the team, you're here for the ballpark.
So that's why we still have Wrigley Field. So it's kind of a deal with the devil, in some sense. Losing baseball games, in some way, enabled the team and the fans to win by having this historic park still.
Also, the Cubs have gotten to the playoffs. And getting to the playoffs several times every decade [since the '80s], is pretty good for most teams, except if you're the Cardinals. So this isn't a loser narrative. It's an only-one-team-can-win narrative.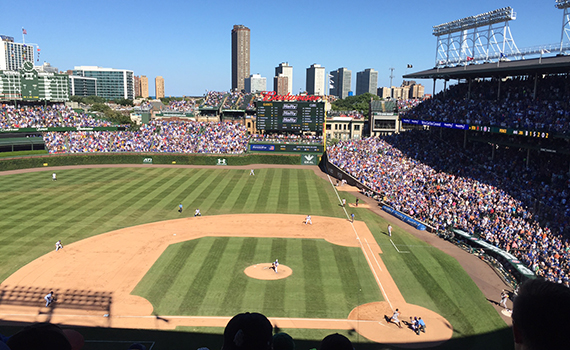 Objectively, by any metric, the Cubs are the best team in baseball this year. Is this the most confident you've been in a Cubs team?
I was pretty confident in 2008. They led the National League in wins that year. In general, when a team makes the playoffs you've got to buy in. But it's easier to buy in because, again, the number of times in the regular season where they overcame seemingly insurmountable odds. They had no big losing streaks. … There's something weirdly consistent about these guys.
The great thing about baseball is the worst teams will win four out of 10 games. And the best teams will lose four out of 10 games. No other sport is like that. No other sport has that kind of balance built into it.
What's the one historical thing that stands out to you that has happened between now and 1945, the last time the Cubs were in the World Series?
When [Cubs centerfielder] Dexter Fowler steps to the plate in Game 1, he'll be the first African American to play for the Cubs in a World Series. So, that's important. But that's also sort of a coincidence of history. The Cubs have also never won a World Series night game. Well, they've never played a World Series night game. With that, there's a quest for meaning where there is not meaning.
Are you planning to go to any of the World Series games? And what's that going to be like?
I'm taking my father Friday [to Game 3]. He's flying in from Phoenix where he's retired. I go out there for spring training every year. I'm a Cubs fan because of him.
It's going to emotional and weird and crazy. I've been to several playoff baseball games at Wrigley over the years. I was there in '03 when they lost Game 7 [of the National League Championship Series to the Florida Marlins after being up 3-1 in the series]. I was there last year when they beat the Cardinals in the NLDS. I was at the first game against the Giants this year. So, I've been to playoff baseball. The World Series, though, it will be a quantum leap up.
But, lots of people are selling their tickets. It's not going to be the regulars. It's going to be people with five grand to blow. So, I'm not sure what the atmosphere's going to be like but I'm looking forward to finding out.
Do you anticipate a bit of a nervous energy coming from the crowd?
Until you get that first hit, that first run and your pitcher goes a few innings and they don't score, there's always nerves because that's baseball. It's the structure of the game. Before the first pitch, anything can happen. … Every pitch has this sort of infinity built into it. But since one thing happens, other things are precluded. … So the feeling at Wrigley is going to be nervous. There will be a lot of non-fans there so the energy might be lower. But it will be a historic evening no matter what happens.
What was the most painful or disappointing moment for you as a Cubs fan?
Game 7 of the 2003 NLCS.
A lot of people would say Game 6 of that series, when the Cubs gave up eight runs in the eighth inning after being up 3-0 with a chance to clinch the pennant. [It is commonly known as the "Bartman" game.]
[Steve] Bartman did nothing wrong. He's a totally innocent guy. I don't like to even put his name in anything I write. … This guy's life is ruined. It's not funny.
But, they could have won Game 7. … That was the worst. I hope I never experience another Game 7 at Wrigley. Let's just put it that way.
There are things you can measure with statistics, but do you think there is a tangible difference in how these players handle the immense pressure, especially when compared to past Cubs teams?
If you look in the dugout of a team that just lost a playoff series, and, of course, they all look destroyed, can you say the pressure got to them? Did [former Cubs first baseman] Leon Durham muff that ground ball [in the deciding game of the 1984 NLCS] because the pressure got to him?
I think there were players in the past who did psych themselves out. But I think that Maddon, as a master manipulator, is trying to psych them up rather than psych them out. But I think that intangible personality thing is only measurable over time. And over time, these guys have proven to be very resilient, they have each others' backs.
Do you have any advice for nervous Cubs fans out there?
Just enjoy the ride. When you're a fan of any sports team, you invest a certain amount of your emotional energy in it, and 29 out of 30 fan bases, at the end of the season, are not happy. It's the relentless nature of sports. And in America, we're a winner-take-all culture. … So it's going to be an interesting five to 10 days in this town. I'm knocking on wood.