Students to Cover Campaign from Front Lines
Story Tools
Share this story
Medill on the Hill moves to fall quarter, allowing journalism students to cover the presidential election.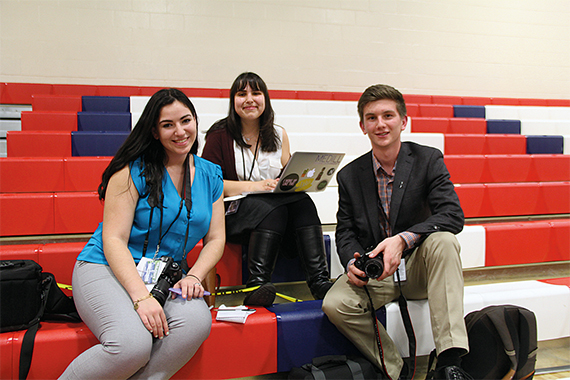 From left, Sabrina Rodriguez, Natalie Escobar and Jack Corrigan cover a Hillary Clinton rally in Virginia during Medill on the Hill last winter.
Each winter quarter a group of journalism undergraduates gets immersed in the world of political reporting during the Medill on the Hill program in Washington, D.C. This year the program will take place during fall quarter, so students will witness the crucial months leading to the presidential election.
Medill on the Hill has never taken place during a presidential election, but program director Ellen Shearer says the excitement of this campaign season made it impossible to pass up.
"This is a truly unique moment in American politics," says Shearer, the William F. Thomas Professor of Journalism. "How great is it that our undergraduates can be out in the middle of it?"
Shearer says students won't just be in D.C.; they'll be out on the campaign trail, covering candidates and voters across the country. They'll also cover the Senate, writing for the Medill on the Hill website and media partners such as USA Today and U.S. News & World Report.