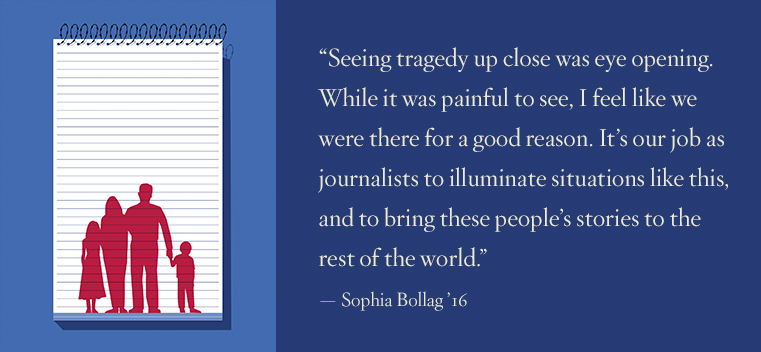 Ilustration by Ben Wiseman.
Reporting on Refugees
Story Tools
Share this story
Story by Anna Waters, a rising Medill junior from San Jose, Calif., who participated in the Refugees in France program.
See the Medill reporters' work in "Young Voices in Paris" on the Washington Post wesbite.
Tell us what you think. E-mail comments or questions to the editors at letters@northwestern.edu.
Find Us on Social Media
International reporting trips send Medill undergrad and graduate students to the front lines of the refugee crisis in Europe.
A group of Northwestern journalism students and their professor sat down in a restaurant and ordered delicious, moderately priced, large servings of rice and meat dishes, with plenty of chickpea salad and naan on the side. Many got Sprite or Diet Coke to go with their meals. Had the restaurant been listed on Yelp, every student would have given it five stars.  
However, the restaurant, called New Kabul, is located in the middle of the largest refugee camp in Europe. The owners are Afghan refugees who escaped to the Calais Jungle, an encampment in northern France. The student reporters were there to interview refugees who fled groups like the Islamic State and the Taliban.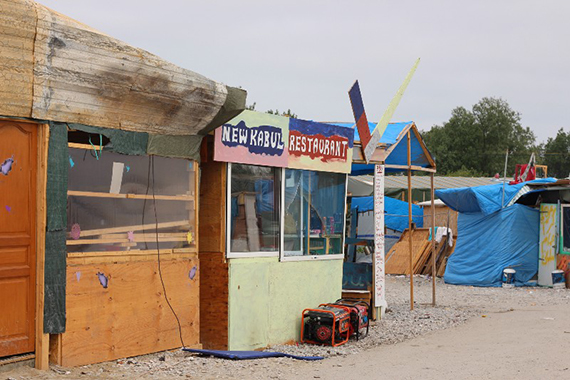 The New Kabul restaurant in the Calais Jungle. Photo by Anna Waters '18.
Reporting on the Calais Jungle took place on the fifth day of a weeklong Refugees in France trip in mid-June, led by Medill School of Journalism professors Peter Slevin and Craig Duff. During the trip, 10 undergraduate Medill students reported on the European refugee crisis. On a separate trip, 10 graduate students, led by professor Stephan Garnett, reported on similar issues in Hamburg, Germany.
On their first day of reporting in Paris, the students covered the dismantling of a 2,000-person refugee encampment that had popped up in a park on the north side of the city, near the Stalingrad Metro station. The students — print and multimedia journalists and coders — also talked with refugee children as young as 10 waiting outside of asylum offices in Paris, unsure of where they would sleep that night. Some reporters attended an iftar, the evening meal when Muslims end their daily Ramadan fast, and talked with leaders at local mosques about programming for refugees.
The refugees in Calais told story after story about how they risked their lives by crossing the Mediterranean in rickety boats, leaving behind family they hoped to bring to Europe one day.
"Seeing tragedy up close was eye opening," says Sophia Bollag '16. "While it was painful to see, I feel like we were there for a good reason. It's our job as journalists to illuminate situations like this, and to bring these people's stories to the rest of the world."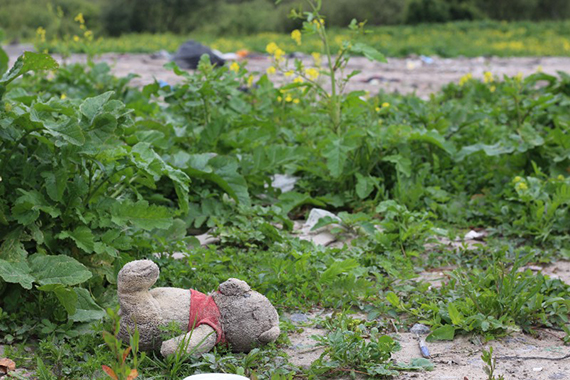 This teddy bear is one of many toys, items of clothing, tents and other miscellaneous items left behind in the evacuation and shutting down of the southern half of the Calais Jungle earlier this year. Photo by Anna Waters '18.
The students interviewed several important members of the refugee support network, including a Palestinian ­refugee who now works as a journalist for Doctors Without Borders and a Paris-based spokesperson for the United Nations High Commissioner for Refugees. They also met with a survivor of the November 2015 Paris terror attacks. Their work can be found on Medill's Social Justice News Nexus and the Washington Post website.
Before the trip, Slevin taught a class for all of the undergraduate and graduate Medill students heading to Europe. Through news reports and maps, they traced the refugee crisis from its origins in Syria and Iraq and followed the migrants' paths across the Mediterranean and through Turkey to Europe. Guest speakers at the class included the Chicago consul generals for France and Germany, an asylum officer from the U.S. Department of Homeland Security and political science professor Wendy Pearlman, who has interviewed hundreds of Syrian refugees.
Slevin, who reported in dozens of countries during his career at the Miami Herald and Washington Post, hoped the students would develop deeper understandings of their role as journalists. "I'd like them to come back with stories and reporting experiences that will be valuable long past the trip," he said before the trip. "There's a resourcefulness that's essential in working abroad, and if they come back with a new confidence that they can parachute into an unusual place and come out with a meaningful story, that would be fabulous."
The trip helped many of the students gain a deeper understanding for what they want out of journalism.
"It really shaped my vision of myself as a reporter," says Kali Robinson, a rising sophomore. "I have a better sense of not just what this reporting could look like but how the rest of my life would be shaped around having this career, because this emotional intensity is something I'm going to have to continually face."
Mariana Alfaro, a rising junior who is originally from El Salvador, became interested in immigration reporting before she came to Medill. She left the trip even more certain that she wants to be an international reporter and explore the complexities of immigration across the globe.
"I was impressed to see how this need for immigration and need for survival transcends borders," Alfaro says. "People will do whatever it takes to get out of a situation that could potentially get them killed. It convinced me even more that these people don't leave their countries because they want to; they leave because they have to."