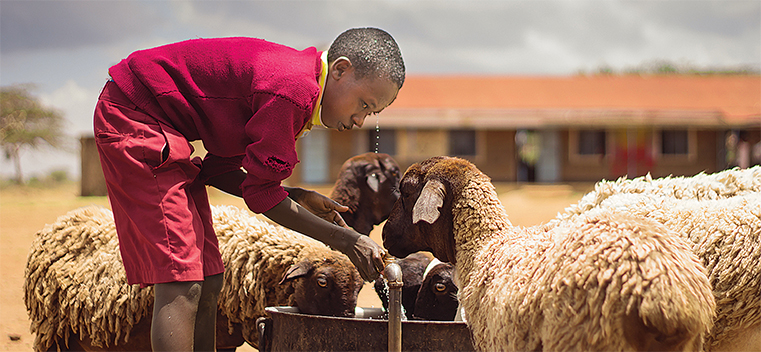 A boy provides water to his sheep in the Kenyan town of Kimuka, a Maasai village near Nairobi. Northwestern's Engineers Without Borders chapter is making clean water more widely accessible there. Photo by Jacob Morgan '18.
Clean Water in Kenya
Story Tools
Share this story
Engineers Without Borders develops water distribution system in Maasai community near Nairobi.
Dozens of Kenyans in a village near Nairobi now have access to clean water, thanks in part to a Northwestern undergraduate student group.
Engineers Without Borders USA is a national organization that pairs groups of student and professional engineers with people in the developing world. The North­western chapter partners with My Chosen Vessels to bring clean water to Kimuka, a Maasai village where the people had used contaminated water collected in manmade depressions in the ground as their source of water for drinking and cooking. The Northwestern team has developed a community water access point and distribution system.
But in spring 2015 when the members of Northwestern's chapter of Engineers Without Borders first turned on the taps in Kimuka, the pipes produced not even a trickle.
"There was this huge celebration, all these people waiting there for the water, and no water showed up," says Jessica Ziniel '16, former vice president of outreach for EWB-NU. The students discovered one tiny but pivotal flaw. They'd designed the system for a certain style of pump, but between the original assessment trip in spring 2014 and the actual implementation a year later, the supplier had replaced the pump with a different but weaker one, so the water could not reach the end of the pipeline. "It was a pretty big disappointment."
Thanks to a successful crowdfunding campaign on the Northwestern Alumni Association's Catalyzer platform, the Northwestern chapter sent Jesse Vega-Perkins, a rising senior; Elad Deiss-Yehiely '16; and Jacob Morgan, a rising junior, to Kenya last winter. They found their pipeline working perfectly — the Northwestern engineers had fixed the pump remotely in collaboration with their partner NGO, Kimuka's plumber and local engineers — and began planning EWB-NU's next pipeline extension. This year's trip also focused on building ties to the community. (See more of Jacob Morgan's photos from EWB-NU's trip to Kenya.)
"We went to get information and plan but also to get to know the people we are serving," says Vega-Perkins, the current president of EWB-NU. "We spent one night at a town elder's home, talking and singing while drinking chai tea and eating chapati bread. It felt so special to be let into their community like that."