Clash of the Titans
Story Tools
Share this story
Economics professors debate the future of economic growth.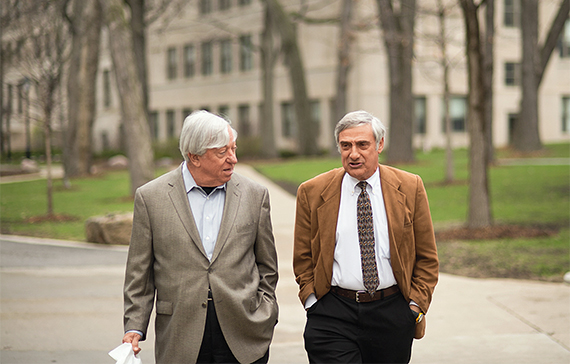 Economics professors Robert Gordon, left, and Joel Mokyr. Photo by Rob Hart.
In April economics professors Robert Gordon and Joel Mokyr butted heads over the future of America's economic growth in the Northwestern Political Union's annual "Clash of the Intellectual Titans," moderated by fellow professor Mark Witte '87 MA, '97 PhD.
Gordon, a macroeconomist, argues that technological innovation is slowing and the slowdown in total factor productivity (or economic efficiency) could spell trouble for the United States in the coming decades. Mokyr, an economic historian, is much more optimistic. Looking at the United States, he says, isn't enough. Today we live in a connected world, and with breakthroughs happening around the globe, the future looks bright.
Here's a look at a few of their comments from the discussion:
The Past
RG: "When we look at total factor productivity … it grew almost 2 percent a year [from 1920 to 1970], and since 1970, it's been growing at only one-third the rate. I'm not forecasting some new dark age. I'm suggesting a continuation of what's already happened."
JM: "The great scientific revolution of the 17th century was made possible by a set of new tools — the telescope, microscope, barometer. The tools and instruments that we have today make anything that we had even in 1950 look like toys by comparison."
The Present
RG: "We're mired in the muck with productivity growth as slow as it's ever been in U.S. history. Everywhere I look, I see things standing still."
JM: "In today's world … if something is invented anywhere, it is invented everywhere."
The Future
RG: "Artificial intelligence is where I think the most progress is being made. I have to qualify that: A lot of the uses of big data and massive computer analysis are taking place in marketing departments where they're looking for ways of stealing customers from rivals, and that's a zero-sum game."
JM: "[Genetic engineering pioneers Herbert Boyer and Stanley Cohen] began a revolution that our age will become famous for long after people have forgotten about cellphones and the internet. Genetic engineering … is vastly bigger than communications."