A Performance Boost
Story Tools
Share this story
Strength coach Tommy Christian, a former Northwestern linebacker, gives athletes an edge.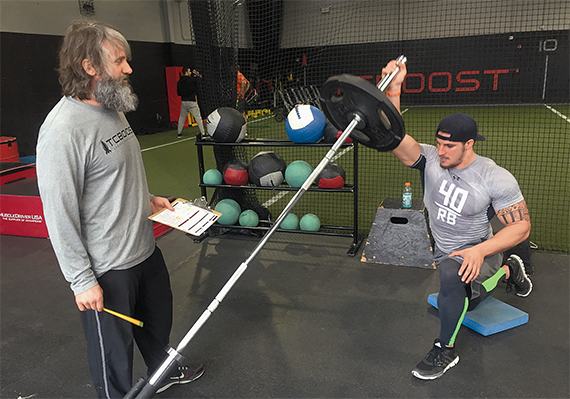 Tommy Christian, left, works with former Northwestern superback Dan Vitale, who was drafted in the sixth round by the Tampa Bay Buccaneers. Photo by Tolly Taylor '16 MS.
The future looked bright for Tommy Christian in 1999. Just five years out of college, he held a stable, well-paying engineering job in the Detroit auto industry. The corporate ladder was his to climb. Then he quit.
"I wanted my work to make an impact on people's lives," says Christian '95.
He had been the starting inside linebacker on the Northwestern football team, and in the back of his mind, Christian always thought that one day he'd get involved in athletics again. In what he calls "an exciting leap of faith," Christian became an unpaid intern under his former strength coach and mentor at Northwestern, Larry Lilja '76.
Christian rose through the ranks of the Northwestern coaching staff from intern to assistant director of strength and conditioning and eventually took over speed training for football and other Northwestern teams. Then he quit, again.
Christian went on to found TCBOOST, a sports development and training program that offers high school athletes the same training that pro and college teams receive. Though it began as a series of off-site camps, TCBOOST now operates a 10,000-square-foot facility in Northbrook, Ill. High schoolers and other young athletes remain the primary focus, but today Christian works with a variety of clients — from weekend warriors to the Chicago Bears offensive line and Olympic bobsledder Jamie Moriarty.
Christian, who still maintains close ties with Northwestern (his wife, Shana Cox Christian '94, '02 GFSM, is an instructor of clinical pediatrics at the Feinberg School of Medicine, and his brother, Bob '92, played football at Northwestern as well), also trains a number of Northwestern athletes, doing speed development work as a contract coach. Last winter he trained seven senior football players for the NFL Combine. Two were drafted in April: Dan Vitale '16 by the Tampa Bay Buccaneers and Dean Lowry '16 by the Green Bay Packers. Based on their statistical performances, the website Football Perspective named Vitale and Lowry the top two performers at the NFL Combine.
"[Tommy's] awesome. Everything he does is methodical, scientific," says Vitale, who interned and trained at TCBOOST after graduating in March. "When Dean and I and the other guys all started training there, we saw results right away."