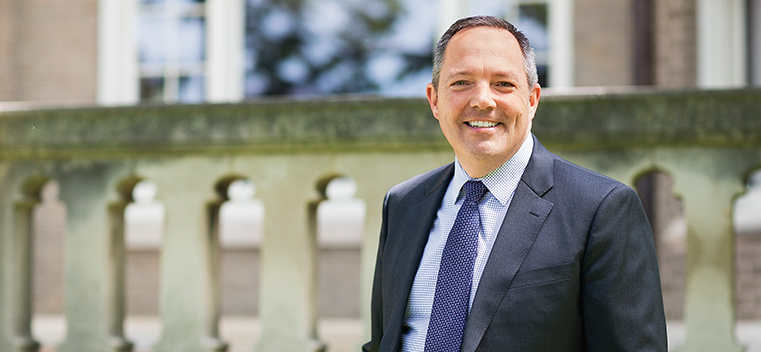 NAA president Mark Ledogar. Photo by Jasmin Shah.
Northwestern for Life
Story Tools
Share this story
Incoming NAA president Mark Ledogar aims to help Northwestern alumni stay connected with their alma mater.
Mark Ledogar begins his two-year term as president of the Northwestern Alumni ­Association in September. If there's one message he wants to get across to his fellow alumni as he prepares to lead the NAA, it's this: it's this: Northwestern is for life. Northwestern has much to offer its alumni, and they have much to offer Northwestern.
"The mission of the NAA is to encourage and enable a lifelong Northwestern connection that is made possible when the University remains relevant to alumni," says Ledogar, a 1989 graduate of the School of Communication. "The NAA meets alumni at two points: where they are geographically and where they are in life. There are no boundaries to the Northwestern connection."
Ledogar has known that connection since high school, when one of his uncles urged him to take a look at the University. After visiting the Evanston campus, Ledogar submitted an early-decision application without applying to any other schools.
"Looking back, I'd have it no other way," says Ledogar, who grew up in the Chicago suburb of Orland Park. "I was destined to be here. Northwestern was the right fit, and it was a great experience that continues today. It expanded my horizons and allowed me to see well beyond myself into a world that was much broader than I realized at the time."
Ledogar majored in radio/TV/film, worked as a ­community assistant and in other supervisory roles at ­several residence halls, and helped plan and produce events including Dance Marathon, the Waa-Mu Show and the Homecoming parade.
After graduating, Ledogar briefly pursued a career in television production. But he soon realized he missed ­producing live events as he had done at Northwestern, so he decided to make a career change just a few months after earning his degree.
"I looked back at my Northwestern experience ­outside the classroom and realized that I loved live events — and I haven't turned back," says Ledogar. Today, he's president of One Smooth Stone, an event and communication agency based in Downers Grove, Ill.
Ledogar's history of volunteering at Northwestern stretches back to the summer after he graduated, when David Zarefsky '68, '69 MA/MS, '74 PhD, then dean of the School of Communication, asked him to serve on the school's alumni advisory board.
"I've been helping out wherever I can ever since, and it's all because I was asked to participate," says Ledogar, who has served on the NAA's Board of Directors and is a member of the University's Board of Trustees.
Laura Wayland, the NAA's executive director, says Ledogar's legacy of involvement with Northwestern makes him the natural choice to succeed outgoing NAA president Kathryn Kimura Mlsna '74, '77 JD, a University trustee.
"Mark's years of volunteering at Northwestern give him a unique perspective on how to help the NAA meet the needs of all alumni," Wayland says. "He has a real passion for Northwestern that makes him a great ambassador for the University."
Ledogar says that the NAA team, including the seven other alumni who will begin serving terms as NAA officers in September, plans to build on the organization's strengths, including its wide range of educational, mentoring and career development programs for alumni of all ages.
Ledogar also hopes Northwestern alumni will promote the University by telling others how their Northwestern experience has shaped their lives.
"I encourage my fellow alums to 'wear it,' and I'm not just talking about wearing purple or wearing a Northwestern sweatshirt," Ledogar says. "I'm talking about recognizing that Northwestern is part of your story and letting others know about your Northwestern connection."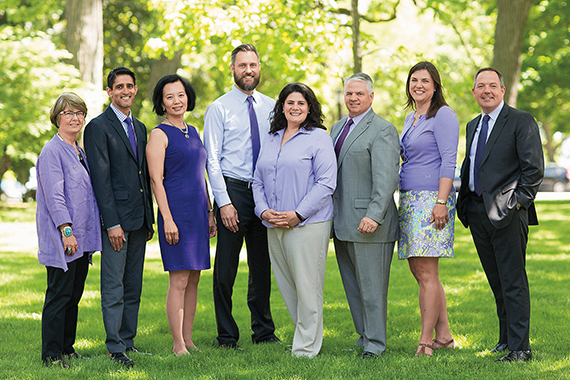 Mark Ledogar, far right, and the Northwestern Alumni Association's incoming officers will begin their two-year terms in September. From left, vice president Candy Kaelin Deemer '76, '77 MS, of Manhattan Beach, Calif.; president-elect Samir Mayekar '06, '13 MBA, a University trustee, of Louisville; immediate past president Kathryn Kimura Mlsna '74, '77 JD, of Oak Brook, Ill.; vice president Brian Miller '00, of Somerville, Mass.; secretary Elizabeth Partoyan '93, of Alexandria, Va.; vice president Jim Coffing '89 MEM, of Chicago; treasurer Christine Lavelle '89, of New York City; and Ledogar '89, a University trustee, of Oak Park, Ill. Photo by Jasmin Shah.