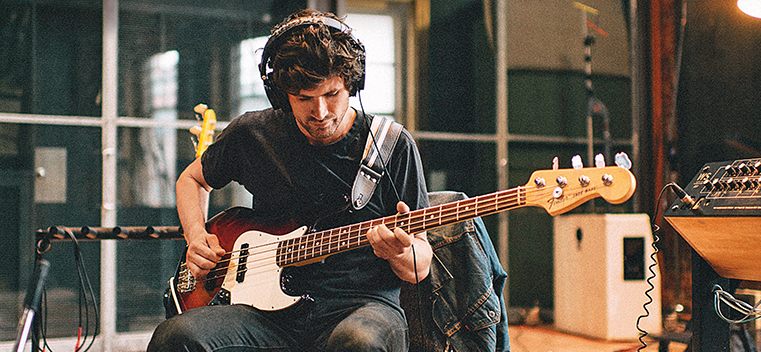 Photo by Evan Kheraj.
Chris Danzig: Rockin' Out
Story Tools
Share this story
Check out Chris Danzig, sitting beside the interviewer, and his Down and Outlaws bandmates in this recent interview.
Tell us what you think. E-mail comments or questions to the editors at letters@northwestern.edu.
Find Us on Social Media
Chris Danzig '08 earned his journalism degree, went home to San Francisco and landed a job reporting on the legal industry. But music kept calling. Before long, Danzig, a bass guitarist, and his younger brother, Peter, discovered a few like-minded musicians looking for a band. Down and Outlaws, a gritty and brash, blues- and punk-inspired rock 'n' roll band, was born. Now the four-man act is one of the top up-and-coming bands in the Bay Area. Their debut album, Above Snakes — named for an Old West term meaning still alive — landed in July. The band recorded the album in a marathon one-week session at Dave Grohl's famed Studio 606 in Los Angeles — a process ­Danzig ­likened to boot camp. "That was the first time any of us had lived and breathed music for a week straight," says Danzig, who also handles much of the band's marketing and social media. "There was nothing else we were thinking about." The first single from the record, "Lay Me Down," will appear in Snowden, a film directed by Oliver Stone. The band also played San Francisco's Outside Lands festival in August and South by Southwest in Austin the past two years and in 2015 appeared on NBC's Last Call with Carson Daly.