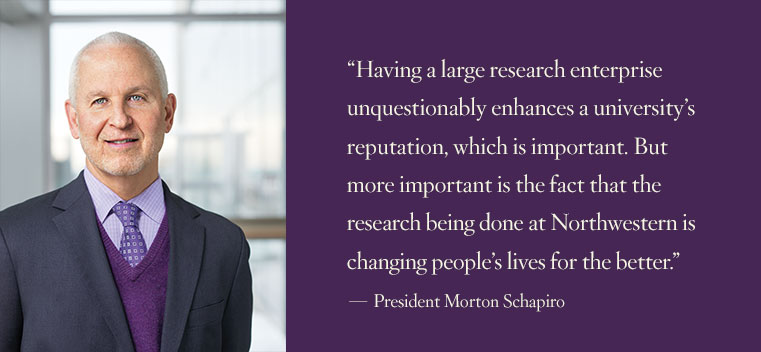 Photo by Matthew Gilson
Taking a Northwestern Direction
Story Tools
Share this story
Dear Northwestern alumni,
This month we will dedicate the newest addition to our Evanston campus, a beautiful building on the lakefront that is the home of the Bienen School of Music and also provides space for the School of Communication. This stunning new facility, which includes a recital hall with a view of Lake Michigan and the Chicago skyline, rehearsal and practice rooms, classrooms, and faculty and administrative offices, symbolizes Northwestern's strength and our dedication to providing a world-class education across all of our academic disciplines. In addition, we are well underway on an $80 million top-to-bottom renovation and renewal of Kresge Centennial Hall, the home to many of our humanities programs. Although some in society are now questioning the value of the humanities and the arts, Northwestern remains committed to these areas of study, as is demonstrated by the opening of this wonderful new building and the continuing work on Kresge.
At the same time, the University's scientific research efforts continue to grow. Northwestern now receives approximately $600 million annually in competitively awarded research grants, most of it from the National Institutes of Health and the National Science Foundation for biomedical and scientific research. In the past two decades, Northwestern has gone from 41st in NIH funding to as high as 19th recently, a remarkable achievement. We want to do more. Having a large research enterprise unquestionably enhances a university's reputation, which is important. But more important is the fact that the research being done at Northwestern is changing people's lives for the better. Our faculty researchers are examining the causes and potential cures for diseases such as cancer, Alzheimer's, ALS and others. In doing so, they are providing hope for millions of people who are affected by these deadly diseases.
This fall we also will welcome a terrific group of new students. At the undergraduate level, our entering class will be both the academically strongest and most diverse — in many ways — ever. More than 90 percent of this year's group graduated in the top 10 percent of their high school class. We have been able to provide an increasing amount of financial aid, thereby making a Northwestern education accessible to students from all income levels. In addition, our Good Neighbor, Great University program of outreach to the Chicago Public Schools is succeeding, with more than 80 CPS graduates among this year's entering class.
Applications for admission also remain strong at each of Northwestern's professional schools, with law school applications increasing this year, despite a continuing decline nationally. And thanks to our excellent financial position, we have been able to increase stipends for full-time graduate students in our doctoral and master's of fine arts programs to a level comparable to that at other top private research universities. This will enable us to attract the best graduate students in the world — as well as allowing those students to live much better lives.
At all academic levels, Northwestern is becoming an increasingly global university. Enrollment at Northwestern University in Qatar continues to grow, with this year's class the largest ever. At the same time, the number of international students in our entering freshman class reached 10 percent, also the highest ever. And propelled by a transformative gift from Roberta Buffett Elliott '54, we are expanding significantly our global studies programs, with new opportunities for our students to engage in study and research abroad and for international scholars to come to Northwestern. This gift and the programs that it will fund will be an unprecedented catalyst for the University's global studies and engagement.
Our ambitious fundraising initiative, We Will. The Campaign for Northwestern, is already having a transformative impact across the University. Gifts to date total more than $2.2 billion, and we are making steady progress toward our goal of $3.75 billion. The University has received generous and widespread support from nearly 105,000 alumni, parents and friends who have made one or more gifts during the Campaign. We truly appreciate your every contribution, large and small. We are especially grateful to members of NU Loyal, the giving society for those who give for three or more consecutive years. This consistent support of the University is both inspirational and impactful. During the Campaign, we aim to have NU Loyal membership reach 40,000, and we now have nearly 33,000 members ranging across all class years and schools. Collectively, your annual gifts help our students, faculty and University realize their full potential to do good in the world. 
We also are launching a new initiative designed to define Northwestern's key strengths more clearly to our key audiences. Using the theme "Take a Northwestern Direction," the branding effort will enable us to deliver a more consistent, unified message, thereby enhancing the University's reputation. Updates are now underway to the University website and undergraduate admission materials, both print and online, and to the experience that admissions visitors will have at the Segal Visitors Center. More details will be forthcoming throughout the year.
Finally, I invite you to return to visit one or more of our campuses. At all three you will find visible symbols of the University's progress, from the striking new Kellogg School of Management global hub under construction in Evanston to the foundations being excavated for the Simpson Querrey Biomedical Research Center in Chicago to the extraordinary new home for our journalism and communication programs in Doha. These investments in our academic infrastructure, along with the ones mentioned above and others, provide the necessary resources for Northwestern to continue to excel in its important teaching and research missions — and the new buildings are exciting to see.
As we start this academic year, the key question for Northwestern is: Do we have the vision, the ambition and the resources necessary to make this already remarkable institution even greater? I am convinced that we do, and with your continued support, we will achieve that goal.
Best wishes,
Morton Schapiro
President and Professor