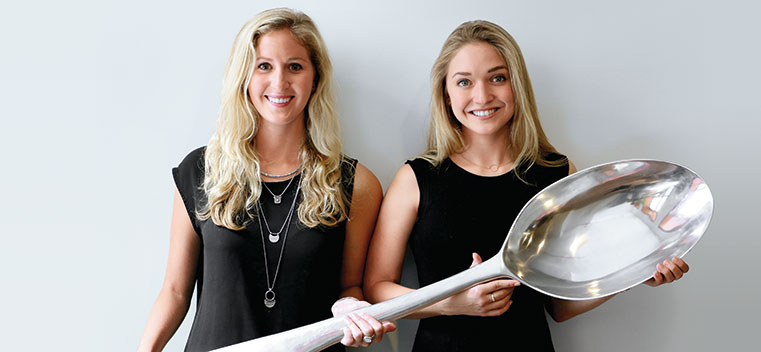 Spoon University co-founders Mackenzie Barth, left, and Sarah Adler. Barth is CEO, and Adler is chief technology officer.
Spoon U
Story Tools
Share this story
Tell us what you think. E-mail comments or questions to the editors at letters@northwestern.edu.
Ever wonder about those strange designations we use throughout Northwestern to identify alumni of the various schools of the University? See the complete list.
Find Us on Social Media
Two recent grads have cooked up a tasty community platform for student food fans.
Sarah Adler and Mackenzie Barth have cooked up something tasty with their food-focused startup, Spoon University. They launched thesplashy Northwestern-centric Spoon magazine and website in fall 2012 and quickly found that college students — an audience long neglected by the major food media — were hungry for more. By the end of their senior year, Adler '13 and Barth '13 had more than 100 students on the Spoon staff. "That's grown into Spoon University," Adler says, "a platform that gives a voice to all of these young people who want to talk about food." The network of food-oriented student communities has expanded to more than 100 different campuses in the United States, Canada and India, with 3,000 contributors who provide campus-specific content and restaurant reviews. Spoon University also offers recipes, stories on health, food factoids and other related content. Investors like what Adler and Barth have cooking. The New York City–based startup announced in July that it had received $2 million in seed funding. Adler and Barth, who recently welcomed Elena Besser '15 to the eight-member Spoon University team, plan to expand the staff, ramp up the platform's video capabilities and tap into the post-college world by maintaining relationships with grads who have grown up with Spoon.