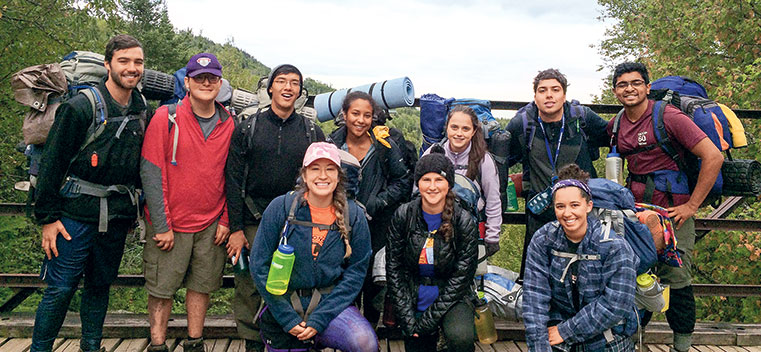 A Project Wildcat group enjoys the view from a bridge on the Superior Hiking Trail during the 2014 trip. Standing, from left, Caleb Natale '15, Freddy Levenson, John Paul Wang, Jillian Wilson, Madeline Ewbank, Walker Chilton, Shaan Somani. Kneeling, from left, Lindsey Pape, Hannah Givertz, Melissa Jones. Photo by Melissa Jones.
Into the Woods
Story Tools
Share this story
Related Articles
Sean Hargadon is senior editor of Northwestern magazine.
Tell us what you think. E-mail comments or questions to the editors at letters@northwestern.edu.
Find Us on Social Media
Project Wildcat, a preorientation week along the Superior Hiking Trail, fosters friendships, boosts self-confidence and preps incoming 'Cats for college and beyond.
Regan Via's family moved around a lot when he was young. Their last move brought him from Pittsburgh to Evanston midway through his freshman year of high school, a tough time to make new friends. He remembers feeling intimidated at Evanston Township High School.
As Via packed his bags for Northwestern's weeklong Project Wildcat preorientation program, he worried that his struggles to make friends would follow him to college.
But during a week on the trail in the Minnesota wilderness he made lifelong connections almost immediately. "I became so close to all the people in my group," says Via '15, who went on PWild in fall 2011. "I could feel my confidence increasing every day on the trip. PWild really carried me in the right direction in my college career."
PWild — part Northwestern primer, part retreat — is a pre–Wildcat Welcome backpacking trip that sends small groups of incoming freshmen into the wild for a week of bonding and self-discovery. Founded 20 years ago, PWild is one of four Center for Student Involvement preorientation programs. The others are the Freshman Urban Program, CATalyst and Alternative Student Breaks.
Every year more than 160 PWild campers, in groups of around 10, hike 30 to 40 miles of the picturesque Superior Hiking Trail, a 310-mile footpath that runs along Lake Superior from Duluth to Grand Portage, near the Canadian border in northeastern Minnesota.
It's a physically demanding and emotionally intense trek. Dropped at a trailhead with 40-pound backpacks full of food and gear, campers leave their smartphones behind, forego showers and flush toilets, hike 5 to 8 miles a day and sleep on the ground as a group — including snorers and night terror sufferers — under a large tarp.
Smelly and dirty, stripped of technology and liberated from social pressures, the campers find authenticity that can be rare in on-campus relationships. With everyone experiencing equal levels of disequilibrium, they develop confidence while building a foundation of friendships — with peers and upperclassmen mentors from disparate majors and interests — that last throughout their time at Northwestern and beyond. 
"The social fear of going to college is huge, especially for studious kids like the ones who go to Northwestern," says John Huston '99, who co-founded PWild as a student and is now the organization's safety and program adviser. "There are a lot of fears about how they're going to fit in, how they're going to be perceived. PWild and other programs break down those barriers quickly."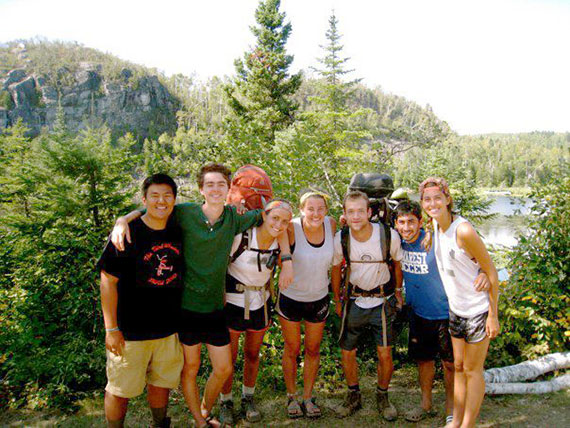 From left, Benison Choi, Adam Berman, Ellen Kourakos, Samantha Beach, Ollie Williams, Michael Reiner and Margaret Tudor
ON YOUR OWN
"The first day the counselors just handed us a map and said, 'It's your trip. Decide how you want to go about this. … You are forging your own path,'" recalls 2014 camper Mary Kate Goss, a sophomore from Houston.
Each group includes eight or nine incoming freshman and two co-counselors, or co-pairs, who take a no-hand-holding approach to leading the group. Forced to take ownership, the campers are responsible for navigating the route, setting up and breaking down camp and cooking meals — though few, if any, have had any orienteering or backpacking experience.
"You learn to trust yourself and trust the other members of your group when you're forced to take charge like that," says Goss, a theater major. "It's kind of like college."
Life on the trail tests the newbie backpackers. Last fall the weather in northeastern Minnesota was rainy and chilly, with lows in the 30s. At one point the PWild safety team collected the sleeping bags from one group and dried them at a Laundromat after a drenching rain flooded the group's campsite. Hypothermia became a real concern.
Cooking with fire — and adjusting to trail grub — takes some skill too.
"For our first meal we attempted pasta with Alfredo sauce, which we completely botched. It was like pasta in water with white powder in it. It was terrible," says Anna Waters, a sophomore from San Jose, Calif., who had never backpacked before PWild in 2014. "By the end of the trip we had a bit of a better understanding of how to make meals."
"Not only does PWild build up your confidence, it also gives you people who really know you, people who can see the vulnerable side of you that you don't want to show to your brand-new college friends." — Anna Waters

"You kind of just concoct these things," says Goss. "One of our counselors made this peanut curry — but not. He put hot sauce, peanut butter and spices in pasta, and he gave us all a bite. We were like, 'This is amazing.' You learn to appreciate things on a whole other level."
Then there's the "poop journal," a chronicle of who has and who hasn't gone No. 2. "It gets competitive," quips Via, a former counselor and steering committee member.
It's all natural, says former camper, counselor and steering committee member Madeline Hooper '15. "Dealing with basic bodily functions that are very challenging to deal with even in a normal public space makes you realize that I'm human, she's human, and he's human, and we're all here together. That helps people realize they can interact with and care about someone who is very different from them."
The experience of PWild is extremely challenging and makes people vulnerable, says Ashleigh Murphy de Villiers '00, a former PWild camper and counselor who does development work for De La Salle North Catholic High School in Portland, Ore. "You're seeing people in a more raw element of themselves. It sort of takes away the layers of confidence that you would have in other situations."
"That opens up a lot of deeper conversations," says junior Andrew Dai, a PWild camper in 2013. "You're forced to get to know each other on a different level.
"I think it set the bar really high for how I approached college. While everyone else during Wildcat Welcome was a little shy, a little homesick, we'd already been together for a week and seen each other at our worst. It definitely primed us to go out and explore."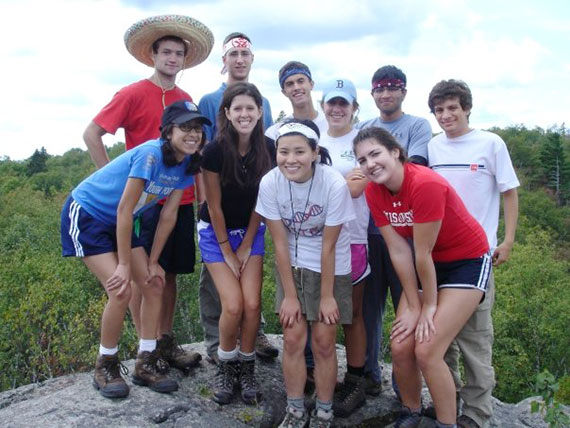 Top row, from left, Ollie Williams, Ben Weinstein, Tim Stanis, Emily Giudice, Kunal Joshi and Matt Zeitlin. Bottom row, from left, Tara Patel, Amanda Schwartz, Angela Meiquan Wang and Sarah Crocker.
OPENING UP
Preston Choi distinctly remembers being on the proverbial "hot seat," when fellow campers peppered him with questions. "We quickly went from really silly things like 'What's your favorite ice cream?' to 'What's something you've done that you felt embarrassed about?' or 'What's your biggest regret?' " says Choi, a sophomore theater and art major from Atlanta. "And it's best for you to answer as honestly as possible."
Throughout the trek, the counselors encourage the campers to share their personal narrative through campfire chats and icebreakers, including "life stories" sessions.
Waters, a journalism major, says she made two really close friends on PWild — one a mathematical methods in the social sciences major and the other an engineering major, people she never would have met or grown close to without the intensely personal nature of the trip.
Campers say one of the overwhelming lessons of PWild is to remove self-imposed limits. In high school, Waters admits, she was passionate only about things she was good at.
"PWild was different because I had no idea what backpacking was like," she says, "and it was really hard! I knew I was not the best person on the trip. Initially that terrified me, but by the end it made me significantly more confident. I had a great experience even though I wasn't 'winning the trip.'
"That really changed how I looked at college. It gave me a lot more courage to join student groups or try new things." Though Waters admits she had "zero journalism experience," she signed up to learn more about the student-run magazine North by Northwestern. The first meeting "was mind-blowingly intimidating," she says. "I was freaking out, but my PWild friends were like, 'Anna, you're going to be fine.'
"Not only does PWild build up your confidence, it also gives you people who really know you, people who can see the vulnerable side of you that you don't want to show to your brand-new college friends."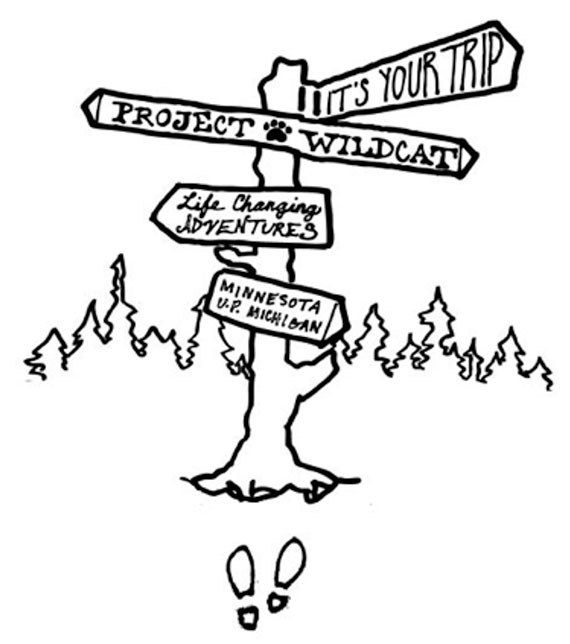 SAFETY FIRST
In fall 1995 John Rosenbaum '98 organized an overnight car camping trip to Lake Lorraine in southern Wisconsin for freshmen and upperclassmen. It rained, and the group, which included John Huston and Jenny Scala '99, decided to catch a movie.
That October trip was a trial run for a larger pre-orientation program. The following year, Huston, Rosenbaum, Scala and seven other counselors led three groups of new students on a preorientation backpacking program to North Manitou Island, part of the Sleeping Bear Dunes National Lakeshore in Michigan. PWild, Huston says, quickly became his unofficial major.
A year later Scala and Huston led an expanded preorientation trip to Missouri that included more than 100 incoming students. It featured many of the elements that remain part of PWild today, including time for reflection and personal sharing.
Over the years PWild has sent groups to trails and wilderness areas across the Midwest and Great Lakes regions, including the mountains of Pennsylvania, where one group had a black bear encounter, and the Porcupine Mountains in Michigan's Upper Peninsula.
In time it became a "happy-go-lucky free for all with no safety protocol or policy," says Jesse Swedlund '13, a camper and four-time counselor and former steering commitee member who now leads trips for the Voyageur Outward Bound School based in Ely, Minn. "Knowing what I know now about outdoor education, that was just crazy."
Four years ago the University realized that the program needed a safety overhaul after a series of misadventures, including medical evacuations and other "near misses," Huston says. In fall 2009 one group of campers got separated from their two counselors in the Pennsylvania wilderness for several hours.
In 2011 Huston, a polar explorer and former Outward Bound instructor, came to speak to the PWild counselors about his experiences, including skiing with his expedition partner, Tyler Fish, to the North Pole without food drops or other assistance. Before long, the PWild co-founder was asked to join the team as safety adviser.
Huston now oversees training for nearly 60 counselors. He helped to organize a change in the leadership framework from a co-chair model to a consensus-based steering committee. The PWild leaders developed a counselor manual, mapped out evacuation scenarios and instituted new safety and communication protocols. For logistical ease, the trip was moved to one set location, the Superior Hiking Trail, and Huston runs a centralized command post in Two Harbors, Minn., during the trip.
"I've run safety and logistics for all sorts of expeditions. Compared with a polar expedition where I have two or three people on a team headed to the North Pole, this is way more complex. Here I manage 225 people in the woods.
"It's a privilege to work with new students," Huston adds. "It's the very first experience they have with Northwestern, and we want to get it right. We do a lot of training on emotional safety and how to create safe spaces for people. In these 'life stories' sessions, campers might reveal things they've never told anybody before. There is a lot of responsibility there for the counselors."
In the end, it's all about "getting to know, on an intimate level, how different people work and think and then having them work through problems together," says Huston. "That's really the crux of it. They have to see each other as people and solve problems together that have immediate consequences."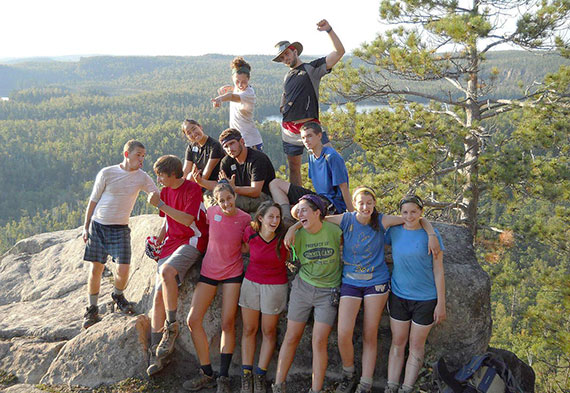 Bottom row, from left, Jason Richman, Dan Hoffman, Arianne Milhem, Olivia Seligman, Alex Heller, Rachel Schwab and Mary Scheibel. Middle row, from left, Sarah Chung, Max Offsay and Jonathan Newcomb. Top row, from left, Kiley Naas and David Harris.

ON A NEW PATH
Oliver "Ollie" Williams '12 says the friends he made on PWild in fall 2008 helped him get through a tough first quarter at Northwestern when he came close to transferring. "My PWild connections, the social network there and my experience in that community, got me to stay and really defined my Northwestern experience," says Williams, who applied to be a counselor just a few minutes after his freshman-year trip had ended. "It became my most meaningful activity on campus."
The experience also prepared him for work in outdoor education. "PWild put my life on a whole different trajectory," says Williams, who last fall led a Voyageur Outward Bound School trip with Swedlund for at-risk young adults. Williams has completed four seasons at Outward Bound. He also worked two stints in wilderness therapy in Utah between Outward Bound seasons and spent six months guiding backpacking trips in Guatemala.
Asha Agrawal '05 had never been camping before PWild, but the trip sparked in her a deep love for nature. Today she works as an environmental investor at the Westly Group, a clean-tech venture capital firm in Menlo Park, Calif., where she helps fund sustainability-focused startups.
"PWild was a pivotal point in the development of my interests," says former camper and counselor Agrawal, who a few years ago attended a PWild alumni backpacking trip at Point Reyes National Seashore (at the appropriately named Wildcat Camp) and last year went on a 10-day hiking, canoeing and fishing trip to Alaska with three fellow PWild alumni, Ashley Koester '05, Courtney Koester '05 and Courtney Lytle '04, '11 MBA.
"Being a part of that PWild counselor program gave me lifetime friends," Agrawal says. "It's so amazing that women in their 30s who have jobs take time, energy and money to go be in the wilderness together. It's only something you would find with a set of PWild counselors."