Then: Trailblazing Doctor
Story Tools
Share this story
María Isabel "Marisa" Robert Ramírez de Arellano never entertained the idea that she couldn't do it all. Earning five degrees from Northwestern in the span of nine years, all while raising three young children, she lived by the Spanish phrase Querer es poder — where there's a will, there's a way.
Born in Guaynabo, Puerto Rico, in 1915 to a pair of teachers turned pharmacists, Ramírez de Arellano '42, '45 MS, '49 PhD, '50, '51 MD learned early on to doggedly pursue her passions. When she was unhappy in a middle school home economics class, her father told the principal, "My daughter is not going to be a cook. Put her in shop with the boys." Years later, her husband, Max Ramírez de Arellano '40 MS, '41 MD, '47 GME, '53 GME, whom she met in a high school summer class at age 15 (she graduated a year later), echoed the same sentiment, telling the Chicago Sun-Times, "I see no 'either-or' proposition to marriage and career for a woman. A wife with talent should be encouraged by her husband to earn her education and practice her profession."
Marisa first came to Northwestern in 1938, when she began pursuing a series of degrees leading to her goal of becoming a physician. Her three children were born between 1943 and 1948. To complete her academic work, she would often get up at 5:30 a.m. to study and read late into the night. "My mother's a very strong person, a very stoic person," says her daughter, Marisa. Max, a neurosurgeon, also received four degrees from Northwestern, and their son, Max '65, and daughter Maxine '69 also attended the University.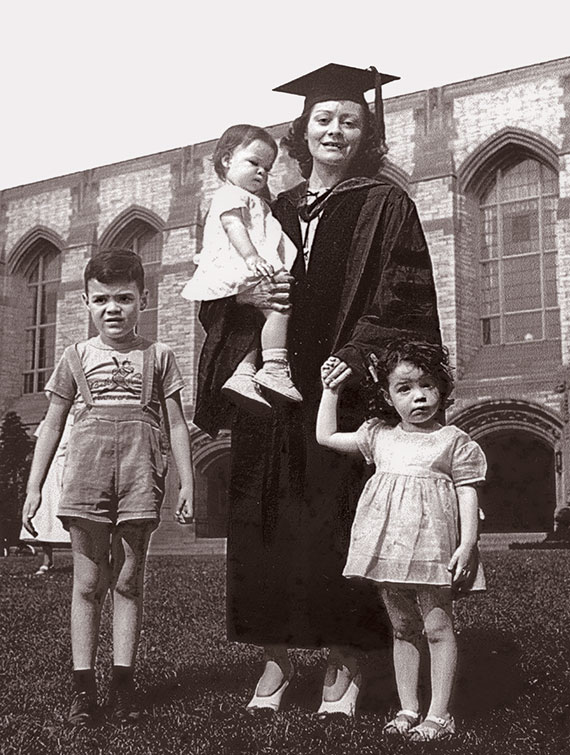 María Isabel Robert Ramírez de Arellano with her children, from left, Max, Maxine (in her mother's arms) and Marisa, at the 1950 graduation ceremony
Despite her strong supporters, Marisa had her skeptics. Several administrators discouraged her from matriculating at the Feinberg School of Medicine, telling her, "You're reaching for the moon." Yet in June 1950, when she received her fourth degree, she remained humble. "No, it was not hard — no, many other women could do the same if their desires were strong enough," she told the Sun-Times.
After returning to San Juan, Puerto Rico, in 1953, Marisa and Max went into private practice together in neurology and neurosurgery, respectively. Marisa also established the first electroencephalography laboratories in Puerto Rico. The couple traveled abroad frequently, doing work for the National Institutes of Health.
Marisa still lives at home in her beachfront condo in the Condado section of San Juan. In October she will celebrate her 100th birthday.