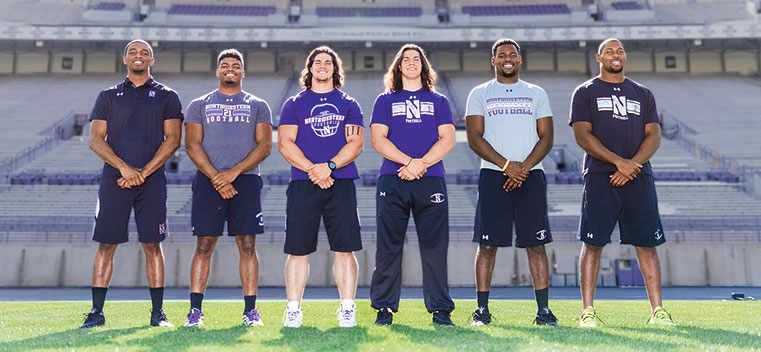 From left, Kyle and Cameron Queiro, Dan and Tommy Vitale, and Cameron and Garrett Dickerson. Photo by Sean Su.
Bond of Brothers
Story Tools
Share this story
Three sets of siblings will suit up for the Wildcats when the football season kicks off in August.
The Northwestern football program often refers to itself as the "Northwestern Football Family," symbolizing the team's close, familial bonds. But there's more to that nickname than symbolism. The 2015 roster features three sets of actual brothers: Kyle and Cameron Queiro and their Bergen Catholic High School teammates Cameron and Garrett Dickerson and Dan and Tommy Vitale, charismatic brothers from Wheaton, Ill.
When Kyle Queiro, now a redshirt sophomore defensive back, began his college football recruitment in high school, Cameron — also a standout football player at New Jersey's Bergen Catholic — would tag along.
"In my mind, we were always going to go to the same school together," Kyle says. "I've been playing with him my whole life, so I just expected that to continue."
As youngsters, though, Kyle would do anything he could to beat Cameron, a redshirt freshman linebacker, at whatever game they played. One time, Cameron got so fed up with his older brother's antics that he threw him into a wall.
"I have a nice attitude, but I was letting people take advantage me," Cameron says about that moment. "Even though it came at his expense, [Kyle] taught me a lesson to stand up for myself."
This season will be special for the Vitale brothers, who will suit up for the same team for the first time in their careers. "I've been waiting for a moment like this my entire life," Dan, a senior superback, says of playing with his freshman brother, a linebacker.
The brothers' age difference had prevented them from playing together in the past. But when Tommy — whom Dan named after a character from the Power Rangers when his brother was a baby — began to excel on the field in high school and Northwestern began to recruit him, it didn't take long for him to know exactly where he wanted to go to college. Playing together was always in the Vitales' plans. "We've been talking about this for a long time," Tommy says.
The football brotherhood is a Northwestern tradition. Last season, Nate Hall, a redshirt freshman linebacker, and Jimmy Hall '14, '14 CERT and Quinn Baker, a sophomore wide receiver, and Hayden Baker '15 were on the roster together, along with the Queiros and Dickersons. And freshman wide receiver Flynn Nagel is following in the footsteps of his older brothers, Aaron '11 and Brett '12. In fact, all six Nagel siblings have been NCAA scholarship athletes.