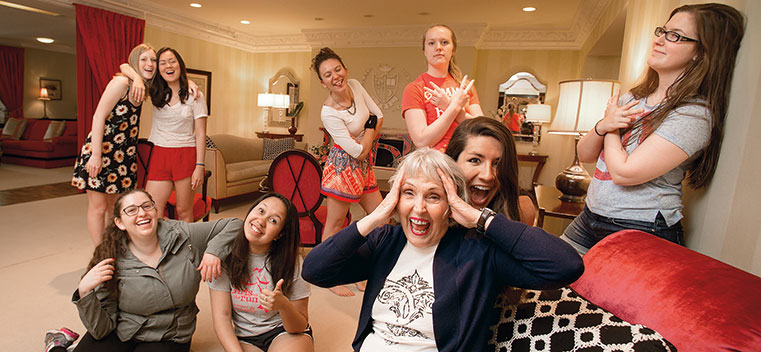 House mom Judy Ryno, seated at right, keeps the Gamma Phi Beta sorority house up and running. Photo by Michael Goss.
A Mother's Touch
Story Tools
Share this story
Gamma Phi Beta house mom Judy Ryno doubles as a celebrity concierge.
When Judy Endres Ryno's grandchildren come over, they usually find a treasure hunt laid out for them by "Nana" and her 40-plus "daughters."
Ryno '57 is the house mom at Gamma Phi Beta sorority, a position she's held for a quarter of a century. "I couldn't have a more fun lifestyle," says the native New Englander, who moved with her family (her parents, Dorsey Endres '28 and Marjorie Webster '31, were also Northwestern grads) to Chicago's North Shore when she was a teen.
Sorority house moms, officially called house directors, are primarily responsible for property management — overseeing the facilities as well as working with the kitchen and cleaning staffs to ensure that all house operations run smoothly. Beyond that, they're often available to act as a "motherly" figure to the young women who live in the house. Ryno, who resides in the house year-round, says not everyone wants that kind of relationship, but she's always there for those who do.
Ryno occasionally gets together with her house mom counterparts — each of the 12 Panhellenic Association sororities has a house director. Like most others, Ryno became a house mom because the position offered both financial security and flexibility.
She had always viewed the job as something she'd enjoy, so when she heard from a beauty salon client that a position had opened at her alma mater, taking it was a no-brainer. And Ryno, 80, doesn't plan on giving it up anytime soon either. 
"Right now I'm still happy to be doing what I'm doing," she says. "I love it here."
Her house mom duties keep her busy, but Ryno also works as a celebrity concierge, greeting stars like Brad Pitt, Reese Witherspoon and fellow Wildcat David Schwimmer '88 when they come through Chicago at O'Hare and Midway airports. The celebrities love hearing her stories about college life, and they'll frequently give her autographs to bring back to the young women in the house.