Passings
Story Tools
Share this story
Tell us what you think. E-mail comments or questions to the editors at letters@northwestern.edu.
Ever wonder about those strange designations we use throughout Northwestern to identify alumni of the various schools of the University? See the complete list.
Find Us on Social Media
Phyllis Holowaty Albrecht
Phyllis Holowaty Albrecht '71 MA/MS, Rockville, Md. April 2, at age 80. A longtime resident of Lake Bluff, Ill., Mrs. Albrecht served as the village's first woman president from 1981 to 1985.
Mrs. Albrecht was instrumental in the establishment of the Lake Bluff History Museum and the planning of the village's centennial celebration in 1995. In 2014 Lake Bluff created the Phyllis Albrecht Award, which recognizes distinguished community service to the village.
She was also a leader in the League of Women Voters, serving as president of the Lake Bluff chapter in 1966–68 and later as co-president and president of the combined Lake Forest-Lake Bluff chapter in 1990–94. In 2013 the league named her the inaugural recipient of the Carrie Chapman Catt Local Leadership Award.
Mrs. Albrecht earned her master's degree in speech and language pathology at Northwestern. From 1972 to 1997 Mrs. Albrecht taught at the University, first as a clinical instructor and later as a member of the faculty.
She is survived by her husband of 58 years, James; two daughters, Ann and Karen; a son, James; and five grandchildren.
Erika Eichhorn Bourguignon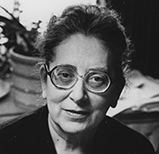 Erika Eichhorn Bourguignon '51 PhD, Columbus, Ohio, Feb. 15, at age 90. Best known for her contributions to psychological anthropology, Mrs. Bourguignon led pioneering research on spirit possession and altered states of consciousness during a groundbreaking career at Ohio State University, where she was a founding member of the department of anthropology.
Born in Vienna in 1924, she fled to the United States with her parents in the late 1930s. As a graduate student at Northwestern, Mrs. Bourguignon studied the Chippewa at the Lac de Flambeau Reservation in Wisconsin and contributed to the limited ethnographic literature on Haiti when, under the direction of professor Melville Herskovits, she conducted fieldwork there focused on spirit possession. She also met her husband, Belgian artist Paul-Henri Bourguignon, in Haiti.
In the 1960s she studied trance and spirit possession in 400 societies. She later turned her attention to anthropological studies of women and gender roles. In 1971 Mrs. Bourguignon became the first woman to chair a department in OSU's College of Social and Behavioral Sciences.
She retired from full-time teaching in 1990.
Cathy Coughlin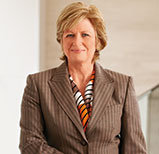 Cathy Coughlin '79, Dallas, April 23, at age 57. As AT&T's top marketing executive, Ms. Coughlin helped establish the company's reputation as a mobile technology leader. But the senior executive vice president said her most important accomplishment was the "It Can Wait" campaign to end texting while driving, a cause that grew in significance for her as her nieces and nephews grew up.
Ms. Coughlin got her start as an entry-level manager at what was then Southwestern Bell Telephone in St. Louis. She worked her way up to become president and CEO of AT&T Midwest and was promoted to AT&T's chief marketing position in 2007.
Ms. Coughlin, a member of the Northwestern Board of Trustees, is survived by her mother, Laura; four brothers, Kevin '78, Jim '82, Dan and Mick '88; a sister, Mary; and 11 nieces and nephews.
Louise Degn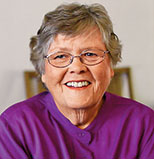 Louise Degn '69 MS, Salt Lake City, May 8, at age 68. A fearless journalist and pioneer in the field, Ms. Degn was the only female on-air TV news reporter in Utah in 1969.
As a reporter for KSL in Salt Lake City, she covered the women's liberation movement, Vietnam War protests and the Teton Dam break. In 1979 she produced, wrote and narrated the groundbreaking documentary Mormon Women and Depression, which broke the silence on mental health issues in the LDS community.
In 1990 she left KSL to join the University of Utah faculty.
A pianist and conductor, Ms. Degn also loved music and was choir director for her LDS congregation. She is survived by her brother, Ralph; her sister, Linda; and several nephews and nieces.
RUTH DUSKIN FELDMAN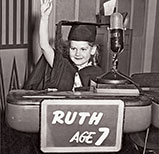 Ruth Duskin Feldman '54, Highland Park, Ill., May 18, at age 80. An audience favorite on the wildly popular 1940s radio and TV program Quiz Kids, Mrs. Feldman began her nine-year run on the show at the age of 7. She was already writing poetry and had started reading her father's chemistry books two years earlier. At 13 she wrote her first book, Chemi, the Magician (Dodd, Mead & Co., 1947), a children's adventure story.
Objects of international fascination, the Quiz Kids panelists appeared in Hollywood shorts and were inundated with fan mail. Mrs. Feldman participated in a coast-to-coast promotional tour to boost the sale of war bonds during World War II. She met celebrities such as Judy Garland and Bob Hope and sang with Bing Crosby.
After leaving Quiz Kids at 16, Mrs. Feldman attended Northwestern, where she met her husband, Gilbert Feldman '55 JD. After raising their three children, she became a feature writer for Lerner Newspapers. Mrs. Feldman was also a lecturer and author and wrote four college textbooks on child and human development. In her 1982 book Whatever Happened to the Quiz Kids?: Perils and Profits of Growing up Gifted, she reflected on her fame and pondered the show's effects on its young stars.
Mrs. Feldman, a madrikha (an ordained leader) in the Humanistic Judaism movement, edited the journal Humanistic Judaism for more than three decades.
She is survived by her husband; a sister, Bunny; a son, Steven; two daughters, Heidi and Laurie; and eight grandchildren.
Franklyn Haiman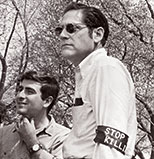 Franklyn S. Haiman '46 MA/MS, '48 PhD, Oakland, Calif., March 10, at age 93. A John Evans Professor Emeritus of Communication Studies, Mr. Haiman taught at Northwestern for 43 years, beginning in 1948. From 1964 to 1975 he served as chair of the Department of Communication Studies. The University celebrated his retirement in 1991 with a national conference, "Freedom of Speech and the American Community."
An expert on leadership and group dynamics early on in his academic career, Mr. Haiman later became an ardent First Amendment scholar and activist. Although former students have described him as soft-spoken and contemplative, Mr. Haiman was a fierce and fearless advocate for civil rights and free speech.
An active member of the American Civil Liberties Union beginning in 1958, he served for several years on the group's national board of directors. He led investigations into reports of racial discrimination at Evanston Township High School. Mr. Haiman became president of the ACLU's North Shore Chapter after his inquiries into instances of censorship by the Evanston Citizens for Decent Literature and the Evanston Police Department. He led an ACLU lawsuit against suburban police chiefs who had ordered the confiscation of Henry Miller's Tropic of Cancer from bookstores.
Mr. Haiman wrote the landmark book Speech and Law in a Free Society (University of Chicago Press, 1981). The National Communication Association has bestowed scholarship awards for freedom of expression in Mr. Haiman's name since 1988.
A World War II veteran who attended Northwestern on the GI Bill, Mr. Haiman is survived by his wife, Louise Goble '48 MA/MS; and two sons, Mark and Eric.
W.J. Julian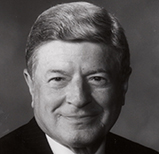 W.J. Julian '48, '49 MMus, '54 PhD, Knoxville, Tenn., May 26, at age 92. Known affectionately as "Dr. J" or "Doc" to countless students, Mr. Julian led the University of Tennessee's Pride of the Southland marching band from 1961 to 1993.
Mr. Julian established several Neyland Stadium traditions during his tenure as bandleader, including the introduction of "Rocky Top" as UT's unofficial song and the opening of the "T" for the football team at every pregame ceremony.
Mr. Julian also designed the marching band's military-style uniforms. UT's director of bands emeritus, Mr. Julian also created the university concert band.
A Navy veteran, he served three years in the Pacific Theater during World War II, where a kamikaze pilot sank his ship.
He is survived by his wife, Faye; a son, Jeff; and a daughter, Jennifer Julian Nelson '83, '86 MS.
Sarnoff Mednick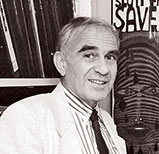 Sarnoff Mednick, '54 PhD, Toledo, Ohio, April 10, at age 87. A pioneer in the field of psychopathology, Mr. Mednick uncovered a connection between criminal behavior and genetics. He also conducted groundbreaking research into risk factors for schizophrenia.
Never afraid to push the boundaries, the University of Southern California psychology professor carried out an unprecedented longitudinal study in Denmark on schizophrenic women and their children, who were at a high-risk of developing the disease. Mr. Mednick made significant contributions to the study of alcoholism, depression, creativity and suicide.
He is survived by daughters Amy, Lisa and Sara; a son, Thor; five grandchildren; and a brother, Edward.
Sophie Karipidis Petros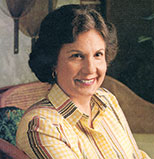 Sophie Karipidis Petros '54, Bonita Springs, Fla., April 26, at age 82. Nationally known as cooking aficionado Sophie Kay, Mrs. Petros was featured on countless TV and radio shows from the 1950s to the '90s.
A regular guest on WISN's Dialing for Dollars in Milwaukee, Mrs. Petros prepared dishes with visiting celebrities, including Martha Stewart and Vincent Price. Her work on the show led to the first of her 14 cookbooks, Sophie Kay's Step by Step Cookbook (Breakthru Inc., 1972). She became a national spokesperson for Folgers and Pam cooking spray, among other products. In 1984 she was named one of the world's 24 best cooking teachers by Bon Appétit magazine.
Mrs. Petros ran four restaurants, which served classic heartland dishes like stuffed cabbage and chicken Parmesan.
Despite a breast cancer diagnosis in 1988 and a brain tumor five years later, Mrs. Petros continued making TV appearances and wrote her last cookbook, The Best of Sophie Kay, in 2000. She is survived by her son, Dean; and a sister, Teddi.
Elizabeth Brown Pryor
Elizabeth Brown Pryor '73, Richmond, Va., April 13, at age 64. A distinguished diplomat and historian, Ms. Pryor worked as a liaison on Capitol Hill with the U.S. State Department. She was one of the first American diplomats to re-enter Sarajevo to participate in arms reduction negotiations after the Bosnian War. She later wrote the "Pryor Paper" that prompted the United States to rejoin UNESCO in 2003.
Ms. Pryor also led a second career as a well-regarded biographer. In 1987 she published her first book, Clara Barton: Professional Angel (University of Pennsylvania Press), and after retiring from the State Department in 2005, she wrote her second, Reading the Man: A Portrait of Robert E. Lee Through His Private Letters (Penguin Books, 2008). She recently completed a book about Abraham Lincoln.
She is survived by her mother, Mary; and two sisters, Beverly and Peggy.
Said Samatar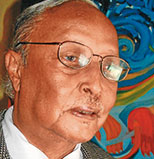 Said Samatar '79 MA, '79 PhD, South Orange, N.J., Feb. 24, at age 71. A leading scholar and authority on the history of Somalia, Mr. Samatar spent his childhood as a camel herder in his native Ogaden, a region of Ethiopia inhabited by Somalis, and became an astute observer of the history and politics of his native land.
He came to the United States for college — working as a welder to put himself through school and support his family — and later earned his doctorate in African history from Northwestern. A professor at Rutgers University in Newark, Mr. Samatar wrote and edited several books on the history of Somalia.
He was also a sought-after source in the media. In the early 1990s he traveled to Somalia as a consultant and interpreter for Nightline anchor Ted Koppel.
Mr. Samatar is survived by his wife, Lydia; a daughter, Sofia; a son, Delmar; and four grandchildren.
Elizabeth "Nana" Strohmeier Shineflug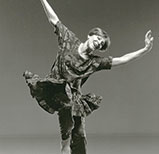 Elizabeth "Nana" Strohmeier  Shineflug '57, Glenview, Ill., Jan. 15, at age 79. Founder and artistic director of one of the first modern dance troupes in the Midwest, Ms. Shineflug was the honorary "den mother to countless Chicago dancers and dance enthusiasts," according to a 2005 Chicago Tribune story.
She launched the Chicago Moving Company in 1972 after teaching math at New Trier High School. Her choreography reflected her interest in math as well as Far East culture and religion, according to the Chicago Tribune. She was especially known for developing her signature movement practice/technique, "the conscious body." A teacher, dancer and choreographer, Ms. Shineflug also designed sets and costumes for CMC.
Under Ms. Shineflug's leadership, CMC has been an arts partner in residence at the Hamlin Park Fieldhouse Theater in Chicago's Roscoe Village neighborhood since 1995, developing the space for community theater, classes and workshops. The company has also toured extensively, including a month-long tour in 2010 to Ulan Bator, Mongolia, as part of a cultural exchange with the Arts Council of Mongolia. 
For more than three decades, Ms. Shineflug also taught dance and movement in the interdisciplinary arts graduate program at Columbia College of Chicago. Through her teaching and work with the CMC, she mentored hundreds of dancers, including many who have gone on to have successful artistic careers.
Ms. Shineflug is survived by a son, Otto; a daughter, Lisa; and four grandchildren.
John Siegal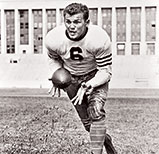 John W. Siegal '43 DDS, Harveys Lake, Pa., May 25, at age 97. The oldest living Chicago Bear and the third-oldest NFL player at the time of his passing, Mr. Siegal played five seasons with the Bears, winning three NFL championships.
Mr. Siegal, a three-time Pro Bowler, negotiated a provision in his contract that allowed him to attend Northwestern University Dental School while playing for the Bears.
After serving as a lieutenant in the U.S. Navy during World War II, he declined an offer to return to the NFL and opened a dental practice in Plymouth, Pa. He retired in 1986.
He is survived by a daughter, Tara Ann; a son, John; three grandchildren; and four great-grandchildren.
John Winfield Stephenson
John Winfield Stephenson '47, Woodland Hills, Calif., May 15, at age 91. A prolific voice actor, Mr. Stephenson gave life to numerous animated characters over his nearly 60-year career.
Before studying theater at Northwestern, the Wisconsin native logged more than 400 combat hours in the U.S. Army Air Corps and was awarded the Distinguished Service Cross.
After graduation he moved to Hollywood to pursue an acting career, making guest appearances on shows like The Lone Ranger, Dragnet and Hogan's Heroes, before discovering his vocal talent. He went on to do voice-overs on countless cartoons including Scooby-Doo, Where Are You?, The Transformers and G.I. Joe, but he is best known for playing Mr. Slate, Fred Flintstone's boss on The Flintstones.
Mr. Stephenson is survived by his wife, Jean; a son, Roger; a daughter, Katie; and a granddaughter, Samantha.
Russ Tutterow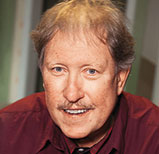 Russ Tutterow '69 MA, Chicago, May 4, at age 68. A mentor to numerous aspiring Chicago playwrights, Mr. Tutterow spent nearly 30 years as the artistic director at Chicago Dramatists. He hosted workshops and directed plays that helped countless writers hone their craft and launch their careers.
Many of Mr. Tutterow's pupils went on to gain critical acclaim, including Lydia Diamond '92, Northwestern theater professor Rebecca Gilman and Tina Fey.
Among his many awards and recognitions, Mr. Tutterow received the League of Chicago Theatres' Artistic Leadership Award in 2005 for his work in developing new plays and his longtime contribution to Chicago theater.
Dan Walker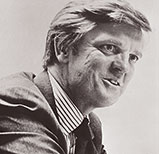 Dan Walker '50 JD, Chula Vista, Calif., April 29, at age 92. As a populist candidate for Illinois governor in summer 1971, Mr. Walker walked across the state twice to garner the support that carried him to victory.
He spent just one term in office and later served nearly 18 months in federal prison for bank fraud and perjury.
 In 2007 Mr. Walker wrote The Maverick and the Machine: Governor Dan Walker Tells His Story (Southern Illinois University Press).
A U.S. Naval Academy alumnus, Mr. Walker graduated from the Northwestern School of Law between tours in the Pacific after World War II and the Korean War.
A former part-time lecturer at the law school, he received a Northwestern Alumni Association Service Award in 1964 and a Merit Award in 1969.
He is survived by his wife, Lily; sons Daniel Jr. '74 JD, William and Charlie '79 JD; daughters Kathleen, Julie, Robbie '74 and Margaret, and 22 grandchildren, including Reed '09, '09 CERT, Austin '11, Angela '13 JD, '13 LLM and Morgan '18.
William "Bill" Whitney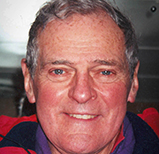 William "Bill" Whitney '52, 85, Evanston, March 30.
After graduating with a degree in mechanical engineering, Mr. Whitney, a member of the Naval Reserve Officers' Training Corps, served three years in the U.S. Navy as lieutenant. He then earned his MBA from the Harvard Business School, worked for Evanston-based American Hospital Supply and launched W.G. Whitney Corp., a manufacturing firm that invented and developed medical products. The company earned 10 patents for medical devices. In the 1970s W.G. Whitney Corp. was responsible for creating a line of products to collect and disinfect waste from hospital laboratories.
Mr. Whitney sold the company in 1984 but continued to develop medical devices under Whitney Development.
A pilot, Mr. Whitney, mentored young pilots. He received a Lifetime Achievement Award in 2002 for his work with the Young Eagles program at Meigs Field, a group that provided almost 2 million teenagers with their first flight for free. He was treasurer of Friends of Meigs Field and received the President's Award from the Chicago chapter of the Tuskegee Airmen.
As a student thespian, Mr. Whitney participated in four Waa-Mu Shows and co-chaired the production That Reminds Me! in 1951. Later he co-owned the Wagon Wheel Theatre in Indiana and helped produce several Broadway shows.
He is survived by his wife, Ann Stevenson Whitney '52, four children, Steven '83 MMGT, Lisa, Sarah '85 and Michael; nine grandchildren; three great-grandchildren; and a sister, Mary Louise.
Edward L. Wright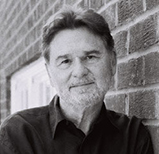 Edward L. Wright '67 MS, Los Angeles, May 1, at age 75. A former editor at the Chicago Tribune and the Los Angeles Times, Mr. Wright spent three decades in daily journalism before switching careers to try his hand at fiction.
The Arkansas native received both a bachelor's from Vanderbilt University and master's in journalism from Northwestern. In between degrees he served three years aboard U.S. Navy destroyers during the Vietnam War.
Mr. Wright joined the Los Angeles Times in the early 1970s after handling various reporting and editing assignments at the Tribune. At the LA Times he was senior editor on the foreign desk, supervising the work of more than 30 foreign correspondents and helping plan coverage of events that included the fall of the Soviet Union and the Gulf War. He later wrote the paper's travel advisory column.
Mr. Wright published his premier crime mystery novel, Clea's Moon, in 2003, the first in a series revolving around the character of John Ray Horn, a former B-movie western actor turned sleuth in post–World War II Los Angeles. That book won a Debut Dagger award from the Crime Writers' Association. Mr. Wright went on to write four more award-winning books, including two in the Horn series, While I Disappear (2004) and Red Sky Lament (2006).
Mr. Wright is survived by his wife, Cathy; and a sister, Carol.