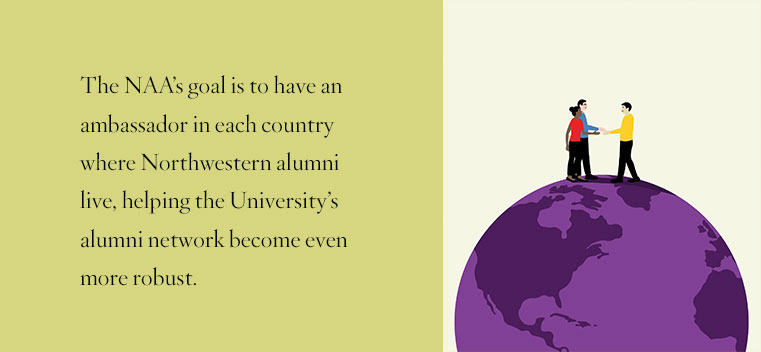 Illustration by Anna Parini
A Worldwide Network
Story Tools
Share this story
Global ambassadors unite international alumni.
Rafael Calahorro knows how difficult it can be to move to a new country without knowing anyone. Calahorro grew up in Spain and lived in Poland for five years before moving to Evanston to attend the Kellogg School of Management.
"I didn't have a network of any kind," says Calahorro '13 MBA, remembering his arrival in Poland. "I was totally on my own."
Now living in Dubai and working in consulting, Calahorro wants to make sure other alumni who move to his area of the Middle East have plenty of support as they adjust to new cities and careers. That's why he recently volunteered for the Northwestern Alumni Association's Global Ambassadors program.
Global ambassadors build relationships with alumni, current and prospective students, and friends of the University who live in areas outside the United States that aren't already represented by one of the NAA's 15 international alumni clubs. The NAA's goal is to have an ambassador in each country where Northwestern alumni live, helping the University's alumni network become even more robust.
For Calahorro and other global ambassadors, that means doing everything from helping organize events for local alumni to easing the anxieties of incoming students and their parents.
At a recent reception for incoming students and their families in Dubai, Calahorro found himself fielding the same question over and over from both students and their parents: "How bad is the winter in Evanston?"
"I told them that I rode my bike every winter, except for one day," says Calahorro, who acknowledges he may have stretched the truth just a bit. "And I told them that even if it's cold, it's sunny, so it's not that bad."
Like Calahorro, Sarah Wills Carlsson '96, who lives in Gothenburg, Sweden, volunteered as a global ambassador to help alumni connect with other graduates in her region. She says she was motivated by her positive experience as a member of the NU Club of Indianapolis after returning from an overseas assignment earlier in her career.
"I met some really interesting people through the Indianapolis club whom I'm still friends with now," says Carlsson. An electrical engineering major, she moved to Sweden in 2008 and has spent her career in the automotive industry.
With the help of the NAA, Carlsson has learned that nearly 60 alumni live in Sweden, with another 40 or so in neighboring Denmark. Carlsson has been in touch with many of those people and is working with them to plan events in Stockholm and Copenhagen.
"There's definitely a lot of interest in getting together, and I think it will create a neat feeling of community that's special to alumni of U.S. universities," she says.
In Vancouver, British Columbia, Anne Peternel Lipton '95 MD, PhD and her husband, Lee '94 MS, decided to serve as global ambassadors to help other alumni make the transition to life in the Pacific Northwest.
The Liptons lived in Baltimore, Dublin, Ireland, and Dallas before moving to Vancouver about three years ago. In each city, Anne Lipton says, other Northwestern alumni made them feel welcome.
"We've been in the shoes of being the new people in town, trying to make new connections and new friends," says Lipton, a neurologist who speaks and writes about dementia. "We wanted to pay it forward for all the times people have helped us. We felt this was our way of giving back."
In March the Liptons helped organize an event as part of the NAA's Global 'Cats Connect program, in which alumni networking events are held in cities around the world on the same day. The gathering at a wine bar in Vancouver's Railtown area was an important step toward establishing a more organized alumni community in the city, Lipton says.
"Everybody at the party became a global ambassador in the sense that they were sharing their experiences in Vancouver and their memories of Northwestern," she says. "People were already talking about when to get together again."