On the Wild Side
Story Tools
Share this story
Related Articles
Jenny Hontz '93 is an award-winning writer and journalism instructor in Los Angeles. She has written for numerous publications, including the New York Times, Los Angeles Times, Washington Post, People and Emmy magazine.
Tell us what you think. E-mail comments or questions to the editors at letters@northwestern.edu.
Ever wonder about those strange designations we use throughout Northwestern to identify alumni of the various schools of the University? See the complete list.
Find Us on Social Media
Comedy queen Julia Louis-Dreyfus goes for laughs wherever they take her: from the Oval Office to the cover of Rolling Stone magazine.
Julia Louis-Dreyfus rushes up to Caffe Luxxe in Los Angeles' Brentwood neighborhood, harried. Running late after a doctor's appointment, she had spent 15 minutes at another outpost of Caffe Luxxe in Santa Monica before realizing she was in the wrong city, jumping in her car and racing to the right spot. It was a moment straight out of Seinfeld, reminiscent of her character, Elaine, sprinting to get her boyfriend to the airport after oversleeping.
"I must look like s---, I was sweating so hard," she says when she arrives, lifting a large pile of curly hair off of her neck.
That same self-deprecating humor was on full display at Northwestern's 2007 graduation, when Louis-Dreyfus received an honorary degree and described herself in her Commencement speech as "an aging sitcom actress," before poking fun at her own academic credentials.
"You have managed to do something today spectacular, something important, something I never did after years of trying," she said. "You have graduated from Northwestern University."
Louis-Dreyfus '83, '07 H, who studied at the School of Communication in the early 1980s and left school after her junior year to work on Saturday Night Live, certainly has a knack for turning what could be an embarrassing moment or liability into something totally hilarious. Take her Rolling Stone cover photo that ran in the April issue. After posing nude with a fake tattoo of the U.S. Constitution on her back, she was lambasted by critics who jumped on the fact that the John Hancock signature at the bottom was not actually a part of that document.
It's unclear whether the whole episode was a planned joke, but Louis-Dreyfus handled the mini-controversy with aplomb, while managing to plug her current HBO show Veep, in which she plays the vice president and mercilessly spoofs the incompetence of Washington, D.C., politicians. "Hancock signed Dec. of Independence NOT Constitution," she tweeted, while adding a reference to Veep character Mike McLintock, the communications director. "Yet another Mike f---up. Dummy."
But underneath this disarming comic exterior, Louis-Dreyfus says she's actually quite a worrier. "I go to the worry place before I go to the place of calm," she says. "Today for instance, I had a heart attack before coming here. I got there at 3:25, and I thought, well, at least I'm only 10 minutes [late], but then … "
When things don't go as planned, "Stress, stress! It's very hot," she says. "I'm a control freak, for sure, and definitely a perfectionist. I'm not a great go-with-the-flow, take-it-easy [kind of person]. I'm actually thinking about learning how to meditate, but I can't find any time to do it. It's true. But I really would like to because it's either meditate or medicate."
The truth is, Louis-Dreyfus' jampacked schedule is a problem that most middle-aged actresses would kill to have. With a career on overdrive as a producer and TV and film star at age 53, Louis-Dreyfus is the only cast member of Seinfeld who managed to break free of her character and lift the so-called Seinfeld curse.
In fact, she is the only actress to ever win Emmy Awards for three separate comedy series, Seinfeld, The New Adventures of Old Christine and Veep. (In her 2006 Emmy acceptance speech for Old Christine, she famously said, "Curse this, baby!") And after surpassing Lucille Ball as the most Emmy-nominated comedic actress of all time last year, she was inducted into the Television Academy Hall of Fame in March (see "Serial Comedian").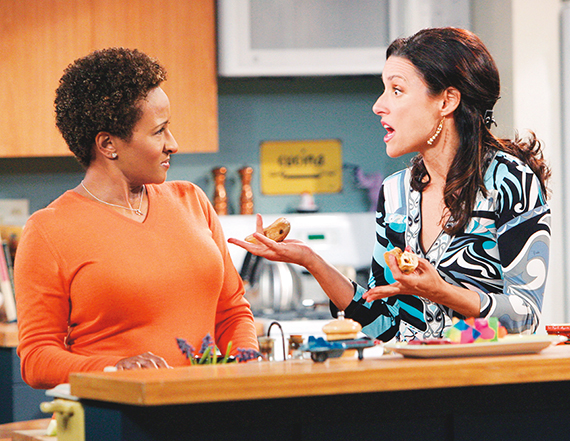 Julia Louis-Dreyfus played a divorced mom on CBS' The New Adventures of Old Christine. CBS via Getty Images
Balancing the demands of producing and starring in Veep, a single-camera comedy that shoots in Baltimore, with the priority she places on family time in Los Angeles makes for quite the crazy juggle. "It is incredible how hard she works," says husband and fellow Northwestern alum Brad Hall '80, a TV writer-producer and actor with whom she has two sons, one in high school and one who just graduated from college.
But the balancing act is nothing new for Louis-Dreyfus. Her two kids were born while she was starring on Seinfeld, and "I took them to work with me," she says. She also juggled all of her Northwestern classes while starring in campus productions and working professionally in Second City's touring company. Louis-Dreyfus chalks that up to the fact that she knew what she wanted from the time she was a kid putting on neighborhood plays with her troupe called Julia and the Umbrellas. "I was very laser focused," she says.
Julia: The Cats' Mee-ow
Born in New York, Louis-Dreyfus is the great-great granddaughter of the founder of the Louis Dreyfus Group global conglomerate, and her father is the retired chairman of the energy and commodities firm that bears her family name. Her parents divorced when she was young, and she subsequently lived overseas in Sri Lanka, Colombia and Tunisia with her mother and stepfather, who worked for Project HOPE. When she was 8 years old, her family settled in Washington, D.C., where her stepfather worked as dean of the George Washington University Medical School.
Louis-Dreyfus attended an all-girls school in the D.C. area and served as high school class president. "I was in student government, I think, because I wanted to get up in front of people and entertain while passing out boring information," she says.
While Louis-Dreyfus was always interested in acting and liked to make people laugh, she never really saw herself as a comedian until she attended Northwestern and landed a part in the sketch comedy Mee-Ow Show her freshman year, which she credits with laying the groundwork for her future career.
"Getting into the Mee-Ow Show was gigantic," she says. "It was very exciting, and I met all of these guys who led me on this path that changed my life."
One of the guys she met was fellow Mee-Ow cast member Paul Barrosse '80, '13 P, who asked Brad Hall to come watch Louis-Dreyfus in the show and introduced him to his future wife.
"We were all immediately impressed by her," Barrosse says. "For a freshman girl to make the cast of the Mee-Ow Show was a rather prodigious feat in those days. It was pretty much a boys club, and you had to really stand out to make it as a girl."  
Louis-Dreyfus subsequently joined the Practical Theatre Company, a sketch comedy ensemble that counts Hall and Barrosse among its co-founders (see photos of the members). "What I remember most is that she was tough and independent," Barrosse adds. "She wasn't a shrinking violet. To get a word in edgewise among a bunch of upperclassmen who think they're the funniest thing in the world was a difficult thing, but she managed to do it."
In addition to Mee-Ow, Louis-Dreyfus starred in a wide variety of campus productions, including A Day in the Death of Joe Egg (with co-star Bruce Norris '82, who went on to win a Pulitzer for drama playwriting), Harold Pinter's Betrayal and a revue of Cole Porter songs, in which she sang "Room with a View." "I auditioned for everything, and I tried to do everything I could," she says. "All I was interested in doing was theater."
Barrosse also directed Louis-Dreyfus in a production of Bertolt Brecht's Threepenny Opera, in which she played a hooker chorus girl alongside actor Marg Helgenberger '82, who starred as Low-Dive Jenny. "I just remember her exuding a lot of self-confidence," Helgenberger recalls. "She was very self-possessed. It was clear that she was going to go places — to me, anyway, in my awkward self-conscious state that I was in during that production."
Louis-Dreyfus says her self-assured image was partly a façade. "Underneath that confident veneer was an insecure girl," she says. In fact, she wouldn't allow Hall, her new boyfriend at the time, to attend her performance of the Cole Porter song revue on campus. "She gets very nervous when she's singing that she's going to forget the lyrics," Hall says. "She didn't want me to come, so I never got to see it."
From the Practical Theatre Company to Saturday Night Live
Fortunately, she didn't turn anyone away from seeing the Practical Theatre Company's 1982 production of the Golden 50th Anniversary Jubilee during the summer after her junior year. Saturday Night Live producer Dick Ebersol attended the Chicago production (held at the Piper's Alley theater) and immediately offered to hire the four-person cast, which included Louis-Dreyfus, Hall, Barrosse and Gary Kroeger '81.
Louis-Dreyfus describes the moment as "head spinning." She had grown up watching Bill Murray, Chevy Chase and Gilda Radner on Saturday Night Live and couldn't believe she might follow in their footsteps. "It didn't even occur to me to call my parents and say, 'Do you guys think this is a good idea? Is it cool if I leave [Northwestern]?' I never asked. I just went."
As it turned out, the experience was not all she had hoped it would be. "Of course there were moments of having a good time, but fundamentally, I didn't have any idea what I was doing, and it was not a female-friendly landscape," she says. "And a lot of people were on drugs, and it was pretty dog eat dog."
There was one fortuitous outcome, however. On the set of Saturday Night Live she met writer Larry David, who also had a difficult tenure on the show but subsequently went on to create the hit sitcom Seinfeld. Initially the pilot of Seinfeld had no lead female character, but after the show performed terribly with test audiences, executives insisted David add a female character. So he called Louis-Dreyfus, and from there, she was propelled to superstardom.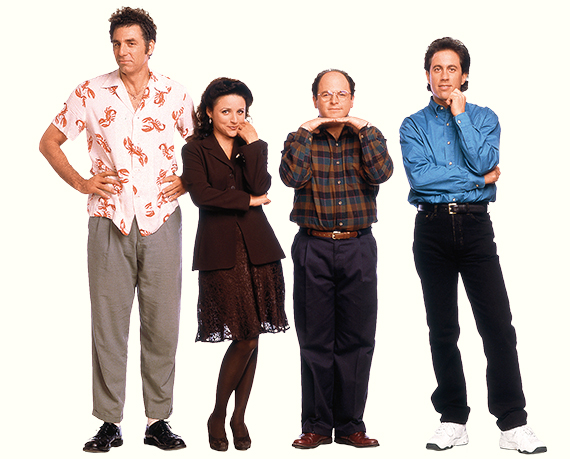 Julia Louis-Dreyfus won an Emmy in 1996 for outstanding supporting actress in a comedy series for her role as Elaine Benes on Seinfeld. NBC via Getty Images
Hail to the Veep
While Louis-Dreyfus was lauded by critics last year for playing a complex and sympathetic character alongside James Gandolfini in the feature film Enough Said, she has had the most success playing "neurotic, aggressive people on television," Hall says, including Seinfeld's Elaine Benes and her current character on Veep, Selina Meyer. "They're very shallow people, and that's just really fun for her to do. And that's not because she's like that but because she can see that's a funny thing."
Louis-Dreyfus describes her current character, Meyer, as "exceptionally frustrated and narcissistic. It's kind of, believe it or not, cathartic to do that because you can let your ego go crazy — in a pretend way, of course. But you can tap into that, which is a great sort of fantasy."
While Louis-Dreyfus has always been politically active, especially with environmental causes, her role on Veep, which is wildly popular among the D.C. political crowd, has given her unusual access inside the Beltway. She's hung out with vice presidents Joe Biden and Al Gore, as well as representatives in Congress. And she appeared with Biden, first lady Michelle Obama and House Speaker John Boehner in a comedic video shown at the White House Correspondents' Association Dinner earlier this year.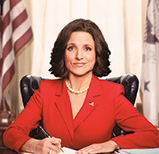 In Veep Meyer possesses no real power but constantly wants to project an image that she does. "I have to say both Biden and Gore confirmed what may seem obvious, but really, the office of the VP, the power and success of the VP, hinges on the relationship with the president," she says. (The character playing the president has never appeared on Veep, giving viewers an indication of the quality of their relationship.)
Louis-Dreyfus and House Minority Leader Nancy Pelosi recently conducted a joint interview for the New York Times, in which they discussed the fact that "the parallels between show business and politics run deep," Louis-Dreyfus says. "Nancy Pelosi said we're both in the business of selling, we're just selling different things, and sometimes the Venn diagram crosses over because we're actually selling ourselves."
It was a scheduling change for the New York Times interview with Pelosi that prevented Louis-Dreyfus from meeting with some Northwestern students who traveled to Los Angeles earlier this year as part of the School of Communication's Sitcom Project that she and Hall help fund. The project takes students through the process of developing, pitching, writing and producing a sitcom. Hall and Louis-Dreyfus learned about the project while on campus speaking to a group of Northwestern students in 2012 and have tried to help out when their schedules allow.
"I have to say, I love talking to students," she says. "There's an aspect of no bulls--- about it that I like. And it's nice talking to people when you're not trying to sell a brand of yourself. You're just talking to people about your experience in an honest way. I have found the dialogue that comes out of that to be earnest and interesting because they're earnest and interesting. Really and truly."
Lifelong Links to Northwestern
Despite the fact that she left college early, Louis-Dreyfus looks back on her Northwestern days with great fondness. She lived in Shepard Residential College her freshman year, and "I'm still friends with a lot of people on my hall," she says. "It's kind of amazing when I think about it. But a lot of the people who lived down the hall, I'm still in touch with. That was crazy fun."
She remembers spending "a sizable fortune on Dave the Sandwich Man at 2 in the morning. So you can just read from that what you'd like." She also pledged and joined Delta Gamma sorority but deactivated after a year because "I'm not the sorority type," she says. "The truth is, I joined Delta Gamma because I just wanted to get in on the party action."
As for her coursework, Louis-Dreyfus remembers taking a class in interpersonal communications and getting a D on an exam, which makes her laugh. "I didn't like my teacher. He really drove me crazy," she says. "That was the only D I ever got in my life."
Those who have known her since her Northwestern days say Louis-Dreyfus has remained largely unaffected by fame. "Julia is one of the most loyal people who ever lived," Hall says. "Her best friend is her best friend from third grade, and her other best friends are her best friends from Northwestern. Once you're a pal, you're a pal for life with Jules. I'm not just flattering her because she's my wife. She's just exactly the same. She's so frickin' normal."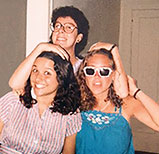 Their free time largely revolves around their son's high school basketball and volleyball games. And they still hang out with Barrosse and Louis-Dreyfus' former Northwestern roommate Paula Kaplan '83, a television executive in Los Angeles. Louis-Dreyfus and Kaplan frequently go hiking together. (A self-proclaimed exercise fanatic, Louis-Dreyfus works out every day.) And Barrosse and Kaplan both attend game nights featuring running charades that Hall and Louis-Dreyfus host at their Pacific Palisades home.
Kaplan has great college memories of hosting a pajama party with Louis-Dreyfus at the Orrington Hotel in Evanston, taking shopping excursions into Chicago and causing late-night mayhem in the laundry room at Shepard. "Once we set off the fire alarm by accident," Kaplan recalls, "and when the RA came around asking if we knew who did it, we said something stupid like, 'No, but if we see anyone, we will let them know they are in big trouble.' "
Kaplan says there is one way in which Louis-Dreyfus has definitely changed since her Northwestern days. "In college she was actually one of the messiest people I have ever met, and she has evolved to be one of the neatest, most organized people I have ever met," Kaplan says. "We'd walk by her room and close the door because it was just a horror to look at. And she knew it."
Louis-Dreyfus says it's actually Northwestern that has evolved in the years since she attended — and for the better. "I have great pride about having gone to Northwestern. To be honest with you, I love the fact that it's a better school than it was when I went there. I think when I went, you didn't have to have above a 4.0 [GPA] to get in. It's good because I can say I went to Northwestern, and everybody thinks I'm a rocket scientist. I mean, it wasn't a school for dummies when we were there, but it's not like it is today."