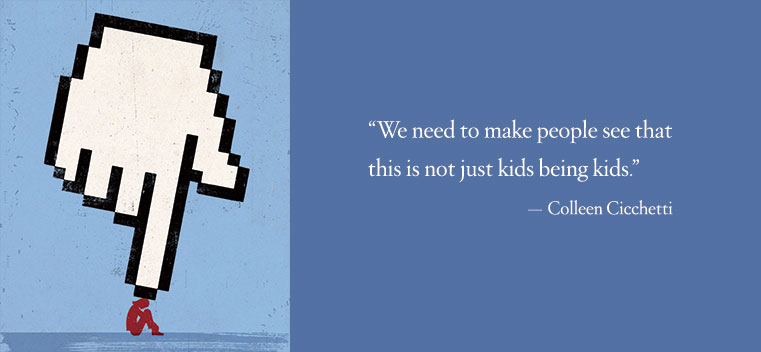 Illustration by Richard Mia
Bullied
Story Tools
Share this story
Sean Hargadon is senior editor of Northwestern magazine.
Tell us what you think. E-mail comments or questions to the editors at letters@northwestern.edu.
Ever wonder about those strange designations we use throughout Northwestern to identify alumni of the various schools of the University? See the complete list.
Find Us on Social Media
Northwestern faculty, alumni and athletes take on the epidemic of peer victimization.
"If I died, would you cry?" McKenzie Philpot wrote in her final post on Instagram, four days before she committed suicide. "Would you miss me? Would you think of me? … Would your heart drop to your stomach when you found out it was suicide?"
The guitar-playing, sports-loving 12-year-old Chicagoan died in May after months of complaining about being bullied at her North Side elementary school.
It's a scenario that's become all too familiar to Colleen Cicchetti.
"I've heard of more suicides and suicide attempts this year than I've seen in any of my previous years," says Cicchetti '96 PhD, a psychologist at the Ann & Robert H. Lurie Children's Hospital of Chicago for nearly 25 years. She runs the Community-Linked Mental Health Services Program, a Lurie–Feinberg School of Medicine collaboration that promotes access to high-quality mental health services for children. "The top request I get from parents is for information related to bullying."
Cicchetti, an assistant professor of psychiatry and behavioral science who struggled to help her own daughter through incidents of social exclusion at her Evanston school, says bullying has always been around, but the intensity and frequency of it has changed, especially with the growing threat of cyber-bullying. Text messages and social media offer dangerous new opportunities for unwanted aggressive behavior.
Unlike normal social conflict — common disagreements that might result in hurt feelings but not fear and victimization — bullying is any repeated, unwanted aggressive behavior that involves a power imbalance. Who's at risk? Anyone who is different in any way: Young people who are gay, lesbian or bisexual; kids who look different, especially if they're overweight; adolescents with disabilities or special needs.
According to a 2010 Bullying Statistics report, a combined total of nearly 5 million youth engage in and/or are victims of bullying every year. Seventy-one percent of students in kindergarten through 12th grade report bullying as a problem at their school.
When it is repetitive and consistent, bullying leaves lingering emotional scars.
A longitudinal study in the February issue of Pediatrics linked bullying with worsening mental and physical health, greater depression symptoms and lower self-worth over time. A meta-analysis of research on peer victimization published in JAMA Pediatrics in May found that bullying victims were twice as likely to consider suicide than their peers who were not bullied, and the targets of cyber-bullying were even more likely to attempt suicide than those who suffered direct bullying.
Severe bullying, Cicchetti says, can prompt moments of terror — feeling isolated, out of control and not knowing where to go to find safety — feelings that are often seen in "kids who have experienced traumatic grief or been exposed to domestic violence. Some of the same mental health risks that come from other types of early childhood trauma are also evident when you have bullying.
"We need to make people see that this is not just kids being kids."
BEYOND THE SCHOOLYARD
"Kids have always found occasions to be mean to each other," says Carrie Goldman '96, '01 MMGT, an Evanston mother of three who wrote Bullied: What Every Parent, Teacher and Kid Needs to Know About Ending the Cycle of Fear (Harper Collins, 2012) after her daughter's struggles with bullying (see "Sci-Fi Fans Save the Day" at bit.ly/NU_Bullied).
"Now bullies have a forum in social media that gives them a much, much wider audience right away," she adds. "It used to be that you might stand in the locker room and say, 'Look at that girl. She's fat,' and you'd have 20 kids laughing. Now it's the same behavior, but instead of saying it in front 20 people in the locker room, where they hear it once and move on, you post it on Instagram, where 1,000 people see it and they can reread it 50 times."
And cyber-bullying doesn't stop when you step off the school bus. "This is something that's a little different than what we all experienced as schoolyard bullying, where once you go home, you're safe," says Megan Johnson Moreno '95, an associate professor of pediatrics at the University of Washington whose research looks at the intersection of social media and adolescent health. Johnson Moreno, author of Sex, Drugs 'n Facebook: A Parent's Toolkit for Promoting Healthy Internet Use (Hunter House, 2013), is leading a National Institute of Justice study (her husband, attorney Peter Moreno '96, is a co-investigator on the project) to help define and understand cyber-bullying. 
It often occurs in an unsupervised environment where the perpetrator "is at a distance from the victims, so it's easier to be meaner. You don't actually see the effect of what you're saying or doing," Cicchetti said on Chicago Tonight in June. "The kids who are the recipients of the bullying are isolated when they read it, and they can read it over and over again. For many of them, they're in this cycle where it's happening over and over again, and they don't know how to stop it."
Goldman, who lectures across the country on bullying prevention and intervention as well as digital citizenship, says young people should be educated about handling sexualized and cruel content that they will undoubtedly encounter on social media, and families need to define clear boundaries for cyber behavior.
Social media might be uncharted territory for parents, Cicchetti says, but they need to step up and monitor their children's online interactions. "You can't just turn access to social media over to them," she says. "People say the Internet is as dangerous as driving. You wouldn't let your 16-year-old go drive your car and say, 'Good luck. Why don't you go learn from your friends?'
"That's what's happening with social media. Kids are getting smartphones and accessing Facebook before they're emotionally ready."
BE AN UPSTANDER, NOT A BYSTANDER
Suzanne Wexler Peck spent 30 years designing and leading corporate training programs on diversity for executives at Disney, GE, McDonald's and other Fortune 100 companies as a partner at Towers Perrin, now Towers Watson.
In their evaluations, commenters often praised her session on how to speak up when you're offended. Peck '67, '03 P, a former schoolteacher, developed a similar program to teach students to express themselves when they're being disrespected. Peck launched Stand Tall: Lessons that Teach Respect and Prevent Bullying (Corwin, 2012), a video-driven anti-bullying program for fourth- through sixth-graders.
The award-winning program uses improv theater games, selected with input from Chicago actor Rob Lindley — the husband of her son, Doug Peck '03, and a Northwestern National High School Institute instructor. It teaches kids to take pride in what makes them unique, be respectful of others, identify common interests and speak up — to be "upstanders" rather than passive bystanders.
Cicchetti says it's essential to strengthen the voice of other young people to tell the bully to back off. "The No. 1 way to stop a bully is for someone other than the victim to say, 'That's not cool. Knock it off,' " she says. "All of that comes from respect. Teaching kids how to be assertive, teaching kids to recognize when someone is uncomfortable, when it goes from funny to being mean, to read those social cues — kids need to be trained to do that, and adults need to think it's important to train kids to do that."
Peck's Stand Tall has been widely implemented in schools nationwide, including in Lompoc, a Central California town of 42,000. Over a three-week span, students, parents, educators, local government officials and members of community organizations were trained in the program in English or Spanish. Now UCSB researchers, working with data from 1,000 students from local schools, are studying the program's short- and long-term impact.
"Intuitively we know kids will do better academically if they feel safe at school and they are not bullied, but we want to be able to show that scientifically," says Peck, who has taught in Northwestern's Media Management Center and lives in Santa Barbara with her husband, Northwestern journalism professor emeritus in service Abe Peck '03 P. "I don't think we're ever going to eliminate bullying," she adds, "but I think it is possible to get to a point where we have a positive impact on school safety and on kids' self-confidence and self-esteem."
IT GETS BETTER, EVENTUALLY
Lesbian, gay, bisexual and transgender youth are still substantially more likely to be bullied and victimized than their heterosexual peers, and gay young men, in particular, are up to three times more likely to be threatened with a weapon or have their property stolen or threatened in school.
While that trend continues, "we have data that clearly show that things do get better," says Brian Mustanski '99, associate professor of medical social sciences and psychology and director of Northwestern's IMPACT LGBT Health and Development Program on the Chicago campus. "Experiences of victimization and bullying go down dramatically as young people reach their 20s, but unfortunately, during the high school–age years, bullying and victimization continue."
Mustanski and his IMPACT colleagues are leading Project Q2, the longest-running longitudinal study of gay youth ever done. It began in 2007 with nearly 250 youth, ages 16 to 20, from across Chicago, and examines their mental health, substance use and HIV risk. Researchers recently completed the five-year follow-up.
"We're interested in learning how the accumulation of these victimization experiences over time affect their health," he says. Young people who experience consistent bullying throughout adolescence are three times more likely to have major depression in young adulthood and almost five times as likely to get diagnosed with post-traumatic stress disorder, Mustanski says.
He adds that it's an interesting time for LGBT youth. Illinois recently legalized gay marriage, and two other state supreme courts struck down bans on same-sex marriage. "There's so much progress for LGBT rights," he says, "but we also see these alarming examples of teens being murdered or committing suicide. This time of dramatic social change is benefitting many people in general, but it also puts the most vulnerable at higher risk because they're standing out more. In some ways it's a two steps forward, one step back situation we're in right now."
BLOCKING BULLIES
When Gabe Freeman — a ballet-dancing, hearing-impaired sixth-grader — experienced some serious bullying at Evanston's Nichols Middle School during the 2012–13 school year, his mother, Ren, called Northwestern Athletics to see if any Wildcats could visit with her son and his classmates.
A few days later Maureen Palchak, Northwestern's assistant athletic director for community relations, sent kicker Jeff Budzien '13 and a few of his football teammates to have lunch with Freeman and "be his big buddies for the day," says former Northwestern softball star Marisa Bast.
"I'll never forget the heads turning when they walked in," Ren recalls. "The players were all wearing purple, and some of them were pretty large. They walked in and made a beeline for my 75-pound sixth-grader, pulled up chairs and started eating lunch like it was just another day.
"People started showing up at the table, including a couple of the kids who had been giving my son a hard time."
After a recess football game with Freeman and his classmates, the players led a discussion about respect, and "you could have heard a pin drop in the room," Ren says.
That outreach, which Ren says was enthusiastically supported by the Nichols staff, was the start of something much bigger. Palchak '08 MA worked with Bast '14 to develop Wildcats Stand Up and ROARR — Reach Out and Reinforce Respect, a student-athlete–run anti-bullying initiative for local schools. The ROARR team of nearly 40 Wildcat athletes, from across the 19 varsity sports, has visited nine schools (with many more on a waiting list), reaching more than 1,500 students in Evanston and Chicago since the program began last fall. The program includes small-group discussion about common interests and a Jeopardy!–inspired game that focuses on responses to bullying. After each session, the athletes hand out posters of the ROARR team and sign them for the students.
"The students enjoy all of the student-athletes, but they really love the football players," admits Bast, a two-time Academic All-American who concluded her career ranked among Northwestern's all-time leaders in nine different offensive categories. Bast, who started as a rotational analyst at the Chicago Mercantile Exchange in July, handed over the reins of the program to football defensive lineman Max Chapman and field hockey midfielder Lena Phillips.
It wasn't until a few months into the program that Bast connected incidents from her own past with the project. In seventh grade, persistent teasing took an emotional toll, and she transferred to a different school in the middle of the year. "It's something you don't want to remember," says Bast. "But it fueled my passion for this program. When the kids talked about specific instances, I could relate. All that stuff happened to me too."
Bast adds, "There are always going to be those kids who don't pay attention or think what we're talking about is stupid, but if we change one kid's perspective, then it's worth it."
TEACHING SOCIAL AND EMOTIONAL SKILLS
When Colleen Cicchetti hears from parents and schools about incidents of bullying, she takes the opportunity to start an even more important conversation about social and emotional learning.
The Illinois State Board of Education has state standards for social and emotional learning that include lessons on self-regulation, assertiveness and social problem solving. "Social perspective taking — being able to put yourself in someone else's shoes — is a huge lesson," Cicchetti adds.
Social and emotional learning should be part of a school's curriculum, she says, like reading or math, and students should be evaluated on their progress. Unfortunately, teachers and school psychologists often lack time and resources to make it a priority. "If everyone in the state were doing what we're supposed to be doing with social and emotional learning, I would predict that the bullying rates in our state would drop dramatically," Cicchetti says.
"What is frustrating to me is that parents and schools say, 'OK, let's just put in this bully prevention program. We went online and did our training, and we're going to be a bully-free zone.' But that's not giving kids the skills they need to negotiate this very complex world that we, as parents and adults, are not a part of, especially on the Internet."