Passings
Story Tools
Share this story
Tell us what you think. E-mail comments or questions to the editors at letters@northwestern.edu.
Ever wonder about those strange designations we use throughout Northwestern to identify alumni of the various schools of the University? See the complete list.
Find Us on Social Media
John Bergan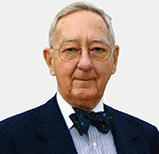 John J Bergan '59 GME, '75 P, '88 P, '17 GP, 87, La Jolla, Calif., June 11.
A leader in the field of vascular surgery and a pioneer in transplantation, Dr. Bergan orchestrated the first successful kidney transplant at what is now Northwestern Memorial Hospital, in 1964. He taught at the Feinberg School of Medicine for nearly 30 years, serving as chief of the division of transplantation from 1969 to 1976. As a founding chief of Northwestern's vascular surgery division in 1976, Dr. Bergan helped establish one of the earliest clinical vascular fellowship programs in the country.
A competitive sailor, Dr. Bergan participated in 37 of the Chicago Yacht Club's Chicago-to-Mackinac Island races.
Survivors include two daughters, Elizabeth "Betsy" Bergan Altman '75 and Margaret; a son, John W. Bergan '88; a sister, Margaret; a brother, Ernest; three grandchildren, including Toby Altman '17 PhD; and one great-grandchild.
Mary Fran Carroll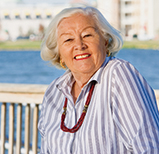 Mary Fran Carroll '43, 92, Sarasota, Fla., March 24.
After a career in corporate banking at Northern Trust Co., where she retired as vice president and chief of the family business division in 1984, Ms. Carroll became the visionary behind one of the best-known master-planned communities in the country: Lakewood Ranch in Sarasota.
She represented the Uihlein family, a Northern Trust client, on the Schroeder-Manatee Ranch board of directors for several years and then became SMR's chief executive as the company explored developing its ranching property. She helped turn 30,000 acres of pastureland into more than 8,500 homes and 4 million square feet of commercial and retail space. Ms. Carroll, who retired from SMR in 1997, also worked on  a senior living development where she lived and served as chair of the board.
She is survived by many friends and her cat, Zoro.
Harm de Blij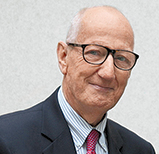 Harm de Blij '57 MA/MS, '59 PhD, 78, Sarasota, Fla., March 25.
Born in the Netherlands and educated around the world, Mr. de Blij became one of the most respected minds in the academic field of geography. He was a distinguished professor at Michigan State University and former chair of geography at the University of Miami. His expertise focused on geopolitical and environmental issues, and in recent years he lectured on issues such as terrorism and climate change.
He was a founding editor of the journal National Geographic Research and served on the National Geographic Society's Committee for Research and Exploration for more than 20 years.
From 1989 to 1996, Mr. de Blij was geography editor on ABC's Good Morning America. In 1996 he moved to NBC News as a geography analyst, appearing primarily on MSNBC. He was also a writer and commentator for the PBS series Power of Place.
He is survived by his wife, Bonnie, and a son, Hugh.
Karen Lipschultz DeCrow
Karen Lipschultz DeCrow '56, 76, Jamesville, N.Y., June 6. An attorney, activist and former president of the National Organization for Women, Ms. DeCrow relentlessly fought for equal representation of women in the academic, athletic and professional realms.
Inspired by pay inequality at the small publishing house where she worked, Ms. DeCrow joined NOW in 1967 and then formed a chapter in upstate New York. She attended law school at Syracuse University, where she was the only female in the graduating class of 1972, and became a civil rights lawyer.
Starting in 1968 Ms. DeCrow spent six years on NOW's national board and served as the organization's president from 1974 to 1977. During her tenure NOW supported the first ordination of Episcopal women and persuaded the federal government to include sex discrimination in the Fair Housing Law.
Ms. DeCrow pressured institutions to enforce Title IX and increase the athletic and education opportunities available to women. She influenced investigations of cases of sex discrimination in the workplace and spearheaded the Equal Rights Amendment movement. Ms. DeCrow also campaigned to increase the number of women and minorities represented in the media and pushed NASA to send more female astronauts into space.
In 1988 she co-founded World Women Watch, an international organization committed to empowering women on a global scale.
Ms. DeCrow, who had been vice president of the Greater Syracuse chapter of NOW at the time of her death, was inducted into the National Women's Hall of Fame in 2009. She received a Northwestern Alumni Association Service to Society Award in 2002.
She is survived by her sister, Claudia.
Richard Elrod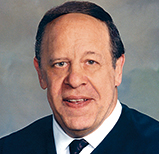 Richard J. Elrod '55, '58 JD, '82 P, '13 GP, 80, Lincolnwood, Ill., April 19.
Chicago's chief prosecutor during the late 1960s, Mr. Elrod suffered a broken neck when he got into an altercation with a protestor at a Days of Rage demonstration. Initially unable to move any part of his body below his neck, he later regained moderate use of his limbs.
Less than two months after his injury he was elected sheriff, serving four consecutive terms between 1970 and 1986. He was a Cook County Circuit Court Judge from 1988 until his death.
He said one of his proudest moments came in spring 2013, when he and his son, Steven Elrod '82 JD, took the stage at the Northwestern Law School graduation alongside Mr. Elrod's grandson, Daniel J. Elrod '13 JD, who received his law degree.
He is also survived by his wife, Marilyn Mann Elrod '55; a daughter, Audrey; and three other grandchildren.
Linda Even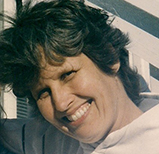 Linda L. Even '77, 62, Newport News, Va., May 24.
An environmental engineer, Ms. Even worked at the Fermi National Accelerator Lab in Batavia, Ill., for 16 years. She worked her way up from energy conservation and architectural services to become chair of the Fermilab Engineering Policy Committee, field liaison for construction and related environmental issues like wetlands mitigation for major projects and construction project manager for the assessment, planning, design and construction of the sitewide radiation shielding upgrade.
In 1993 Ms. Even moved to the Thomas Jefferson National Accelerator Facility in Newport News, Va., where she oversaw environmental reporting to federal, state and local agencies.
Ms. Even and her husband, Rolland Johnson, founded Muons Inc., a private research and development company specializing in particle accelerators. She retired from the Jefferson Lab in 2010 and became an environmental engineer at Muons Inc.
Outside of her work as a scientist, Ms. Even was an avid tennis player and puzzle solver.
In addition to her husband, she is survived by her parents, Mary Ann and Art, a stepdaughter, Jenifer; a stepson, Russell; and four siblings, John, Mary Ann, Michael and Nancy.
Raj Gounder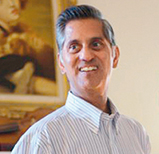 Raj N. Gounder '73 PhD, 70, Snoqualmie, Wash., Jan. 20.
The first person from his small, sugar cane–growing village in Tamil Nadu, India, to earn a college degree, Mr. Gounder earned a doctorate in materials science and engineering at Northwestern, where he also met his wife, Nicole Pantanelli, the sister of a classmate.
He was awarded several patents for creating liquid crystalline polymers and composite materials at Lord Corp. He was manager of composite structure at RCA Astro Electronics, leading his team of engineers to develop advanced hardware for space applications. In 1985 he moved to Seattle to become space programs manager at Boeing, where he worked for 28 years.
He and his wife occasionally returned to India and set up a scholarship to support talented students from his village.
In addition to his wife, he is survived by his three daughters, Celine, Sabine and Stephanie; and two brothers, Sengottiyan and Ramalingam.
Jerilyn Logemann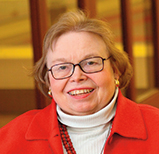 Jerilyn "Jeri" Logemann, '63, '64 MA/MS, '68 PhD, 72, Evanston, June 19.
An innovator in the treatment of swallowing disorders, Ms. Logemann helped thousands of people through the Voice, Speech, and Language Service and Swallowing Center that she directed on Northwestern's Chicago campus. The Ralph and Jean Sundin Professor of Communication Sciences and Disorders chaired the department for 14 years. She was also a professor of otolaryngology and neurology at the Feinberg School of Medicine.
The two-time president of the American Speech-Language-Hearing Association began teaching at Northwestern in 1978. She developed the "cookie swallow" test that became a standard diagnostic tool. She also studied the management of voice disorders, normal swallowing physiology and the assessment of speech and swallowing dysfunction in head and neck cancer patients and neurologically impaired individuals.
Jean McNary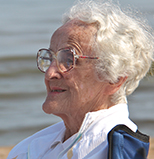 C. Jean Mcnary '34, 101, Madison, Wis., April 28.
Following her graduation from Northwestern, where she earned her undergraduate degree in political science, Ms. McNary worked at the famed Hull House in Chicago under director Jane Addams. While working at Hull House, a safe haven for immigrants as they transitioned to life in the United States, Ms. McNary saw the importance and power of a helping hand. She said the experience gave her strength and inspiration.
After working at Hull House, Ms. McNary became the director of the International Student Organization in New York City. She then moved back to her home state of Wisconsin and became the state's personal examiner. She was first and only woman to hold the position.
Ms. McNary worked for the state for 30 years before retiring as the human resources department director in 1977. She was also active in several civic engagement groups and organizations.
Ms. McNary is survived by three nieces.
Jack Minkow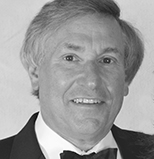 Jack Minkow '68, 68, Winnetka, Ill., May 25.
One of the most famous voices in college sports, Dick Vitale, got his start on radio thanks to Mr. Minkow, who hired the exuberant former NBA coach for his first job on the air. Along with giving Vitale his break in broadcasting, Mr. Minkow also brought radio personality Steve Dahl to Chicago when he was just 23 years old, according to Chicago media blogger Robert Feder.
Mr. Minkow managed radio stations in Baltimore, Detroit and Chicago before launching Broadcasting Asset Management Corporation in 1978, which he led as president and CEO for 30 years. According to Feder, he "brokered some of the biggest deals in the annals of broadcast ownership."
Mr. Minkow, a former president of the Northwestern Young Alumni Club, is survived by his wife, Lori; and two daughters, Melissa and Meredith.
Edward Nemeth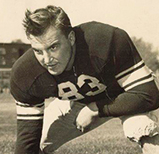 Edward L. Nemeth '50, 88, Birmingham, Ala., May 11.
A starting guard on the Northwestern football team, Mr. Nemeth helped lead the Wildcats to victory in the 1949 Rose Bowl (see an interview with Nemeth as part of the magazine's coverage of the Rose Bowl anniversary, "Return of the '49ers," fall 2008).
The son of Hungarian immigrants, he served in World War II as a paratrooper with the 101st Airborne Division at Bastogne and Berchtesgaden.
After graduating from Northwestern in 1950, Mr. Nemeth entered the steel industry, eventually becoming the president and general manager of Southern United Steel in Birmingham in 1974.
He is survived by his wife of 60 years, Nancy Myers Nemeth '51; three daughters, Paula Nemeth Mitchell '79, Sally Nemeth '81 and Carolyn; and five grandchildren. Mr. Nemeth and Sally, a former field hockey player for the Wildcats, were one of the first father-daughter letter-winner combinations at Northwestern.
Ralph Rydholm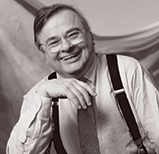 Ralph W. Rydholm '58, 76, Chicago, May 24. The master of the advertising jingle, Mr. Rydholm was the creative mastermind behind campaigns for companies such as Pan Am, Pepsi, Gillette, Kellogg, Hyatt, Sears and many others.
Mr. Rydholm worked in advertising for four decades, beginning in 1960 after taking a few classes at the Kellogg School of Management and a brief stint in the military. The native Chicagoan started at Young & Rubicam, then moved to J. Walter Thompson, where he rose to executive vice president and executive creative director during his 19 years with the firm.
Mr. Rydholm wrote catchy lyrics for his clients with help from Nashville musicians. His most notable campaign came in the late '70s, when Mr. Rydholm created the "America's Burger King" commercial with the line, "Everybody loves a burger if they can have it fixed their way," at the anthem's core.
In 1985 Mr. Rydholm moved to New York to become chief creative officer with Ted Bates Advertising. He then moved to the executive side of the business and eventually became the CEO of Tatham-Laird & Kudner, where he landed accounts for Bakers Square and Celestial Seasonings. Mr. Rydholm retired in 1998.
In addition to his agency work, Mr. Rydholm also worked for the gadget maker and infomercial master Ron Popeil and his company Ronco.
Mr. Rydholm chaired the American Association of Advertising Agencies. He also offered his marketing expertise to Chicago nonprofits, including the Off the Street Club.
He is survived by his wife of 50 years, Jo; daughters Julia and Kristin; a son, Erik; and a sister, Virginia.
Wallace Snelson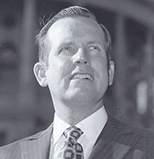 Wallace E. "Pete" Snelson '50 MS, '84 P, '86 P, 91, Georgetown, Texas, April 26. 
A conservative Democrat, Mr. Snelson spent more than two decades as a legislator as a Texas state representative and senator. He represented the 25th District in the Texas Senate until his retirement in 1983.
While studying at Texas College of Mines in El Paso, Mr. Snelson was called to active duty in the U.S. Army. After specialized training in German language, culture and history, he joined the 44th Infantry Division, deployed to Cherbourg, France. In November 1944 his company attacked the German line in the Vosges Mountains, where Mr. Snelson was wounded.
After his recovery he became a special agent in the 307th Counter Intelligence Corps. He later received a Purple Heart, Bronze Star and Combat Infantryman's Badge.
After World War II, Mr. Snelson enrolled in Northwestern's graduate journalism program. He became vice president of Odessa College and then founded Snelson Advertising.
He was first elected as a state representative in 1960. During his time in office, Mr. Snelson sponsored the Early Childhood Intervention Program, which became the national model for early intervention in developmentally delayed children.
Mr. Snelson left office in 1983 and continued working for his oil company Six-S Properties and Snelson Advertising.
He is survived by his wife, Susan; their four children, Gene, Sandra Snelson Yaklin '84, Steven Snelson '86 and Shane; and 10 grandchildren.
Masue Taniguchi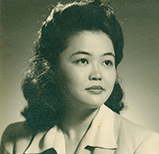 Masue Taniguchi '44 DDS, 91, Honolulu, Oct. 7.
Just months after Dr. Taniguchi, the daughter of two Japanese immigrants, arrived in Chicago in 1941 from Hawaii to study dentistry at Northwestern, Japanese forces bombed Pearl Harbor.
According to her daughter-in-law, Dr. Taniguchi was the only woman in her Northwestern University Dental School class and one of only two Americans of Japanese ancestry. She could not return to Hawaii until after the war ended due to travel restrictions on Japanese Americans and a shortage of ships during wartime.
Dr. Taniguchi eventually became the first female dentist in Hawaii.
She is survived by her son, Jan.
Rempfer Whitehouse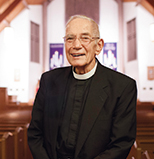 Rempfer "Jack" Whitehouse '49, '77 P, '78 P, '12 GP, 91, Chula Vista, Calif. April 6. Severely wounded in the bloody, monthslong Battle of Hürtgen Forest, Rev. Whitehouse pledged to dedicate his life to the Lord if he survived. He received the Distinguished Service Cross and Purple Heart for his service as an Army sergeant in World War II — and spent the rest of his life as an advocate for peace.
After the war, Rev. Whitehouse, the son of longtime organ professor Horace Whitehouse, attended Northwestern and fenced in the saber division as a member of the only Northwestern team to win a fencing national championship.
He went on to Seabury-Western Theological Seminary and was ordained an Episcopal priest in 1952. For 25 years, Rev. Whitehouse served as vicar of the Church of the Epiphany on Chicago's Near West Side.
He became an outspoken supporter of social justice, civil rights and education. In the tumultuous 1960s, Black Panther meetings took place in his church, which hosted the memorial service for Black Panther Party leader Fred Hampton in 1969. As an educational outreach, Rev. Whitehouse founded St. Gregory Choir School, where hundreds of young men were educated and learned to sing the liturgy.
Rev. Whitehouse moved to San Diego, where he continued his active ministry into his 90s. He is survived by his second wife, Mary Rose McCormick; two siblings, Agatha Whitehouse Twining '49 and David Whitehouse '52; seven children, Walter Whitehouse '77 MMus, David Whitehouse '78 MMus, Martha, Christina, Timothy, Adelaide and Horace; 17 grandchildren, including Ray Whitehouse '12; five great-grandchildren; and a stepson, Michael.
Teri Zenner Toig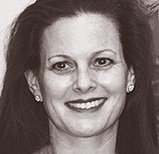 Teri Zenner Toig '80, '83 JD, 55, Chicago, Feb. 24.
An attorney, Mrs. Zenner Toig supported Northwestern Law School students throughout her career. She established the Zenner Consulting Group Grant, which finances bar review courses and exam fees for Northwestern law graduates who pursue careers in public interest law. Graduates entering public interest law typically have to pay the fees, which can be thousands of dollars, out of pocket. Mrs. Zenner Toig also served on the Northwestern Law Board and conducted mock interviews with graduating law students.
After working as a transactional attorney for Kirkland & Ellis and in corporate and real estate law for Goldberg, Kohn, Bell, Black, Rosenbloom & Moritz, Mrs. Zenner Toig founded the Zenner Consulting Group, which provides legal search services.
She is survived by her husband, Randall Toig '82 GME; three sons, Zachary, Andrew and Matthew; a daughter, Alexandra; her parents, Howard and Lois Zenner; and a sister, Randi.