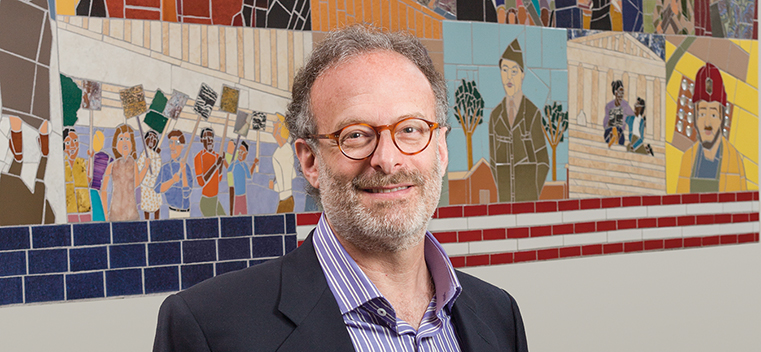 Jonathan Mandell at the National Constitution Center. Photo by Dave Londres.
Jonathan Mandell: Staying in Touch
Story Tools
Share this story
Tell us what you think. E-mail comments or questions to the editors at letters@northwestern.edu.
Ever wonder about those strange designations we use throughout Northwestern to identify alumni of the various schools of the University? See the complete list.
Find Us on Social Media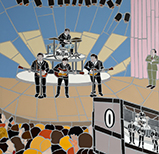 Jonathan Mandell's mosaic pieces stand out from typical gallery artwork. "I think the most engaging aspect for people is the idea that you can physically connect with the art and touch it," says Mandell '84. The Philadelphia-area native majored in history at Northwestern but took a fine arts class during his senior year. He has been creating "tactile paintings" ever since. The works combine fine arts principles with the mosaic medium. He uses grout lines to draw scenes or portraits and then uses materials such as handblown glass shards, ceramic tile, semiprecious stones, mirrors and marbles to give the wall-mounted panels or sculptures a unique topography. Mandell's work has been featured throughout the United States, from the Illinois Holocaust Museum and Education Center in Skokie to his hometown's Citizen's Bank Park. Mandell had a youthful audience in mind when he created We the People at Philadelphia's National Constitution Center. It has an eye-level mirrored component featuring the White House, the Capitol Building and the Supreme Court, allowing children to see themselves reflected in the government. A member of the Alumni Admission Council, Mandell has stayed in touch with the University by interviewing prospective students, and he hopes to one day create a piece for Northwestern that captures a scene of campus life. "One always wants to go full circle," he says.