Story Tools
Share this story
We'd Like to Hear from You
Northwestern welcomes signed letters of 250 words or less from readers. We reserve the right to edit all letters. Please send correspondence to the
Editor
Northwestern
1800 Sheridan Road
Evanston, IL 60208-1800
Fax: 847-491-3040
E-mail: letters@northwestern.edu
Find Us on Social Media
Future Dentist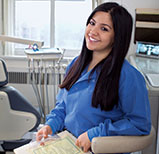 Thanks for the recent profile on Alma Gallegos ["Ten Standout Seniors," summer, 2013], a recent graduate who will pursue a career in dentistry. I was privileged to have earned my doctor of dental surgery at the Northwestern University Dental School in 1977. NUDS grads have cared for tens of thousands of patients over the years. Sadly, our dental school was closed by the University in 2001, a victim of budget concerns.
NUDS had a long and distinguished history among dental schools, beginning with our legendary dean Dr. G.V. Black. Black is known worldwide as the father of modern dentistry. There is a statue of Dr. Black in Lincoln Park near North Avenue and Lake Shore Drive — a tribute to NUDS and Dr. Black from the city of Chicago.
Dentistry has embraced the digital age. I daresay that Dr. Black could never have envisioned where our profession would go. CT scanners and computer-aided design and manufacturing are a routine part of dental practices today, driving a digital workflow that allows complex treatments to be accomplished for our patients in a fraction of the time (and trauma) as analog procedures. There are many NUDS grads leading this revolution in dental patient care, although the number dwindles as the years go by.
I'll be forever grateful to Northwestern University for launching me into my dental career and changing the course of my life. And I'll always be proud when I tell people that I'm a graduate of Northwestern University.
Best of luck to Ms. Gallegos [C13] as she pursues her doctoral training in dentistry. She's entering a vibrant profession that changes the lives of people for the better every day. It's just a shame that Ms. Gallegos won't be able to complete her doctoral training at Northwestern.
Michael D. Lefkove (D77)
Eatonton, Ga.
The Moral Aspect of War
I was happy to see that Kevin Sites' new book, The Things They Cannot Say: Stories Soldiers Won't Tell You About What They've Seen, Done or Failed to Do in War ["War Stories," summer 2013], addresses a little-discussed aspect of post-traumatic stress disorder and war in general, and that is the moral aspect of war. Soldiers are moral beings, and they have to deal on some level with the morality of what they're doing and possible guilt. I believe the greatest sacrifice we ask of our soldiers is not that they die for us but that they kill for us.
In my opinion the Iraq War (less so the Afghanistan War) was especially problematic with respect to moral justification of warfare. The war in Iraq violated centuries-old, traditional just-war criteria, which come from the fundamental moral precept that it is not morally justifiable to take the life of a single human being except in absolute, necessary self-defense or defense of the lives of innocent others, after all other nonviolent options have been exhausted.
War is justified only when we have no choice. When you start a preventive war of choice based on insufficient justification, you are talking about killing many people unnecessarily, which is the moral equivalent of mass murder. 
Politicians who start these wars, and therefore have primary moral responsibility for them, are giving soldiers free rein to commit murder with legal impunity and social approval and praise. Then when these soldiers come back home, some may have a problem putting the evil genie back in the bottle and adjusting to civilian life. 
Though PTSD is associated with all wars, it seems to me especially an issue with respect to wars of controversial moral justification (such as the Vietnam War and the Iraq War). Perhaps facing this moral aspect of PTSD will not only provide some insight in helping PTSD victims but also, for future reference, will caution all of us about a cost of unnecessary warfare that is sometimes hidden.
Joseph J. Locascio (G82)
Arlington, Mass.