Photo Illustration by Sean McCabe.
Late Night Light
Story Tools
Share this story
Robbie Levin (J12) is an associate editor at Yahoo! Sports' ThePostGame and lives in Los Angeles. He is a former Northwestern magazine intern.
Tell us what you think. E-mail comments or questions to the editors at letters@northwestern.edu.
Ever wonder about those strange designations we use throughout Northwestern to identify alumni of the various schools of the University? See the complete list.
Find Us on Social Media
A whiz at producing late-night TV talk shows, Jill Leiderman is the woman in the control booth at Jimmy Kimmel Live!
Shortly after 6 p.m. on Halloween last year, David Letterman walked onto the stage at the Brooklyn Academy of Music.
Hurricane Sandy had devastated New York City a few days earlier, and it took Letterman nearly 90 minutes to travel the 7 miles from his studio in midtown Manhattan to the Jimmy Kimmel Live! temporary taping location in Brooklyn.
Jimmy Kimmel and Letterman quickly slipped into easy banter, discussing Letterman's son, the Late Show host's cooking and their mutual interest in fly-fishing. If the conversation wasn't exactly earth shattering, Letterman's presence on the stage was. It's not often in the cutthroat world of late-night television that rival hosts drop in on each other's networks, especially in this instance, when Kimmel was gearing up to challenge Letterman in the 11:35 p.m. Eastern time slot.
Kimmel compared the moment to the time when Johnny Carson appeared on Late Night with David Letterman on NBC on May 16, 1985.
"Well," Letterman protested, "when Johnny Carson was on my show, the big difference was Johnny Carson really was something. And I'm not much of anything."
In a trailer parked outside the theater, Jimmy Kimmel Live! executive producer Jill Leiderman watched on a monitor as the two men traded jokes. It was a momentous occasion for Leiderman (C93), who had spent almost nine formative years working for Letterman's Late Show before assuming her job at Hollywood-based Jimmy Kimmel Live! in 2006.
It was somewhat overwhelming, Leiderman says, to see her former boss — and one of her idols — speak with the man with whom she had worked diligently for the past seven years.  
"If someone had told me the next day, 'Hang it up. That's the last day that you get to clock in at work,' I would have felt very satisfied," Leiderman says. "I felt like that show cemented my television career."
Luckily, no one's telling Leiderman to quit.
At 41 she is running one of the hottest shows in late night. Kimmel is only the second person to host a talk show that airs after the late local news on ABC. And by virtue of his age (45), he represents a generational shift in late night, one that will likely continue when Jay Leno relinquishes his chair to soon-to-be 39-year-old Jimmy Fallon in February.
No, Leiderman doesn't have time to step aside, much less step down. After all, she's got a legacy to cement.
Child's Play
Before Jimmy Kimmel had his show, Jill Leiderman had her show.
Leiderman's father, Mike, is a veteran Chicago sportscaster, and Leiderman grew up on a steady diet of television. At age 12 Jill co-hosted a Saturday afternoon program on Chicago's NBC affiliate, WMAQ. On her show, appropriately titled Kidding Around, Leiderman interviewed everyone from Christopher Atkins (promoting his movie The Blue Lagoon) to Curly Neal (in town with the Harlem Globetrotters).
Diane Whiteley, the executive producer of Kidding Around, says Leiderman's work ethic and knack for tele­vision were evident even at such a young age. 
"She just has a special something that makes her successful," Whiteley says. "I think the reason she does so well is because she's herself. There's nothing phony about her."
Kidding Around was the start of a short but significant onstage career for Leiderman, who grew up in Highland Park, Ill. At Northwestern, Leiderman starred in comedy skits with Studio 22 and also participated in the Waa-Mu Show, winning the Alumnae of Northwestern University's Joe Miller Award for four years of participation.
Leiderman says her time on stage has served her well over her career, allowing her to identify with the men behind the desk.
"I know what it feels like to have to go out and deliver and make people laugh," Leiderman says. "As polished as broadcasters like Jon Stewart, David Letterman and Jimmy Kimmel are, I have tremendous empathy and great respect for what they do."
Funny Business
Leiderman's first job after graduating from Northwestern was as a segment researcher on The Jon Stewart Show, where she worked for two years. She was there until the show's last taping in June 1995, when Letterman was Stewart's last guest. (Stewart began hosting The Daily Show in 1999.)
After the show went off the air, Madeleine Smithberg, an executive producer on Stewart's show who had previously worked for Letterman, suggested Leiderman send her reel to Robert Morton, Letterman's executive producer at the time.
Morton hired Leiderman as a writers' researcher in 1995, beginning her nearly nine-year tenure at the Late Show. Leiderman rose to senior writers' producer, and she became responsible for creating whatever Letterman and his team dreamed up. One day that meant organizing 400 servicemen and servicewomen to spell out Letterman's name on 53rd Street in the middle of a show. Other days it involved seeking out actors to create a fictitious Broadway show.
Leiderman traveled often, visiting more than 70 cities as a liaison for the Late Show. She even went to the 1998 Winter Olympics in Nagano, Japan, where she helped squeeze Letterman's mom into a luge suit.
In 2004 Leiderman took a position as a developer of programming at VH1, a cable television network, but her heart was still in late night. When the executive producer position opened at Jimmy Kimmel Live! in 2006, Leiderman was contacted.
Peter Lassally, one of the executive producers of the Late Show during Leiderman's tenure, remembers receiving a call from ABC executives inquiring about hiring Leiderman. Lassally was straightforward in his assessment. 
"I said they would be crazy if they didn't give it to her because she's the best at what she does," Lassally recalls. "They would be fools not to jump at the opportunity."
Leiderman also provided Regis Philbin as a reference after working with him frequently on the Late Show. Philbin, who remembers Leiderman as a "persistent perfectionist," was pleased to recommend her, so he proactively called the network directly. And when Leiderman got the executive producer job on April 6, 2006, Philbin was so happy for her that he broke the news on his morning show, Live with Regis and Kelly.
Leiderman was at the dentist on that Thursday morning, and when she got out, she saw she had a voice mail from her grandmother. "Congratulations, you're moving to Hollywood," Leiderman's grandmother said. "Regis Philbin told me so."
All in the Family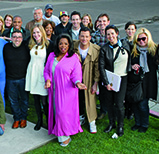 Jimmy Kimmel picked Leiderman up from her hotel in Los Angeles on the day she arrived in April 2006 and brought her back to his house, where he hosted a barbecue with family and friends. Earlier Kimmel had waited in line for more than an hour to pick up Sprinkles cupcakes, a cherished confection that originated in Los Angeles, to make Leiderman truly feel at home.
Kimmel welcomed Leiderman into his family on that day, and ever since the two have worked to create a strong familial feel on the show.
One of Leiderman's first objectives was to bring viewers into Kimmel's rich personal life. Over the past 7½ years characters such as Guillermo Rodriguez, a former parking lot security guard who is now Kimmel's sidekick, and "Cousin Sal," played by Kimmel's real-life cousin, comedy writer Sal Iacono, have become a crucial part of the fabric of Jimmy Kimmel Live!
"The reason why I feel so fortunate to work here," Leiderman says during a recent moment of reflection in her office on Hollywood Boulevard, "is because we do have the same family values, and I think we reinforce that in each other, which also radiates out to the staff and the crew."
Leiderman has also made subtle changes, like encouraging Kimmel to address viewers more through the camera. She remembers meeting Kimmel and seeing a "magnetic, refreshing, brilliant and warm person." Her challenge was to show viewers the same man.
"I kept thinking, how do we pull that through the lens?" Leiderman says of Kimmel's charm.
It's safe to say that Leiderman successfully brought out that side of Kimmel, who had not hosted a talk show before Jimmy Kimmel Live! went on air in 2003. Kimmel has become an excellent interviewer, with a quick wit and a preternatural ability to make his guests feel comfortable.
"When Jill took over," Lassally says, "she really made it a different Jimmy Kimmel."
Late-Night Showdown
In real time 11:35 p.m. Eastern time comes only half an hour before 12:05 a.m. In terms of late-night television, however, those 30 minutes might as well be an eternity.
Before Kimmel, only a handful of men had ever hosted an 11:35 talk show on one of TV's "Big Three" networks — ABC, NBC and CBS. A few of those men are titans of television, easily recognizable by their first names: Johnny, David and Jay (a fourth, Conan, had an eight-month stint before moving to cable).
So bumping Kimmel up half an hour to the slot long occupied by Nightline, which ABC did in January 2013, was no casual decision. Network executives watched as Jimmy Kimmel Live! became the only major-network late-night show whose ratings went up in 2012. The promotion was as much an affirmation of Kimmel's 12:05 success as it was a wager on his bright future.
Leiderman understands well the challenge of producing an 11:35 show, and it's not a responsibility she takes lightly.
"At 11:35 viewers have the opportunity to pick between lots of different hosts," Leiderman says. "And viewers have to figure out who speaks to their sensibilities the best, whose take on the day's events do they really want to learn before they go to bed at night. … It's a very intimate time that we get with viewers, that hour before they fall asleep."
On Leiderman's watch, Kimmel has become a favorite of the 18- to 49-year-old demographic, an important metric for networks and advertisers. And the show has also carved out a significant online footprint through a plethora of hilarious viral clips. Kimmel's YouTube channel has more than 2 million subscribers, and the videos have accumulated half a billion views, numbers that dwarf those of his competitors.
As if his stellar ratings and viral success weren't enough, Kimmel's whirlwind 2012 erased any doubts about whether he is here to stay. Within a span of seven months, Kimmel hosted the White House Correspondents' Dinner, the Emmy Awards and, of course, four shows not far from his old neighborhood in Brooklyn.
Stamp of Approval
Amid all the validation that Jimmy Kimmel Live! received in 2012 there was one voice of approval that Leiderman wasn't sure they would get.
Sure enough, it came on Halloween night, from David Letterman. Toward the end of his conversation with Kimmel, Letterman made sure to wish his future rival good luck.
"I think you're going to be perfect at 11:35," Letterman said. "I think it's going to be great, and I couldn't be happier to have you in the running."
Those words meant more than Letterman could ever know. "Dave telling us that he appreciated the work we're doing was the endorsement that we wondered if we would ever get," Leiderman says. "We never actually thought that it would come out of his mouth, and then when it did, we felt validated in a whole new way. It was a personal and professional milestone."
Leiderman couldn't help but tear up as she sat in the makeshift control booth that night. Her life had come full circle. Six years earlier Leiderman had left New York with two suitcases and more than a tinge of doubt. She left her home of 13 years to take a position on a show and a network where she had never worked. Moreover, she never thought she could live in Los Angeles.
But Leiderman made the sacrifice for an industry that she knew and adored, and so in that sense it wasn't a risk at all.
"I love late night so much that I just figured I would throw everything that I had at it," Leiderman says. "And, luckily, so far, it seems to have worked."